Interview:
Echo Lake, on avoiding shoegaze tags and "trying to test ourselves"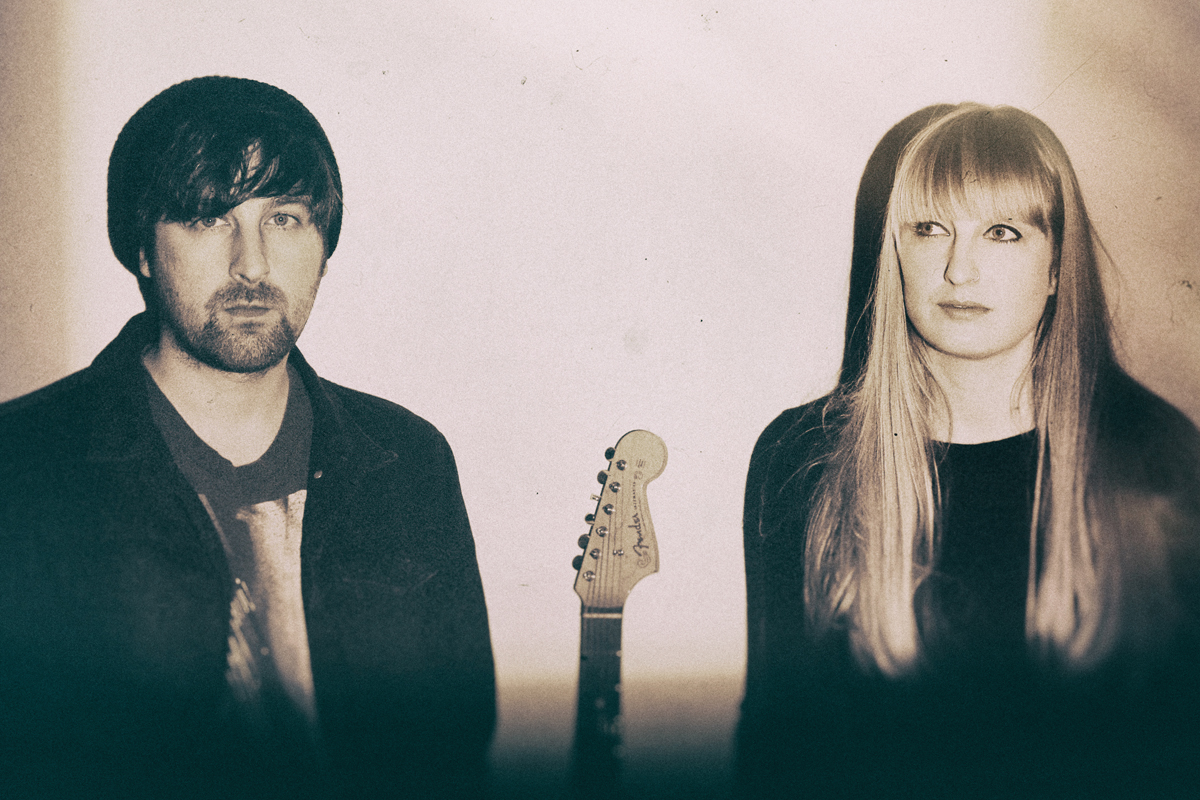 Linda Jarvis and Thom Hill have had the most testing two years possible - new album 'Era' sees them emerging out the other side.
Photo: Nicholas Pomeroy
"Why does this always happen to me?" Linda Jarvis wonders aloud, looking at the mix of broken glass and pale ale pooled around her feet, the product of a nosedived pint. Inside Dalston's 3 Compasses there are trilbies and beards aplenty, and the crimson walls and leather-clad benches are lit by flickering candlelight. Within two minutes, the glass has been cleared up and Linda has another pint of pale ale in her hands. On balance, this doesn't really feel like the band's spiritual home – but that's because it isn't.
"The spiritual home of Echo Lake is probably all the way in Lewisham," says Thom Hill, the other founding member. "That's where we recorded our first album in a house. We didn't really have a pub." He met Linda at university, where she was studying graphic design. It wasn't until 2 years later that she told him she could sing, after he played her his instrumental work. Immediately, they started recording music.
The first song they put online, 'Everything is Real', earned them a lifetime's supply of blogger buzz, and No Pain In Pop expressed an interest in a record. In 2011 they released an EP, 'Young Silence', and in 2012, their debut album: 'Wild Peace'. Both were produced at Thom's house in Lewisham, but they recorded their new album, 'Era', in Hackney's Holy Mountain Studios.
"I've missed gigging, but I'm very scared," says Linda. It's been two years since their last headline gig, during which time they have been producing 'Era' around their day jobs. "You have people's schedules and the studio not being free – and then our bass player went to India for a month," she says. It certainly sounds like a complex process: drums were recorded in 2012, most of the other parts in 2013, and early 2014 was spent filling the gaps. Mixing took another six months, which meant the album was complete by October of last year.
But as well as the logistical difficulties of meeting up to record 'Era' over the two-and-a-half years since their debut, the band also had to overcome a shocking tragedy. Pete Hayes, the band's drummer, died three days before the release of 'Wild Peace' in June 2012.
"You feel like you've just woken up from a bad dream," says Thom. "You open your laptop and there's a review of your album, and you feel like you've been waiting for this moment for your whole life. And you just close the laptop, because what are you going to do? You're not going to start reading reviews of your album when your best friend has just died. You're not going to do that.
"It takes a long time to get over it," he continues. "I'm still not over it. It's one of the reasons we didn't rush back into doing another album. It needed to be right for us: we needed to be doing it for the right reasons. But Pete would have hated it if we'd stopped."
The result of the past few years is a set of seven self-assured songs dripping with atmosphere. In the past, Thom has called the sound of their EP 'Young Silence' 'suffocating', and that seems to have made a return in 'Era'. "We cleaned it up a bit with 'Wild Peace', but with 'Era', we wanted it to sound bigger, and we wanted intensity. The sound is insanely layered and dense. And the whole thing needs to be treated as one. I would recommend listening to it alone on headphones, and treating it as one whole piece."
"It needed to be right for us: we needed to be doing it for the right reasons. But Pete would have hated it if we'd stopped."
— Thom Hill
'Era' was put together without demos, which made things tricky for Linda during the recording process. "Thom would talk about a lot of the songs with me and I couldn't hear them. He'd be like: 'It's all in my head, I know exactly how it goes.'" But on the flipside, a lack of demos allowed them to experiment and have fun without restricting to 4-minute songs.
"We needed to just throw ourselves back into making music without trying to set ourselves any targets," says Thom. "I always read about when Radiohead did 'The Bends' – they hated using the studio, so they took the studio and used it as another instrument. We'd never worked in a studio before either, so I always had that in the back of my head. We had the most fun when we were indulging a little bit."
This indulgence is clearest in the album's three pillars – opener 'Light Sleeper', centrepiece 'Dröm', and closer 'Heavy Dreaming'. They are between 7 and 10 minutes in length, all growing moodily into sprawling, mesmeric soundscapes. Their hypnotic quality is very much intentional: this album is concerned with the boundaries between waking and sleeping. "I was reading about lucid dreaming," says Thom. "That theme is definitely recurring all the way through."
In fact, 'Dröm' – Swedish for 'dream' – was almost the name of the album itself. "I thought it was a really striking word, especially in capital letters," says Thom. "It looked badass; I didn't even know what it meant. When I found out it meant 'dream', I thought 'fucking hell that's perfect!' I liked that juxtaposition of it being such a nice word and looking so imposing." But Linda interjects, smiling: "And then I wouldn't let him." So 'Era' it was.
But the dreamy feel – and subject matter – of their music has often had Echo Lake lumped together with an unwelcome 's' word: shoegaze. It's something both Linda and Thom feel uncomfortable with – particularly with the new album, given the efforts they've made to go off-piste. "Call me delusional, but I just don't hear it," insists Thom. "The most disappointing thing is someone saying that fucking word in a review. I don't listen to 'Dröm' and hear My Bloody Valentine. I hear us really trying to test ourselves."
For Linda, it's just a lingering label from their 'Wild Peace' days. "If people just heard this album and we put a different name on it, didn't say it was Echo Lake, maybe they wouldn't call it shoegaze. You just get a tag and it stays." This isn't to say they don't like shoegaze music – but we shouldn't imagine them sitting round listening to 'MBV' while they were recording 'Era', Thom says. "Not that we don't like them!" adds Linda. "It's just strange." They won't stop here. Thom owns up that he's already started work on a new record. "I texted Linda last week to ask if she wanted to start recording vocals soon. She said: 'Shall we just get this one out of the way first?' So there are no plans yet. But there are plans in my head." Plans filed alongside the 'Era' demos, presumably. And if the new album proves anything, it's that those plans are worth waiting for.