Live Review
Spector, The Lexington, London
12th March 2015
Full speed ahead with neon-lit roads and New Romantic bangers.
As soon as Fred Macpherson opens with the words "heaven let me down", it's clear that like a good wine, Spector's sound and aesthetic has deepened and matured since their 2012 debut. This very opener – 'Lately It's You (Moth Boys)' screams change just as loudly as the asssembled squabble at The Lexington screams their love – it centres around a weird alien-vocal sound gained from an effects microphone and a load of wave-pads that lasso a couple of eyebrows and raise them right up. The same happens with the funk-spunk of 'Cocktail Party', with both the far poppier sound and Macpherson's request for an E-Cigarette, showing how times have changed for both the band and the world around them. With two keyboards featuring in most of the new songs, their sound is more expansive, 80s-inspired and experimental.
Most of the time, however, the biggest reaction is reserved for the older material. 'Celestine' provokes a writhing mess of jumping bodies and 'No Adventure' sees a sea of hands counting ('One, you started coming over / two, you started…') like a Maths seminar that's gone off on a mad one. Having said that, the loudest response is saved for 'All The Sad Young Men' – which, unlike an earlier half-arsed shout from the crowd of "THAT ONE WAS QUITE GOOD" – gets a slightly more enthusiastic reaction. None more so when the frontman breaks into a smile at the line: "there's still a Chevy in the parking lot outside". It's a pretty fitting image - sure, they've been stationary since the delights of 'Chevy Thunder' a few years ago – but now they're fitted out with some new kit and a fresh tank of gas, it's full speed ahead with neon-lit roads and New Romantic bangers.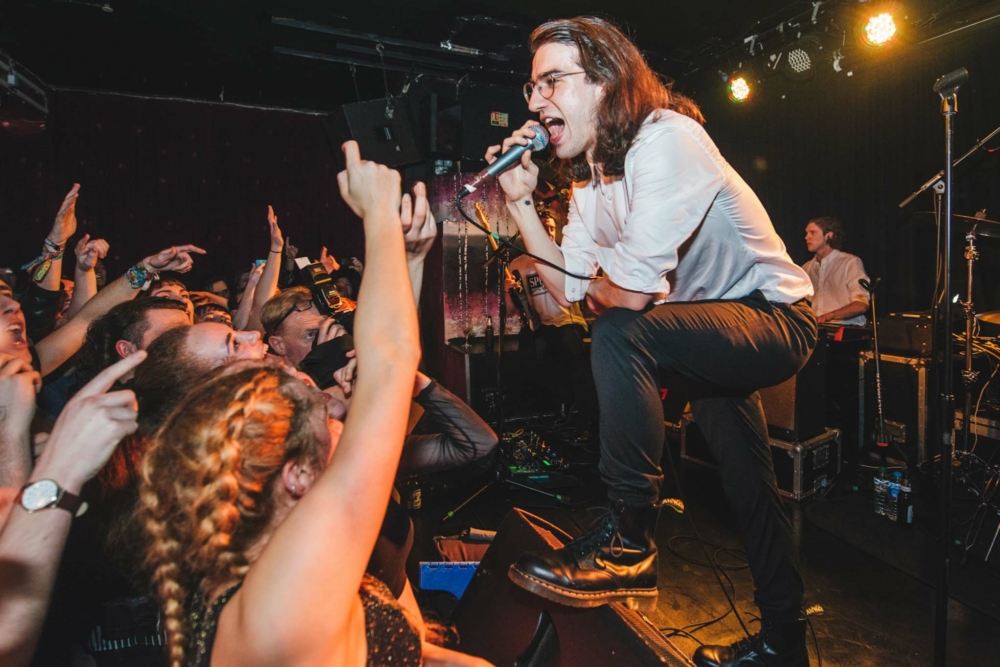 Photos: Carolina Faruolo

Get your copy of the latest issue