Interview:
Drenge: "Why doesn't everyone find us really funny?"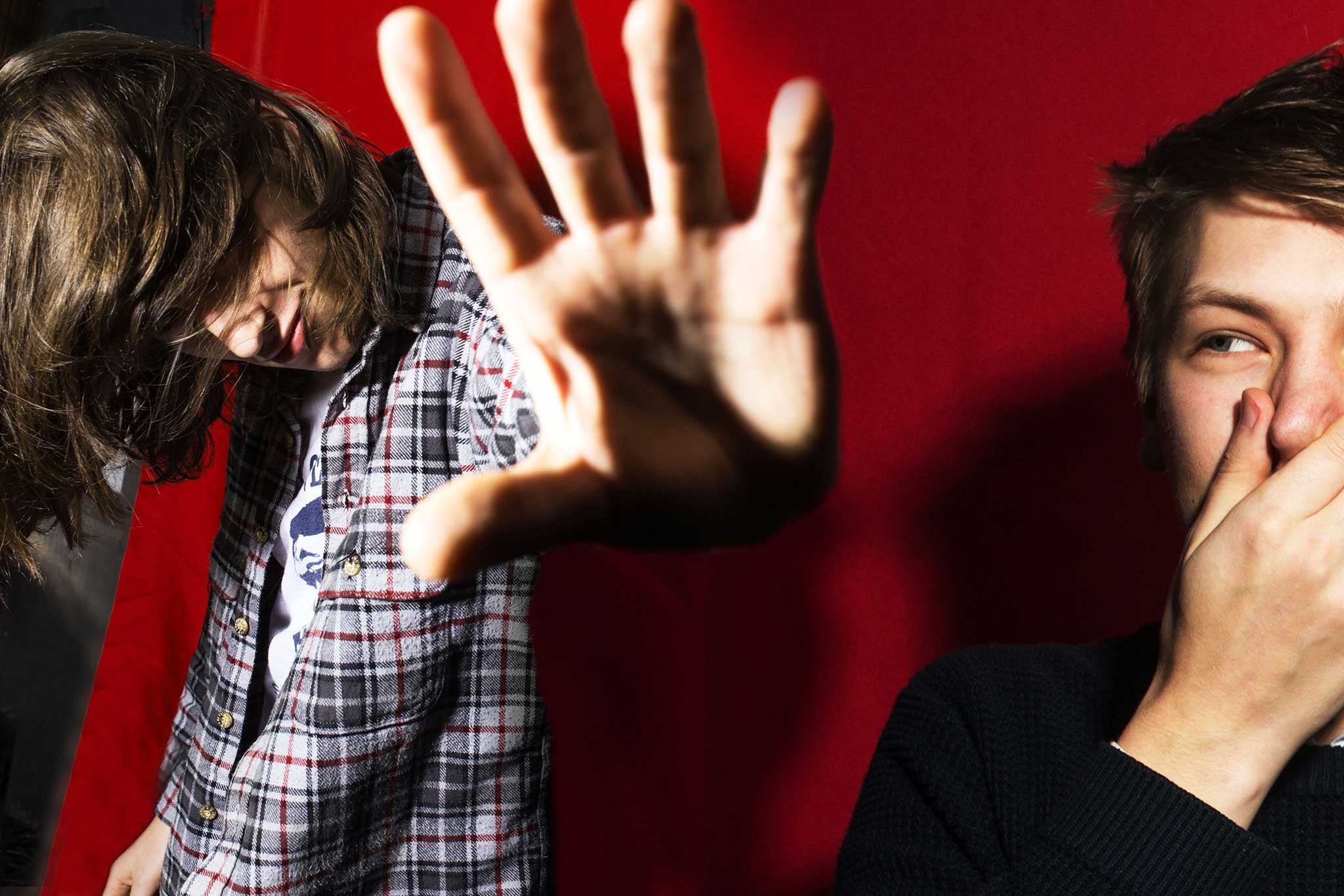 From dodgy dresses, to making Letterman shout "DER-BY-SHIRE!!", brothers Eoin and Rory Loveless are stumbling towards greatness.
August 2014 will probably go down as one of the most important months in Drenge's history. Eoin and Rory Loveless played the set of their lives at Reading Festival. In dresses. By the time they'd finished - Nirvana comparisons flooding in, and not just because of the attire - they looked to have made the big step up from bright brotherly prospect to Actual Massive Deal. But it wasn't that simple.
"As triumphant as that moment might look on paper, it was an absolute ballache," states Eoin Loveless, dryly. He recalls a five-minute drama where, prior to showtime, "everything broke". His response was to throw the biggest "tantrum" of his life - "In a dress."
"It was the most terrifying thing I'd ever seen," admits Rory. "Pedals were being thrown. I was scared for my life. I'd never seen you like that."
Perhaps Eoin's unparalleled anger came into the equation, the magic formula to Drenge's Reading success. There's zero doubt that on that muggy weekend afternoon, something shifted. Out stepped one of the UK's biggest hopes in an age, a couple of guys who could play their hearts out while wearing dresses with nice felt pineapples sewn on.
Drenge's journey from plucky Derbyshire newcomers to festival conquerors wasn't some bolt out of the blue. Riding the wave of their 2013, self-titled debut, every show out-did the previous. Improvement marked every move, and it's no surprise that second LP 'Undertow' translates the transition. "I suppose with touring the last record, we got a bit better at our instruments playing live," says Eoin. 'Undertow' is a "better attempt" at translating the thrill of a Drenge show, while also acknowledging a band that's come one hell of a long way in the space of two years.
There's a step up in ability, but Drenge have another ace up their sleeve. Bassist Rob Graham helps two become three, adding that little extra grit to an already shameless fuzz-fest. Whereas their debut was defined by its own constraints, 'Undertow' is the sound of a group free from their shackles. It's no coincidence that tracks take titles like 'Running Wild' and 'We Can Do What We Want' - this is a band unhinged, bouncing off the walls in possibility.
"We didn't choose the two-piece life. The two-piece life chose us."
— Rory Loveless
"We didn't choose the two-piece life. The two-piece life chose us," jokes Rory, Royal Blood have brought the two-piece chat to something of a zenith, but from day one, Drenge have always been intending to avoid double vision. "Even before successful two-pieces were suddenly a thing, every interview was almost exclusively about The White Stripes and The Black Keys," says Eoin. "I don't own a Black Keys record. And I don't know the last time I listened to a White Stripes album. They were hugely influential when growing up, but when you're twenty-two or twenty-three and you've got people going, 'This band - you must listen to them loads'. It's like… we don't."

'Undertow' is defined by big changes, but it remains close to home. Most of the songs, Eoin says, are based in Ringinglow Moor, which he'd have to drive over in order to get to Sheffield. Growing up, new bassist Rob would give Eoin lifts into town. "He'd play Iggy and the Stooges, Sabbath… I didn't have an older brother telling me to listen to stuff. Driving over the Moor is where I learned a lot about music."
Part of Drenge's appeal is that, in Rory's words, "there's not many other bands from where we are", and they've stayed rooted to home on LP2, despite spending half their time on the other side of the world. In fact, stints in America only further established their national pride. Eoin describes their last US tour as "incredibly difficult". "We hadn't taken any time off," he says. "I came away from that and I was not in the mood to entertain an American-friendly album with a pop hit that's gonna get you on the charts."
Mind you, 'Undertow' isn't all one grand, gnarly horror show. It's the absolute opposite of anti-hooks, and tracks like 'The Woods' and 'The Snake' represent Drenge's most overtly pop moments. True to form, however, whenever these two strike gold on a chorus, they've done it as a joke.
"Musically, this record is really, really funny."
— Eoin Loveless
Single 'We Can Do What We Want' rockets past at a ridiculous speed, but it's most notable for its closing section - or "outro", in Drenge terms - which switches from raw-as-hell verses to a chirpy, indie-circa-2003 climax. It's great, but it's also a bit weird.
"That's the sound of lots of people in the studio going, 'Ha ha ha, wouldn't that be funny'. Then recording it. And then not ever getting rid of it," admits Eoin. "That's a moment of excess. We thought we were being really funny by doing that. We just thought we'd written some Libertines-y indie rock thing. But the jokes don't continue outside of the studio."
"It's hard to communicate when you're so funny, and your brother's so funny. And you're like, 'Why doesn't everyone find us really funny?'" ponders Rory.

"I find the last record quite funny, lyrically," starts Eoin. "Whereas this one, I don't find it funny - I find it really depressing. But musically, this record is really, really funny. I've got a shit sense of humour, if I can find bits of music comical."
At this point, the two of them crack up at the thought of Eoin doing a guitar solo. Taking the piss, however, is half of why Drenge are doing so well. They don't take much of what they're doing particularly seriously. So they do things like turn up to the biggest festival slot of their lives in dresses. "I wouldn't carry on if I didn't have that attitude," says Rory. "When we toured America, two hours of sleep and then getting in a taxi to the airport - it was a bit much. But I'm still here."
Taken from the April issue of DIY, out now - order your copy below. Drenge's new album 'Undertow' is out now via Infectious Music.