Live Review
Courtney Barnett, Electric Ballroom, London
10th April 2015
She's meticulously in control of her own runaway train.
In between songs tonight at Camden's Electric Ballroom, an audience member yells something at Courtney Barnett. She peers back at them for a moment. "Quit stalling?," she quips, with a smirk. "Stalling's all I ever do."
Often Courtney Barnett's presence is described as shy and introverted - bordering on awkward, even. Really, though, she's the kind of artist who gets totally, completely, lost in her music. She performs as if, by some feat of haphazard teleportation, she's been whisked away from playing songs in her bedroom and unexpectedly ended up on a stage. Bravado-riddled stage patter isn't Barnett's forte, admittedly, but the moment she closes her eyes and lets loose her breathless tirades of colliding syllables - jumping from taxidermy kangaroos to extended studies of off-white wallpaper in pauseless flashes - she's an unstoppable live force.
Varying the pace interchangeably between 'Sometimes I Sit and Think and Sometimes I Just Sit' stand-outs and older songs like 'Canned Tomatoes (Whole)' and 'History Eraser,' Barnett's forever tinkering with her songs on-stage, to electrifying effect. The riffs of 'Pedestrian At Best' tumble over one another at clattering, rampaging, speed, but Barnett's meticulously in control of her own runaway train . By the end, the chorus "put me on a pedestal and I'll only disappoint you," comes out as a series of "bleargh" noises, thrown breathlessly in the vague direction of the microphone.
Throughout Courtney Barnett's musical output, its her witty, sharp-minded observations, and her infallible delivery, which shines. She has a magical ability to deliver quick-smart lines like "aren't the pressed metal ceilings great?" with po-faced faux-sincerity. Equally, she can hoick genuine, and often surprising, sentiments out of crackled cream ceilings. "Wondering what you're doing, what you're listening to," she sings on 'An Illustration of Loneliness (Sleepless in New York), "which quarter of the moon you're viewing from your bedroom."
All of Barnett's wit shines tonight at Electric Ballroom, too. "This one's amazing," she says, on an unburstable high towards the end of her set, "it's a cover of a band called Courtney Barnett." Playing about spontaneously with her vocal delivery, but keeping a keen eye trained on her bandmates, Barnett's not bothered about record-perfect renditions as much as she is playfulness. Amid a crowded field of polished, slick rock outfits, she noticeably brings something that feels raw, unpredictable, and real. Courtney Barnett, stalling? Far from it - tonight proves that she's storming in cruise control down the one-way round to all-out success.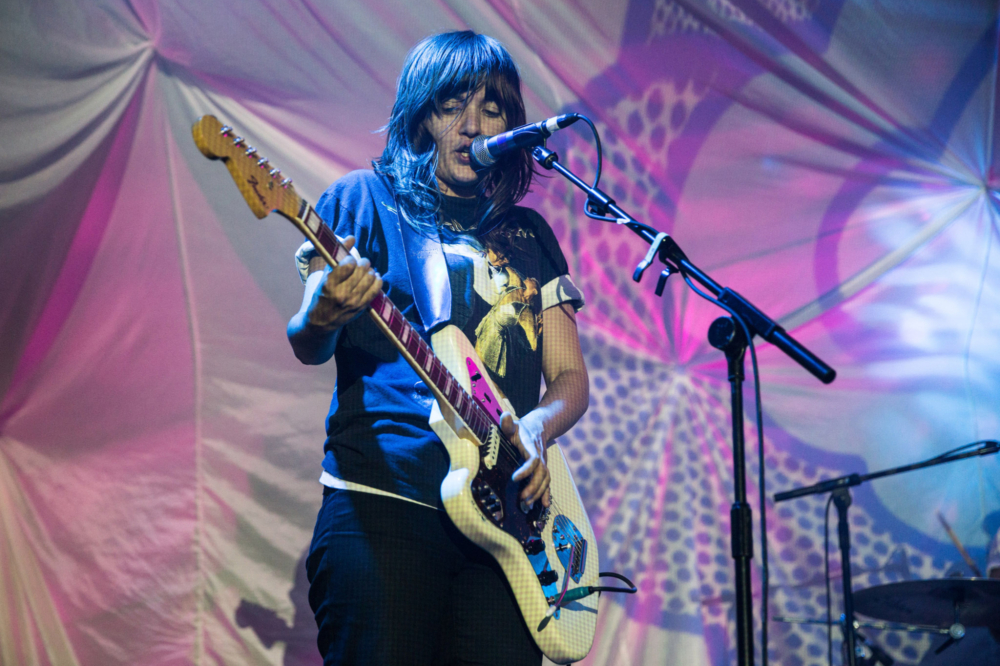 Get your copy of the latest issue