Interview:
The determined, do-it-yourself route of Demob Happy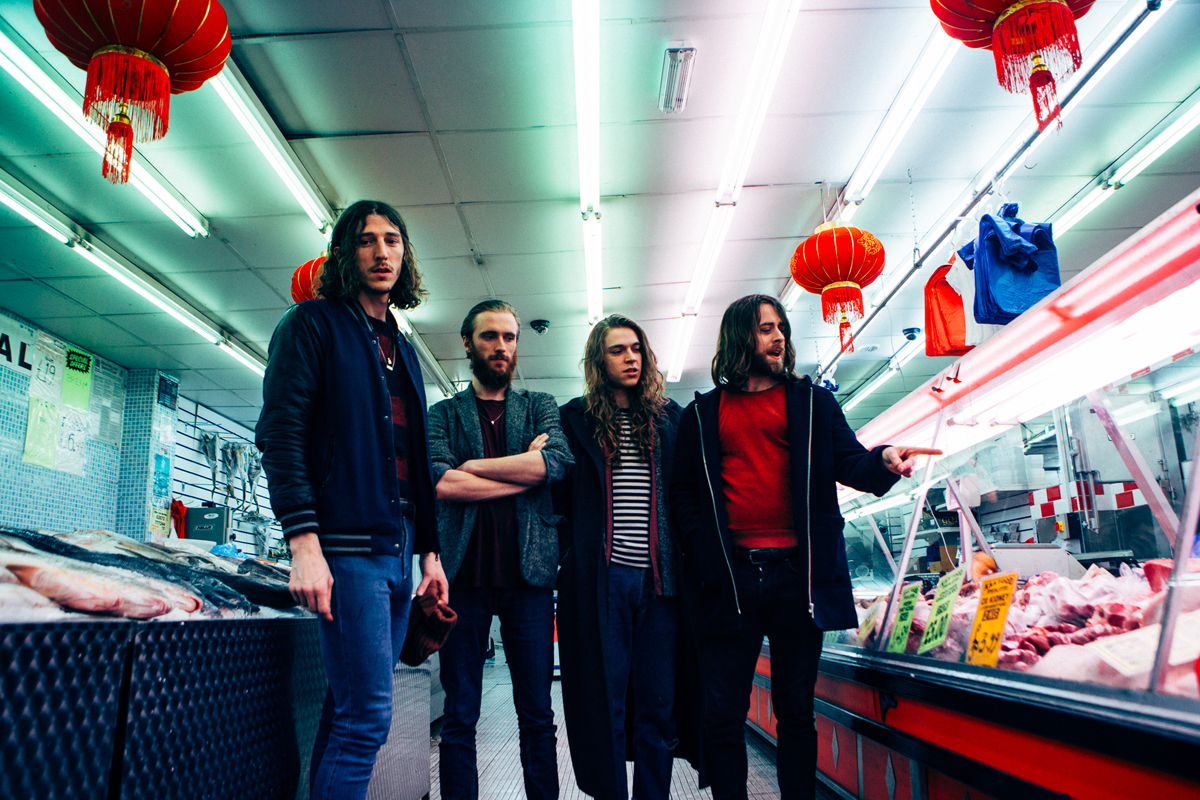 Taking the long run, this Brighton bunch have gradually established themselves as one of the UK's best new bands.
What makes Demob Happy different? Whether it's up on stage or behind the scenes, there's something separating this Brighton four-piece from the current crop. Matthew Marcantonio - up there with Tobias Jesso Jr. in the tall frontman stakes - has a delivery that doesn't stir from thin air. And with each of their recent moves, Demob have edged further away from the norm. It's taken a while to translate, mind you.
This is a band with almost a hundred shows under their belt. They've been recording music in a coffee shop-turned-rehearsal space by the coast for over two years. Heads have turned from the beginning, but it's only midway through 2015 that they can even begin contemplating big things. "We don't need to talk about toppling from perches right now," admits Marcantonio, whose brother runs the Nowhere Man cafe, a de-facto Demob hub that also happens to be so hip, it makes coffee froth in the shape of Walter White / Heisenberg's face. "Laying down the groundwork, you've got a fanbase who are there to see you progress," says drummer Thomas Armstrong, who echoes the band's belief that good things take time. "With the best of luck, you wish you could come out of nowhere and be thrust into the limelight. But it's easy to disappear just as fast."
It was last year's 'Succubus' that truly put these four on the map. Maybe it was the timing - Brighton was seething with bright new bands, Royal Blood leading the city's charge without being remotely connected to any one scene. But this was a grubby, dastardly statement of intent. Together, with the rest of new EP 'Young & Numb', Demob announce themselves a group capable of giving grubby rock 'n roll a brave new badge.
They've achieved it the old fashioned way, mind you. Avoiding social media at almost all costs ("the Twitter thing - none of us have ever used it before, and none of us want it to. It's such a weird language," says guitarist Adam Godfrey), they ruck up to distant parts of the countryside, go out for the odd walk, and pen the bulk of their songs with Christophe Skirl on production. "The internet creates a thing where bands look like they come and go way too soon," says Marcantonio. The band have mailing lists and whatnot - they're not pretending WiFi doesn't exist. But these four like to maintain at least some air of mystery, like wondering what actually goes down in the Welsh countryside. "We want to drive people towards coming to see us live - that's where the best stuff happens," says the frontman.
At DIY and Neu's 'Hello 2015' showcases this January, Demob were up there with headliners Girl Band in forging madness out of perfect precision. That takes some doing. Simply by playing so many shows and being self-sufficient for two solid years, they've hit a switch. "The problem with a lot of bands nowadays is their route into the industry is a silver spoon," claims Marcantonio. "They're born with connections and with ways in. They appear to come out of nowhere, but… It took a long time for us to push the ball and get it rolling, but everyone we've brought in to work together - they're all ready to jump on, to use a snowball analogy." Just as things look close to stepping up a few gears, there isn't a band more prepared to take off than Demob Happy.
Photo: Phil Smithies / DIY. Taken from the May 2015 issue of DIY.
Demob Happy will play The Great Escape (14th-16th May), where DIY is an official media partner. Tickets are on sale now. Visit diymag.com/presents for more information.