Album Review:
Best Friends - Hot. Reckless. Totally Insane.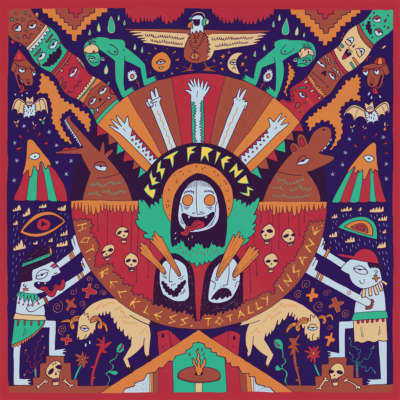 An astute sense of mischief and a knack for snazzy hooks.
Label: FatCat
Released: 10th July 2015
Best Friends have long perfected the art of creating music that makes a crowd bop until they're bruised. Since they first formed four years ago, their garage punk sound has become a staple of the UK DIY scene. Stepping forwards into the limelight at last, with their debut album the fuzz four-piece are putting the 'Hot' next to 'Reckless' and 'Totally Insane'.
Unwinding at its own deliberate pace, ticking percussion counts down the moments until album opener 'Fake Spit' explodes. Distorted riffs and jagged vocals set a raucous template – but the Sheffield outfit have never been ones to stick to the lines. 'Hot. Reckless. Totally Insane' isn't afraid to revel in its own velocity.
With a knowing nudge and a wink, Best Friends drift between rousing and relaxed. Favoured single 'Happy Anniversary' is revived and refreshed. Characteristically titled 'If You Think Too Much Your Brain Will Fall Out' is the group at their most raw and rambunctious. 'Cold Shapes' meanders in contemplation, anxious lyrics and restless drumbeats driving into a euphoric chorus that demonstrates the band at their most pop hook heavy. 'Dr Mario' resounds with the enamoured kind of nostalgia you wish every day could leave you feeling, whilst Edwyn Collins referencing album closer 'Orange Juice' manages to straddle the line between heartfelt serenade and invigorating anthem with distinguishing ease.
With an astute sense of mischief and a knack for snazzy hooks, Best Friends' debut full-length offering is as endearing as they come. Consisting of songs about everything from video game marathons to drinking toxic waste, 'Hot. Reckless. Totally Insane.' is a snapshot in time. "It's crazy but I'm having the time of my life" they chime on 'Dr Mario' - with such enthusiasm hard-wired into their words, it won't take long for that to become widespread.
More like this