Film Review:
Marvel's Ant-Man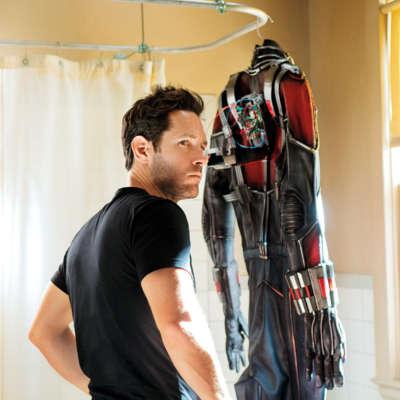 This is one comic book hero who can transcend his physical stature and stand tall amongst his better known Marvel buddies.
Released: 17th July 2015
If you're sitting there like a feverish supervillian rubbing your hands together and waiting for Marvel Studios to trip up and release a dud then you should probably write 2015 off as another failure for you and another triumphant one for the comic book giants and their Disney chums. Marvel's Avengers: Age of Ultron trounced all beneath its feet back in April and now the diminutive superhero, Ant-Man (and traditionally a founder of the Avengers) makes his big screen debut in this hugely enjoyable first outing.
In Marvel's Ant-Man, smarty pants thief Scott Lang (Paul Rudd) is freed from jail and keen to stay on the straight and narrow for the sake of his delightful young daughter, Cassie (Abby Ryder Fortson). But finding it hard to hold down an honest job as an ex-con he gives in to the pleas of his motor-mouth friend, Luis (a scene stealing turn by Michael Peña) to break into the safe of a wealthy man and make off with the riches inside. What he doesn't know is the safe belongs to scientist and inventor Hank Pym (Michael Douglas) who needs Scott to help him stage a daring heist in order to save the world from his sinister ex-colleague - and the man who ousted him from his company, Pym Tech - Darren Cross (Corey Stoll). The object of the heist is to steal an suit that will shrink the wearer to minuscule proportions using particle shrinking tech invented by Pym and stop Cross selling the remarkable suit to the highest bidder. Gifting his own suit to Lang, Pym and his frosty daughter Hope (Evangeline Lilly) must train him to use the suit to its full potential and communicate with ants who will aid him in his dangerous mission.
Years in development with Edgar Wright on directing and writing duties alongside Joe Cornish the Brit was replaced by Peyton Reed at the eleventh hour, cruelly close to realising his dream. Fortunately Wright and Cornish's style and humour remain intact, all the absurdities and charm you would expect from the director of Shaun of the Dead are present and correct. Which is not to say that Reed simply rests on his laurels, he injects proceedings with flair and makes the best use of 3D in a Marvel film yet. Inventive use of the shrinking mechanism sees Lang switching from life size to tiny and back again to dizzying effect while Rudd and writing partner Adam McKay do a grand job of re-writes on the enormously entertaining script.
Lang's motivation for everything is his daughter making him the most personable and empathetic of Marvel's heroes thus far and Rudd brings his easy, twinkly-eyed charm to the role with convincing action-man credentials. Douglas as his mentor hits every comic beat and brings pathos and regret to his tortured genius, trying to make peace with his past and amends with his adult daughter who in turn learns that, like Lang, she is her father's main concern.
A slow first half soon makes way for a frenetic and imaginative second half with sight gags that are pure Wright and Cornish and Marvel-ites will be delighted to see a little of Pym's backstory featuring the Wasp.
A flat out funny entry in the Marvel-verse in the same mold as last years Guardians of the Galaxy, Ant-Man makes an arresting debut and sets things up nicely for his impending appearance in Captain America: Civil War. Regardless of his place in the Avengers or the audiences prior knowledge of the character, this is one comic book hero who can transcend his physical stature and stand tall amongst his better known Marvel buddies.