Live Review
Kendal Calling 2015
30th July - 2nd August 2015
Even the cold Cumbrian rain fails to dampen the happy Kendal spirit.
Over the past decade Kendal Calling has established itself as one of the best-loved events in the North West, growing from a miniature 900-capacity gathering in Kendal to the 25,000 -strong party in its current serene setting at Lowther Deer Park near Penrith. Bringing together names across the spectrum - from the all-out guitar chaos of The Vaccines to hip hop royalty Snoop Dogg - it is a friendly affair, catering to all ages and tastes.
Blossoms' woozy flowing psychedelic pop is a big hit with the early Thursday crowd but there's no escaping the fact that the night belongs to fellow Mancunians James, whose set almost inevitably erupts into a giant family singalong, with parents blasting out "Oh, sit down next to me."
Friday crowd swells up considerably with the arrival of more happy callers. Augustines, another Kendal favourite, take to the main stage in the afternoon, rousing the crowd with ragged songs bristling with emotion and intensity. Spinning beautiful psychedelic pop, Temples then add an authentic 60s twist that aptly matches this year's theme: 'Kendal Calling Goes Through The Decades'.
Unlike many on the bill, The Vaccines don't have a long Kendal history but clearly fit into its vibe. Following an earlier DJ set in the Tim Peaks Diner, they burst into action the minute they hit the stage. 'Post Break Up Sex' and 'Wetsuit' cause a fireball of party riot. In the meantime, over at the covered Jägerhaus stage, LoneLady's post-punk hypnotic disco beats draw an attentive crowd, and wondrous things start taking shape in the woods as neon art installations and costumed parades of strange night time creature come to life. Blasts of cold torrential rain appear to have no effect on the party mob at the House Party tent and the Riot Jazz stage is bouncing to the sounds of ska, reggae and hip hop whipped up by Cut Capers.
Saturday afternoon treat is The Horrors, whose new wave psych attracts a sizeable audience given their relatively early appearance. Saturday is also the day Kendal's Calling Out stage, plays host to DIY. "We are drunk on Ribena and now we're getting too excited", proclaims Turbowolf's frontman Chris Georgiadis, before exploding into what turns out to be an obscenely fun set driven by psychedelic weirdness and rocking madness. Palace's chilled bluesy tunes culminate in a beautiful cover of 'You Can't Always Get What You Want' that gets a massive cheer from the excited crowd.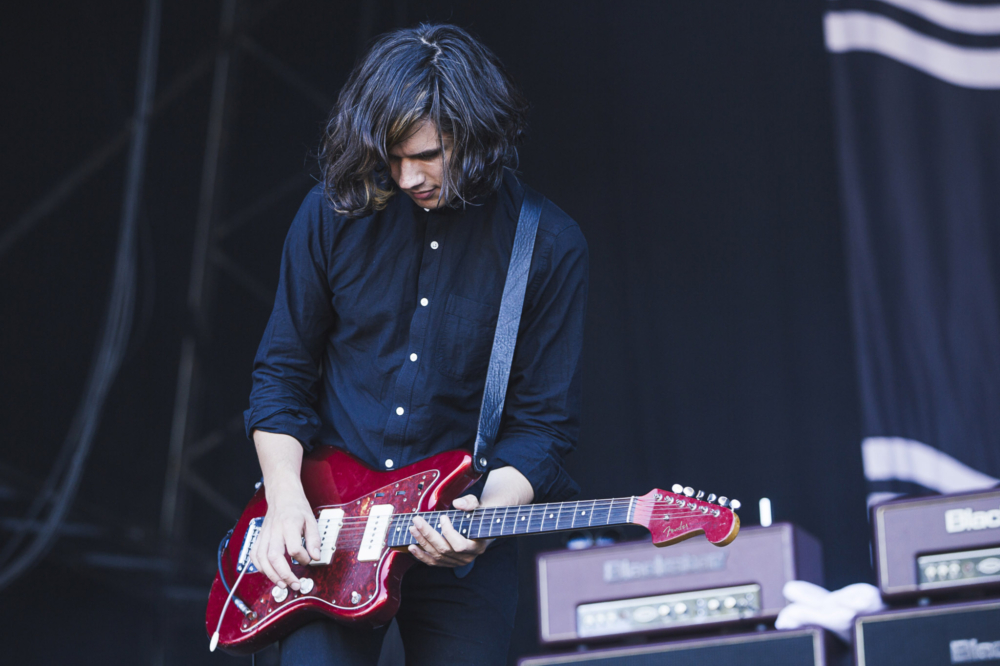 Super Furry Animals, stepping in as last minute replacement of Kodaline, win over the audience with a career spanning set culminating in a triumphant 20-minute rendition of 'The Man Don't Give A Fuck'. Meanwhile Dutch Uncles' step onto the Calling Out stage firing a question, "I only wanna know one thing - are you good?" Throwing impressive dance moves they quickly seize everyone's attention with their special brew of math-infused uplifting pop.
Given that every second person at Kendal seems to be from Manchester, it's not surprising that many head in the direction of the main stage to see the return of Kendal regulars and Mancunian favourites Elbow. However, the night truly belongs to a band of more local origins. As darkness descends, the mysterious green Woodlands stage surrenders to the sounds of British Sea Power who deliver a straight-up big hit set, kicking off with a Krautrock-propelled 'Machineries Of Joy' and ending with a guitarist Martin Nobles' whiskey-sharing crowdsurfing adventure and a giant singalong of 'Carrion'.
Sunday morning is always a somewhat subdued affair at any festival but Billy Bragg gathers a sizeable crowd who seem invigorated by his political statements and jokes as well as his music. Back under the canopy of the Calling Out stage Boxed In get the party started with catchy hooks and irresistibly danceable thumping urgent beats. Later, Black Honey's Izzy Bee's dramatic voice adds an edge, crashing through with a visceral intensity reminiscent of Courtney Love.
Sunday's penultimate main stage booking of Snoop Dogg was always a brave move, especially for a festival with a family-friendly reputation. Arriving fashionably late, he greets the biggest crowd of the weekend by telling them to put their "motherfucking hands in the air" and advising everyone to smoke weed. Fan favourites 'Drop It Like it's Hot' and 'Gin & Juice' are complemented by an array of covers that include Bob Marley's 'Jammin' and a track he featured on, Katy Perry's 'California Gurls'.
Before the night is out, All We Are take over the stage at the cosy Jägerhaus, weaving perfectly tailored, smooth funk groves that soon have everyone moving. Their hypnotic shimmering tunes stand in stark opposition to Sunday's headliner, Kaiser Chiefs. Proudly declaring their northern credentials, they elicit loud cheers, but fail to ignite the party flames. It is a somewhat disappointing ending to this 10th birthday bash, but even the cold Cumbrian rain fails to dampen the happy Kendal spirit, drifting through the night time wonderland of bars, dance tents and fairground rides.
Photos: Andrew Benge

Get your copy of the latest issue