Interview:
HEALTH: "You either make two great records and you're dead, or something crazy happens"
A few anxiety-ridden years on from 'Get Color' and HEALTH are back with a new album.
The record that HEALTH are about to put out has been in the back of their heads for just shy of half a dozen years. Whether fully-formed or fragmented, it's been sitting there waiting to be completed. Beneath the deathly noise that they produce, it's sometimes hard to pinpoint, but these four are perfectionists of the highest order. And they've been haunted by an album that they've been wanting to finish for what feels like forever.
"I'm just so relaxed now," says John Famiglietti. "I've almost forgotten that I was mildly anxious for the past five fucking years."
"I'd be going on this road trip with my girlfriend or trying to have dinner, but it'd be like 'What the fuck am I doing?'" remembers Jake Duzsik of his waves of anxiety. "It's like having nightmares about having huge term papers due in tomorrow that you didn't even realise existed," chimes in Jupiter Keyes.
"I still have those dreams," says Jake, remaining frazzled by the experience of having this colossal weight on his mind. "To be honest, it's still not done. You guys can listen to the record, you can like it or you can dislike it, it's just like whatever."
Being fair on HEALTH, for an LA outfit who make vicious stampedes of apocalyptic noise their trade, completing a record is never going to be a 'that'll do' affair. You can't mimic the sound of a futuristic death march by tapping a few buttons and seeing what'll happen. And for third album 'Death Magic', they had big standards to follow. 2007's self-titled debut was an ugly statement of intent. The follow-up, 2009's 'Get Color', married gruesome production with an aesthetic that to this day hasn't been matched. No other band sounds like HEALTH, and that's probably because they'd die trying.
"What's the point in just being an old punk band? Why do you want to reproduce."
— Jake Duzsik
From day one, these four set themselves a bar of doing something completely different - "and it kind of screws you," says Jake. The frontman spent his teens being obsessed with classic "punk rock," but with his own music, he never wanted to replicate. "What's the point in just being an old punk band? Why do you want to reproduce?" he says. "So we'd go to these noise shows. Free noise - trying to make music that's as aggressive as possible. I think the first time we played shows, we'd play for nine minutes, the most bombastic thing. You'd want people to have an experience." They've since spent the whole of their musical lives trying to replicate that fear factor, the idea of reshaping someone's tastes through one eureka moment. 'Get Color' "didn't sound the way we wanted it to sound," he claims. "And we really didn't want to put out a third record like that. You either make two great records and you're dead, or something crazy happens. Or you get there and you want your third record to be a definitive realisation of that sound. It's not like we're a band like Interpol who had their first record and their entire aesthetic was realised. It's taken us a while."
'Death Magic' leads the intensity of 'Get Color' astray into different territory. The force and aggressiveness is still there, but instead of being the big draw, these aspects are mere tools that shape huge, melodic songs. 'LIFE', the album's centrepiece, could be a U2 song if it lost power and needed recharging. "For me at least, I'd want us to keep writing good songs," says Jake, a thousand miles away from the notorious, art-house noise shows his band would frequent in their early days.
Two years back, 'Death Magic' looked imminent. Jake told DIY his band were working on more "gratifying" music that does indeed feature heavily on the final LP. They toured the UK and Europe, previewing new material at a handful of intimate venues. Everything looked ready to go. What followed was radio silence. Jake puts it down to not sounding "the way we wanted it to sound. This one had to be physically arresting. And we didn't feel like it was done until we got as close to it as we could." What could have been an even bigger factor, however, is that HEALTH had just finished recording the soundtrack for Rockstar Games production 'Max Payne 3'. What began as a "three month job", says John, soon became a "thirteen month" trip. They worked twelve hour days, seven days a week. It was a challenge that completely consumed them.
"That was the most unhealthy period of my life," remembers Jupiter. "I was personally obsessed with the project and threw myself into it in a way that compromised my relationships and my physical and mental well-being. I put on weight and had a steady diet of whiskey and pills. It was a function of a lot of personal things going on in my life but I guess you could call it 'unintentional method scoring'…"
"Our lifestyle changed. We stopped socialising. We kept really weird hours, because we were on the the west coast and needed to deliver music to them by 9am. No one made us work at night, but we're dirtbags so we went graveyard shift," says Jake. Their sense of reality became skewed. "But I'm very glad we were involved in that project," states Jupiter. "'Death Magic' is a better record because of it."
John's in agreement. "With video games you so much have power. You can do almost anything, you can patch games after they come out. Seeing that was inspiring. It changed how we thought about 'Death Magic'. Fuck a deadline, we're not done until we're satisfied. When it comes to rockstar games they are like family. The experience was incredibly gratifying. And we would totally do it again"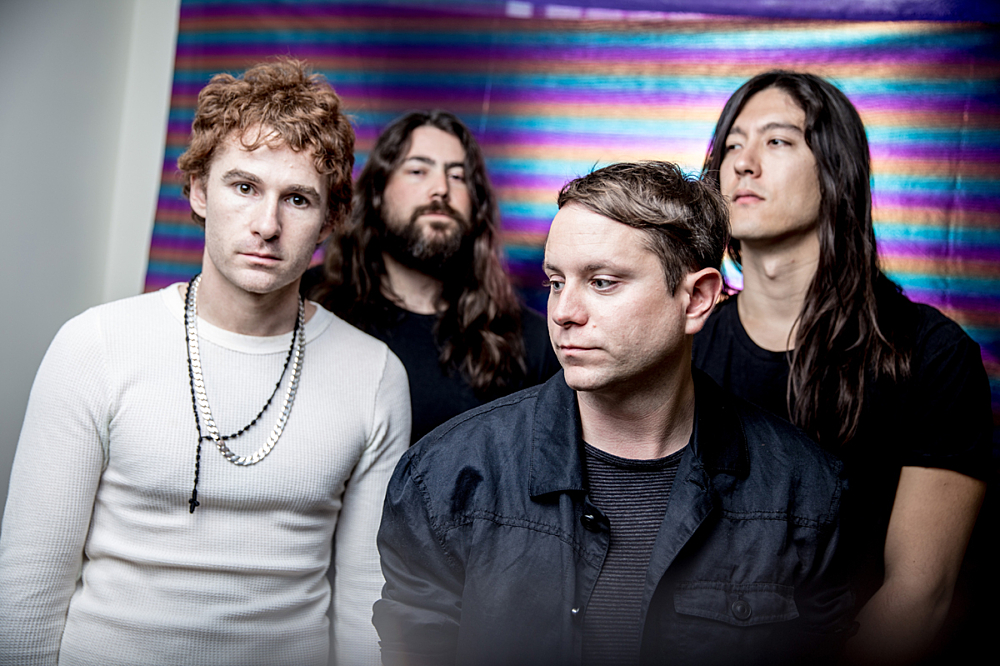 "The cool thing about working with such a small music department within a powerful company is that they don't have to pander to anyone, the only goal is to make sure that what we are all doing is good. And of course working on that scale, we were given a huge opportunity were very aware of wanting to do our best. Our label could come to us with deadline four months out, when we want to be able to be like fuck you we are still working,'" says Jake.
"Games can get the red telephone and go 'Print ten million copies!' When you're printing on that scale, it's like 'Everybody stop what they're doing'. It definitely turned into a monster project. The music supervision department is so small at Rockstar Games. The whole company is generating this game, so you don't have to pander to anyone. It's not like 'We have this eccentric musician guy, so we have to cater to him' - nope, it's 'You're gonna do what we want. Fuck you'." Without hesitation, all four are in agreement that 'Death Magic' was a bigger strain. "Emotionally," says Jake. "There's always something. It's sequenced, it's mastered, the label goes: 'Guys, let's go have a drink! Also - we need a music video in a week and a half'. That actually happened."
The chances of getting HEALTH to go back and listen to their completed, "abandoned" (in their words) third album are slim. They'd probably prefer to make a 'Max Payne 4' soundtrack, if given the choice. But beyond the emotional effect and years of life lost to stress, 'Death Magic' does sound as close to what they'd imagined making in the first place. Years have gone by. Music itself has been radically transformed. Electronic acts have incorporated the venomous steel that HEALTH made their name on. But make no mistake - this is still their distinct calling. And despite everything, Jake sees the record for what it is - the most complete realisation of their strange imaginations. "The future's fucked up," he says, imagining the kind of scene 'Death Magic' could exist in. "There's technology, space travel and cyborgs, but everything is grimy and there's soot and condensation on your computer screen. People don't get to go outside anymore. It's underground somewhere, or there's only artificial light. That's us." They've lost their sanity, their social lives and their sense of reality, but HEALTH haven't lost their magic.
Taken from the August issue of DIY, out now. HEALTH's new album 'Death Magic' is out now via Fiction.

Get your copy of the latest issue