Album Review:
Miley Cyrus - Miley Cyrus & Her Dead Petz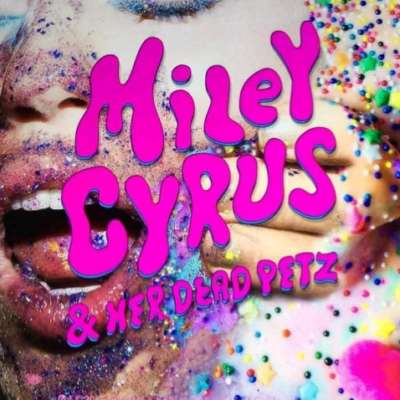 A star-spangled ride through sugary art-pop, space-rock and the absurd.
Label: RCA Records
Released: 31st August 2015
For the most part, Miley Cyrus' '& HER DEAD PETZ' is a star-spangled ride through sugary art-pop, space-rock and the absurd.
It's also undoubtedly the most interesting and substantial thing Cyrus has ever done, an absolute beast of an album with twenty three tracks that sometimes hit, sometimes miss and sometimes transcend either category and just become a portal to the weird, wonderful and weed-filled world that her and the Flaming Lips (who produced the album) have weaved.
There are some truly fantastic, fantastical moments on the album. 'Karen Don't Be Sad' is five minutes of twinkly escapism, 'Space Boots' is about cosmic-pop defined with interstellar whooshes and synths, while 'Cyrus Skies' is an orchestral piece of psych-pop that would make Tame Impala's Kevin Parker jealous. There's also some cracking, by-the-book pop tunes – 'BB Talk' and '1 Sun' are by the far the most fun and interesting cuts Cyrus has ever done – but for the most it is a spaced-out, blissed-out trip that makes it hard to comprehend that it came from the mind behind 'Bangerz'. It's truly exciting stuff. Even if Cyrus reverts back to making something for the label heads, for now, this is a gigantic foam finger to industry constraints and a dazzling insight into the twinkling mind of one of pop's biggest stars.
More like this