Album Review:
Public Image Ltd - What the World Needs Now…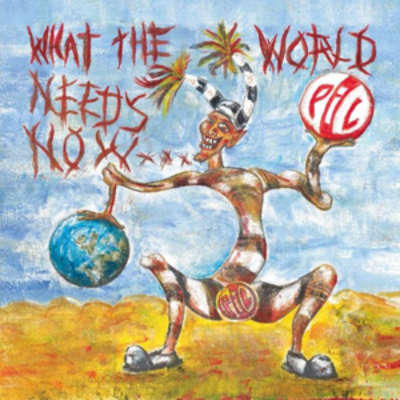 Lydon remains part pantomime, part snarling truth sayer.
Label: PiL Official
Released: 4th September 2015
'What the World Needs Now' ends with 'Shoom' which, over its 6.32 seconds, features John Lydon shouting the word 'bollocks' approximately 50 times (Never mind the bollocks indeed). The song starts with the lyrics "Fuck you, fuck off, fuck sex, it's bollocks. All sex is bollocks." Yet the chorus sees him bellow with passion and zeal "What the world needs now… is another fuck off."
It highlights the contradictory contrariness of Public Image Ltd and John Lydon. It's all there: humour, angst and intensity. And Lydon's personality dominates every song - his voice high up in the mix, his mix of pantomime and passion the driving force.
We all know the narrative by now: the punk icon selling butter and collecting ostrich eggs in the Australian jungle. But selling that butter paid for their last album, the surprisingly great 2012's 'This is PiL', which was a timely reminder of what an important band they are.
And 'What The World Needs Now', though patchy, is an equally forceful reminder of what they're capable of. The opening riff of 'Double Trouble' sounds reminiscent of Sleaford Mods. It's a reminder of PiL's and Lydon's influence (though it also throws light on how how toothless Lydon can sound when he's talking about getting the plumber in to fix the toilet).
Yet the album has some fantastic moments, a mixture of oddball left turns all held together by Lydon's vocals. This is the first time in Public Image Ltd's nearly 40-year history, that the same personnel appear on consecutive albums and it sounds like a band hitting their stride. Tracks like 'Corporate' and 'I'm Not Satisfied' show their teeth and an impassioned band who mean business while the no-wave guitar of 'Know Now' is like razorblades, featuring some wobbly synths and Lydon at his sloganeering best.
There are plenty of ideas on show: 'Big Blue Sky''s ominous dubbed-out hypnotising insistence is punctured only by a chorus that sounds like it's from a musical. Yet, 'The One' - as close as you could imagine them getting to classic rock with its chiming guitar - is blissful.
Yet despite the missteps it's 'What the World Needs Now's' ability to sound energised and fresh which makes it an album that you can't dismiss. Lydon remains part pantomime, part snarling truth sayer - and it's exactly what we want from him.