Live Review
Festival No. 6 2015
3rd - 6th September 2015
One surreal weekender.
Before even arriving at Festival No. 6 there's a sense of leaving behind the day to day as the miles peel by across North Wales. And, if for some reason this isn't established en route, the first wander around Portmeirion should do to drive it home. No amount of back story can prepare for the sheer oddity of an Italianate village built into the rugged landscape above the Dwyryd estuary, but put that in the mix with a high quality music lineup that's only about 40% of all the zany goings on at Festival Number 6, and you've got one surreal weekender.
Years & Years delight the crowd on Friday afternoon, a waning Welsh summer forecast doing little to dampen the glow of their music, or the crowd's enthusiasm. Frontman Olly Alexander's immersion in the audience during 'Shine' causes a hysterical scramble for selfie sticks and iPhones. From the opposite side of the Castell Gardens, Kate Tempest is sending dubby vibes wafting out of the I Tent with 'Lonely Daze'. In the space of a set impassioned, exasperated, and distraught, as all the powers that earned her a Mercury Prize nod are put to work.
With the crap weather stubbornly in place for the night, Mark Ronson brings his playlist of birthday bangerz to the main stage (it's his birthday btw). Even with a set consisting mostly of Noughties hip hop classics, the man's got star power, and it's one of the best attended of the weekend.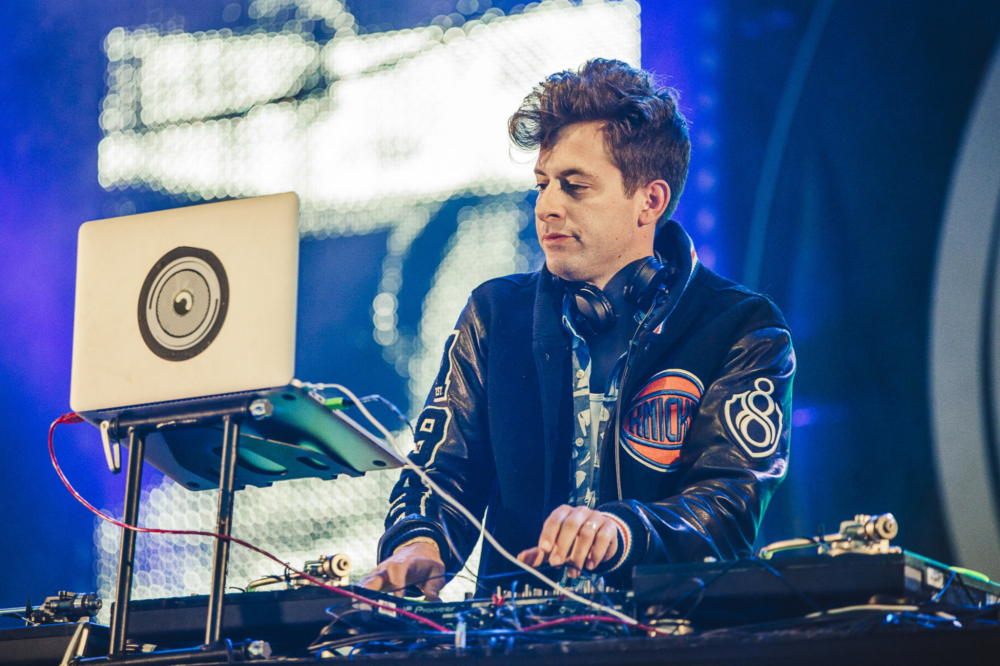 Right about the time Ronson is absorbing the birthday cheer, Young Fathers are conjuring up a very different vibe. With the menacing wall of sound that supports their visceral brand of hip hop, their presence on stage is like a tribal conjuring, first three in a row, then huddled all around one mic. It's impressive, intimidating stuff.
While Ewan Pearson surprises everyone up at the Castell Gardens stage, dropping techno bombs on the delighted crowd, Friday night's headliners Metronomy emerge for what singer Joseph Mount portentously calls their "last gig for quite some time". Thus, the never easy to pin down outfit take the crowd on a tour de force of their catalogue befitting of any swan song. They've veered and swerved over the years, but tonight they lay it all bare, and it's great to hear. As the night ebbs away to the sounds of UK dance music stalwarts Crazy P, Andrew Weatherall, and The 2 Bears live set (cuddlier, shall we say, than their DJ sets), you're already convinced of the magic of this place.
Saturday begins in the best possible way with a set from the now globally known Spring King (thanks, Zane). 'City' is huge, and they engage in a musical blitzkrieg that does everything to blow away the cobwebs. Jane Weaver's tinny acoustics and jauntier rhythms, meanwhile, don't quite live up to the shock and awe that precedes them.
Fryars is customarily bashful (to the extent that you wonder if he actually enjoys performing), while Rae Morris leaves us in no doubt that she does, boogieing about the main stage in the gorgeous afternoon sun. Later Bondax cultivate the vibes deep in the woods with a bassy soundtrack of disco and hit songs. 'King Kunta' anyone?
Everything Everything take to the stage with imperious presence as night falls. Jonathan Higgs marshals the performance with startling energy, articulating every line. From classic 'Kemosabe', through recent album hits 'Regrets' and 'Distant Past', one is given a concentrated hit of the drama inside the wackiness.
Belle and Sebastian's colourful menagerie have been at it for a decade and a half now. An indie music gateway for many, the nostalgic bliss tonight is surpassed only by Stuart Murdoch's sincere pleasure at performing for the assembled crowd. He gets a girl to speak Welsh for him, he sings her a song in return, and people are invited up on stage to dance for the closer.
A mixture of soothing 'oohs' and spikier grooves from The Big Moon proves the perfect tonic to any final day blues. Stymieing any attempt to keep things light hearted though, Haelos' crescendo ridden set is both immersive and weighty. LA Priest does his best as a one-man band, and apart for the odd moment of over stretching, tracks from new album Inji like 'Oino' sound remarkably accurate.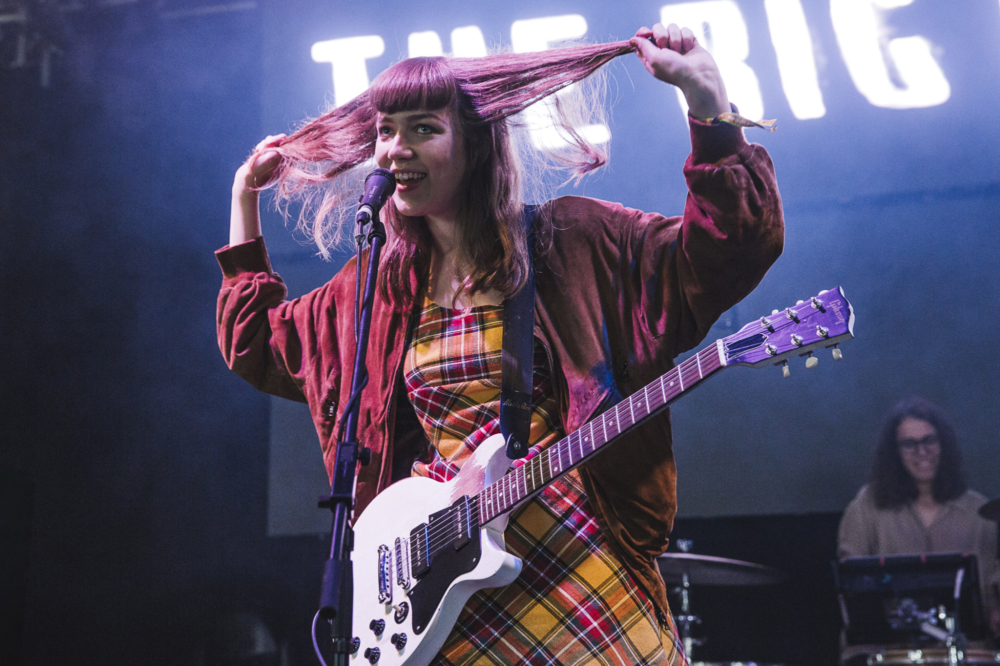 Stornoway challenge Belle & Sebastian for kitschy appeal singing a song they've written about a Bittern (a line that may even have featured), and after what at times felt like the modern, indie equivalent of 'Old McDonald', something sullen is called for. Enter Ghostpoet, whose output has gotten more musical with every release. The power in tracks like 'Sorry My Love, It's You Not Me' and 'Lines' is one half dramatic composition, and the other gritty, blunt observances. It's Sunday, and swirling around inside the I Tent, it all takes on a potent edge.
With the anticipation high for a certain film, fashion, and music icon, the largest crowd of the weekend assembles, and true to form, Grace Jones is spectacular. In a wild array of outfits, she plays a set of covers and originals, a reminder of the many boundaries she has pushed in popular music and her dazzling selection of musical contemporaries. Add to that giant inflatable balls, a hula hooping display worthy of someone many years her junior, and there's a madcap warmth emanating from the whole scene you'd be hard pushed to replicate. Reinforced is the impression Festival No. 6 has mixed everything at its disposal beautifully, and at the tail end of the season, is a gentle, encouraging reminder of the cross-generational quality of UK music.
Photos: Andrew Benge

Get your copy of the latest issue