Premiere:
Birdskulls unravel fire-starting 'Trickle' LP with track-by-track guide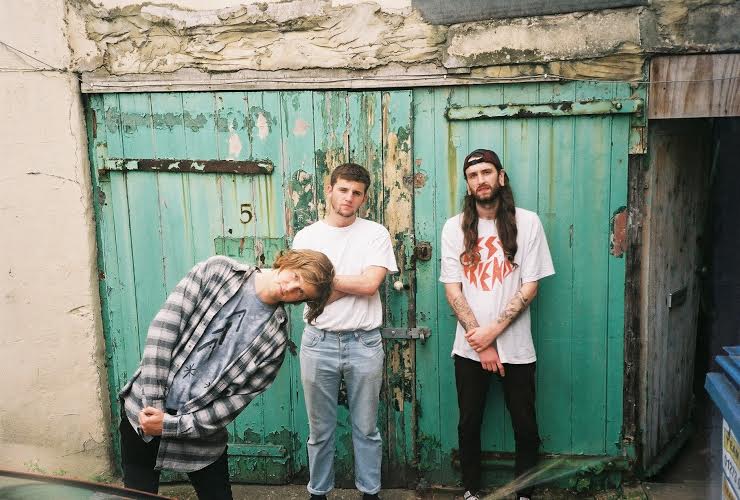 Stream the group's new release on Dog Knights in full.
Birdskulls have energy racing through their 'Trickle' full-length. It's there in the opening, eye-gouging burst of 'Poltergeist'. And it's clear in the artwork, a kid playfully putting her nose against the glass of a car window. There's a youthful vibrancy linking each of these songs - Birdskulls sound like a band jumping out of the blocks with both eyes on the finish line.
'Trickle' comes out 28th September on Dog Knights, and it's the kind of release that ought to give these guys a giant platform. And if there are any questions over the non-stop heavy pull of this first work, we've asked the band to provide a track-by-track guide to their debut.
Stream 'Trickle' above Birdskulls' blow-by-blow account.
Poltergeist
We wanted 'Trickle' to start heavy and end heavy. 'Poltergeist' was the last song we wrote so we put it at the start of the album. I was writing about paranoia and addiction throughout the whole album and this song brings together some of my ideas with the poltergeist (the ghost that can move objects). The poltergeist is there constantly for the addicted, but is non-existent for others. We play this song first when we play live.
Sever
'Sever' was inspired structurally by the songs of Cloud Nothings and misleadingly changes tempo at the start. The constant backbeat and the breakdown in the middle represents the repetitiveness of life and the breakdown of a modern family. It doesn't really, thats just how we wrote the song. Lyrically the song is from the perspective of a delusional psychopath who wants to kill his family.
Silverface
'Silverface' is the friend who got too wasted at the party/pub/christening. Portrait inspired. This song we wanted to write a super heavy riff and base the song around it. A structure that ends up back at the start, it just felt right.
Although we don't necessarily endorse getting too wasted at a celebratory event we don't necessarily not endorse getting too wasted at a celebratory event. As long as you're kind to your friends and have a good time, it's fine. 'Silverface' encompasses the negative paranoid friend who steals all your poppers and sells them for Bucks Fizz (ed: we've all been there). Next time you celebrate your GCSE's see if you can spot Silverface. He's usually hanging around the kitchen or is passed out at the front door.
Good Enough
Our self described party anthem about staying awake when your loved one falls asleep. So ends Side A (if you are listening to it via pressed plastic weave (PPW)).
Thursday
'Thursday' was demoed as being a much heavier faster song. We decided in the end that content-wise it didn't fit so we slowed it down and just had guitar/vocals until the build up into the last chorus. We felt that it would give the album a more dynamic sound and thought the song generally sounded better as a slow song. Personally for me, doing this song was the hardest part of recording the whole album, just because I've never done this sort of song for Birdskulls. I'm excited/nervous for people to hear it.
Trickle
The namesake of the album, this song again sums up a lot of the lyrical focus condensed in a two minute verse chorus verse chorus solo chorus end. I wrote the solo when we were at the studio just before recording this song and I was pretty happy with it, if I do write solos I usually scrap them and just do whatever live but for this song I always try and play it note for note. The song is about a someone who took too many brain-altering drugs and became so paranoid that people shouldn't have trusted them, but they did and that someone hurt people. It all trickles on.
Ghost World
This is a song we wrote ages ago, it fitted the bill however and we decided to revive it and alter it.
Coma Hospital
We had agreed that this song was going to be the last song on the album before we had written a lot of the other songs. It's a song that had evolved dramatically in structure and length for about a year before we came to record it and the bare bones of it was written before Sam came into the band. We settled on it eventually when he joined and it became a much more well thought out song because we didn't rush it. I wrote it from the perspective of a comatose patient who can see whats going on around him but can't vocalise anything and eventually is killed by a family member. Narratively there is a tenuous link to Sever, I'll say no more. The last refrain of the song, "Im not that tough, shut it off" was the last thing we recorded with Jamie Stuart, it was the right way to wrap up the recording.