Album Review:
Shopping - Why Choose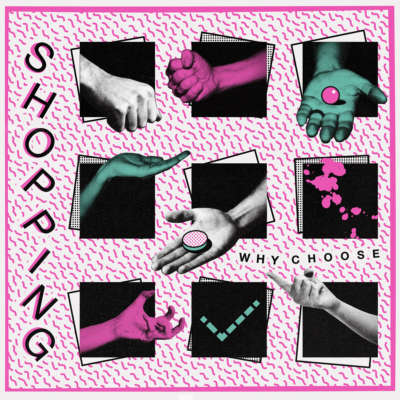 Rarely drops beneath being anything less than brilliant.
Label: FatCat
Released: 2nd October 2015
Through their debut, self-released album 'Consumer Complaints' and, maybe more importantly, incessant DIY touring, Shopping have brought themselves to the forefront of the UK DIY scene in the run-up to the release of 'Why Choose'.
Their first album on FatCat starts with 'Wind Up', which wastes zero seconds in introducing a harsh post-punk bass sound that goes on to dominate the album. 'Why Choose' is constantly instant, and nothing is left to chance or a second listen. It's all laid out immediately. Guitar and bass never meet in terms of sound on the record, but work around each other to provide a dual attack which is in equal amounts poppy and foreboding. This coming together of styles makes 'Why Choose' an album to which it's not clear whether to dance with abandon or sway and gaze at the floor, but it's a listen that's nothing if not captivating.
'Take It Outside' takes the creeping nature of the album to its highest point, with the lines "can we take it outside / you heard me right" delivered with no apology or humour. A playful nature definitely runs through 'Why Choose', but when it gets serious, either through lyrics or razor sharp instrumentation, it's done with complete conviction.
Shopping want to be moody and want to be fun; they want to be taken completely seriously and want you to laugh with them. Though the album switches between states of feeling, it rarely drops beneath being anything less than brilliant.
More like this