Hurts: Surrender to the unexpected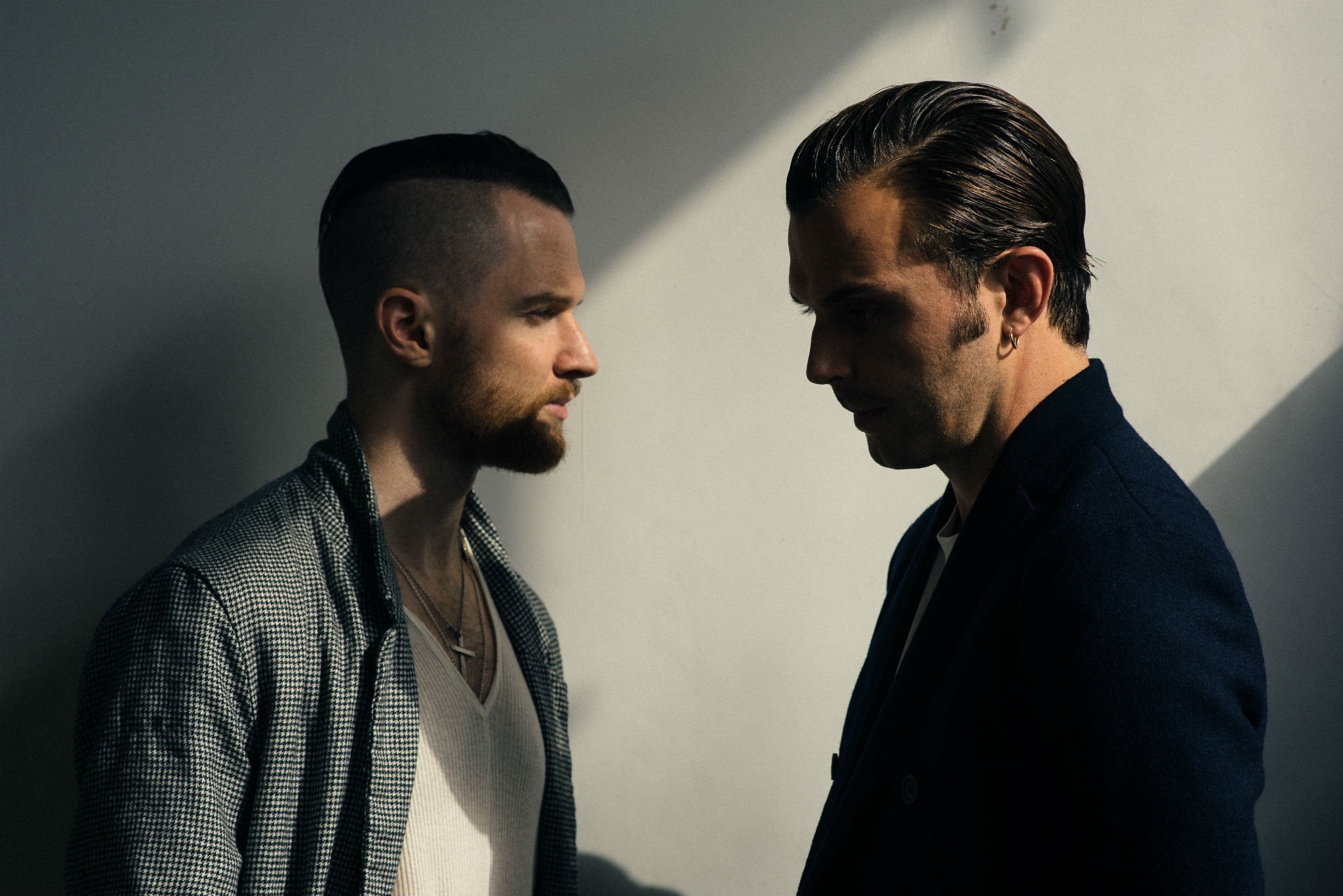 Hurts are treading a new path for album number three. "We just knew we had to throw away all the blueprints," they tell El Hunt.
Hurts don't do anything by the book. Following a totally roundabout trajectory, Theo Hutchcraft and Adam Anderson were gigantic ruckus-causing sensations in Germany long before anyone in the UK had really heard of them. The duo attract a solitary knowing look while buying a coffee in East London today, yet in Poland they're endlessly pursued by adoring mobs wherever they go. It's no exaggeration to call Hurts a proper international band, and as frontman Theo sees it, that's the key ingredient that allows them to take risks, time and time again.
"It means you can't second guess your music," Theo ponders. "We're very lucky to have that strange existence. It's why when we make albums we can't think about the person listening to it too much," he laughs, "because we don't know who they are."
Operating without expectations, and forging forward into their third album, Hurts poured gasoline all over their previous rulebook and watched it smoulder away to nothing. True to name, 'Surrender' is about panning limitations. "That feeling of letting go," says Theo, "not resisting. Often, when people ask us about it - maybe it has a different meaning in other languages - they say it's a very negative title. But, that's what it means to us. Whenever we feel too comfortable, we do something that makes us feel uncomfortable, and completely alien."
With a reputation for slick grey suits and darkened, soaring, pop music, the duo's second album was an especially emotionally taxing affair, made from the confines of a Manchester apartment in the middle of a chilly winter. Theo and bandmate Adam put themselves in self-imposed isolation to create 'Exile,' and typically, the follow up is the total antithesis.
"We'd exorcised a lot of the demons on 'Exile'," Theo says. "We set out to write a certain type of album. We wanted it to be intense, and dark, and very introspective. After we finished 'Exile', it was quite tiring working like that, so we thought, what would happen if we tried to move around, and live in a different environment. The key is, we've got to keep moving forwards," he insists, "and the music has to be emotionally honest."
Hurts' search for something new took them away from their rainy flat, to the Hollywood Hills, Ibiza, and Lake Geneva in Switzerland. "'Surrender' is a lot more extroverted, and outward looking," as a result, they reckon. As well as sticking with their long-time producer Jonas Quant - who is "almost part of the band" - the pair also took yet another step further out of their comfort zone, getting in touch with pop heavyweight Stuart Price, best known for working with Madonna, The Killers, and Kylie. They also reached out to desk-manning man of the moment Ariel Rechtshaid; who produces everyone from Haim and Charli XCX, to Sky Ferreira and Tobias Jesso Jr.
"It shakes it up," Theo says. "We're used to doing it ourselves, and then Jonas being involved, this pattern we've made for ourselves. Because we'd tested out new territory, we looked to people like Stuart, and Ariel, to give us the perspective on it. We did 'Lights' with Ariel - because we'd written this very different song, his musical brain could help us piece it together. Stuart's got an amazingly infectious, positive personality - he's just a joy to be around. It was a dream team, for us. It's quite nice to treat every album separately, and not repeat yourself," he continues. "Prince and Bowie have never done the same thing twice. They've always taken risks to move forward. We didn't start with a plan, but we just knew we had to throw away all the blueprints."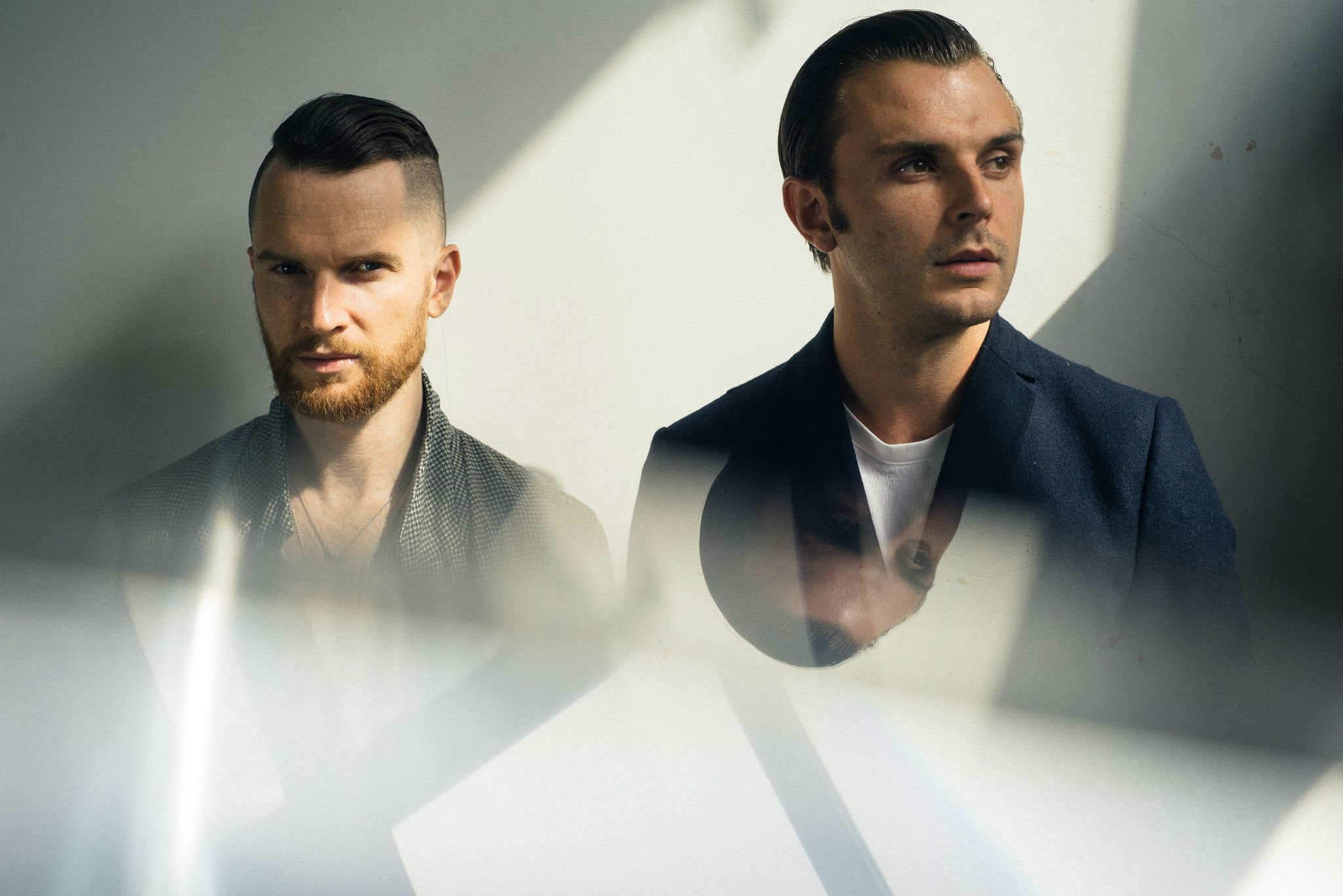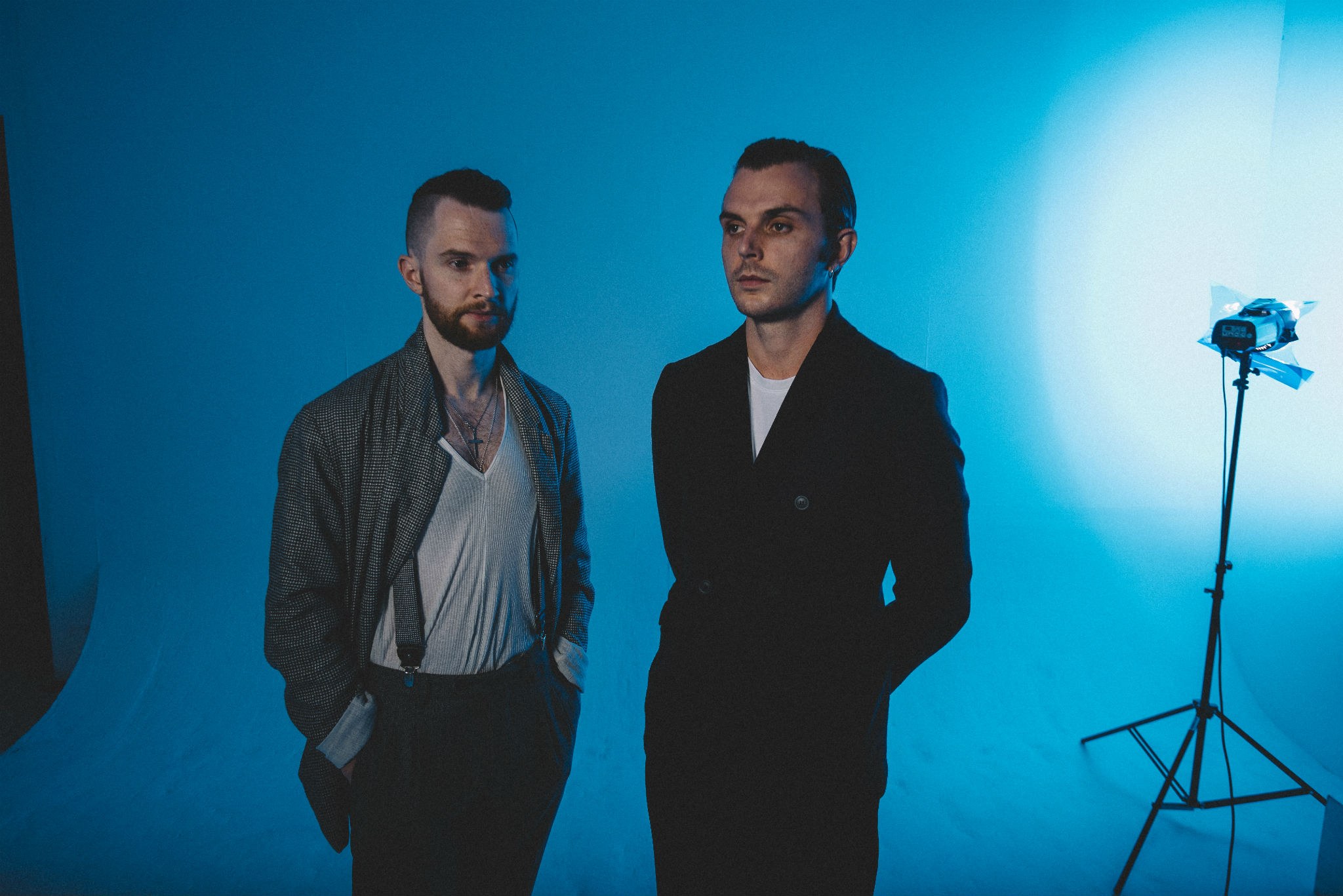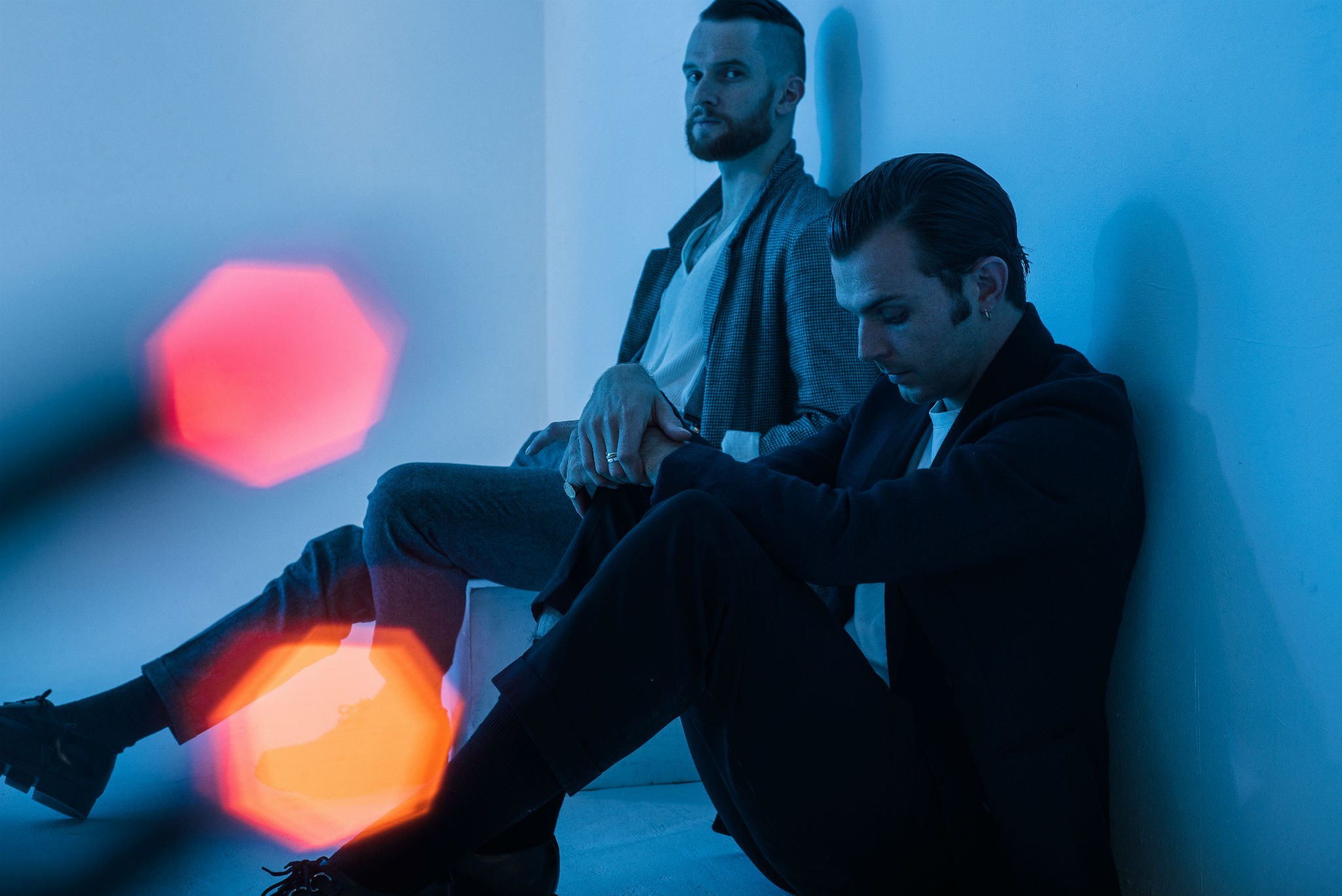 "We've been taken out by strange gangster type people before in Poland, and half abducted because they wouldn't let us go home."
— Theo Hutchcraft
Adam - by far the quieter of the two - doesn't so much see 'Surrender' as such a grand departure, rather a return to Hurts' roots. "There's probably about three songs up the more uplifting end; 'Lights', 'Why,' and 'Kaleidoscope,' he says. "It's a bit of an obscure perspective that people have," he says. "The rest is more traditional for us. It sounds like the first album, I think."
Whichever way you look at it, though, 'Lights' still stands out as one of the boldest songs Hurts have ever written. As a single, it's a strong statement of intent; as a complete package with its neon-hued video, it's the jackpot return of well-paying risks.
Frontman Theo suddenly, unexpectedly turns dancefloor matador - "my friends," he comments, "had no idea I could dance like that". Clip-clopping and twirling his way around a dated club, while Laura Palmer from Twin Peaks staggers around in her plastic wrapping, it's Hurts doing what they do best. Despite their slightly misleading reputation for serious ballads, and serious melodrama, taking themselves seriously is actually the last thing Hurts want to do.
"Being in a band is funny," says Theo. "It took us a while to get there, so we don't take it too seriously. We were on the dole for two or three years when we first started out, constantly sat there, going one day, hopefully, hopefully. Getting there is like getting out the traps!"
"If you say yes enough times, every so often, weird things will happen," he goes on. "When you go to Ukraine, and people are trying to get into your hotel, it's like being in a movie. We've been taken out by strange gangster type people before in Poland, and half abducted because they wouldn't let us go home. They owned this club, and they cleared everyone out. It was a bit like the club in the video for 'Lights,'" he observes. "No matador, though. Just a load of burly dudes."
As far as weird occurrences go, Hurts have seen it all. In the past fans have given the band some incredibly bizarre gifts; notably a voodoo doll, and a portrait of a butt-naked Adam with only a watermelon to conceal his modesty. "It just means people like it, the more intense it is," shrugs Theo, unperturbed by dodgy Al Capone types, and unusual gift choices alike. "When you make quite emotional music, you put your emotion on the line. You know when you hear a song and you think 'I feel like somebody understands me?'" he asks. "We all do that. People don't realise it happens the other way round. When someone comes to us, and says this song really means something to me, we go, ah, finally someone knows what we're talking about. It's a weird therapy between people."
Photos: Mike Massaro / DIY. Hurts' new album 'Surrender' is out 9th October via Columbia. Taken from the October 2015 issue of DIY, out now.