Album Review:
Deerhunter - Fading Frontier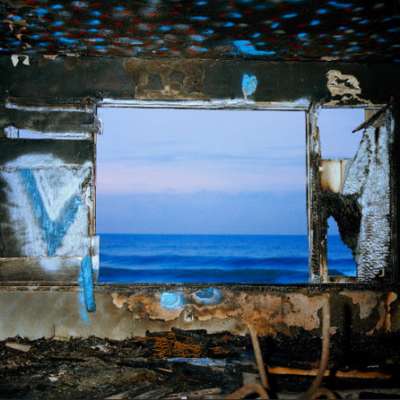 'Fading Frontier' draws a new line in the sand, and it could be the beginning of a more direct and big-thinking Deerhunter.
Label: 4AD
Released: 9th October 2015
It's difficult to start anywhere else but with Bradford Cox's 2014 car crash when it comes to Deerhunter's seventh album 'Fading Frontier'. With every record he fronts, Cox is a magnetic figure. He'll either be the ravaged rock icon of 'Monomania' or the dizzying leader of weird from 'Cryptograms' and 'Weird Era Cont.' This time, there's a potentially life-altering story leading the way. Instead of diving into a new self or seeking change in near-death, however, with this record Cox rediscovers what he does best.
Opener 'All The Same' is indication enough that no drastic shifts result from staring directly at the grim reaper. Straight out the 'Microcastle' bracket, it's a slicker, more straight-down-the-line version of Deerhunter's staples - looping guitar lines, subtle but affecting build, vocals that command rather than crawling into a dark corner. Previous album 'Monomania' saw Cox taking confidence to extremes, but he's not crawling into his shell here.
'Breaker' finds him directly addressing the crash, and it results in one of the band's finest moments yet. A poolside Hawaii aesthetic sounds blissfully free, and Cox matches it up with the line: "I'm alive / I don't credit the source / I just drive / And then the fog rolls in." With a sudden appreciation for what keeps the world turning, 'Breaker' is a striking indication of where this record excels. No faffing around, zero time to waste, it's all straight-to-the-chorus efficiency.
That's not to take away from Deerhunter's ever-present oddities, which rarely depart 'Fading Frontier'. Lead single 'Snakeskin' sounds like Scissor Sisters peering into the void, jolting pop with a dark centre. 'Leather and Wood' shifts out of shape so much, it sounds like an antique machine being forced into function. Not a great deal has changed in how Cox leads his group through strange extremes.
On 'Take Care', however, the headlights dim and Deerhunter bathe in their own glow. A fully-formed ballad that could wrestle with juggernauts, it's a gigantic work that's always looking up. "What is it you're after? Don't just stand there," sings Cox. If anything's changed since the crash, it's in how he's discovered a newfound ambition to pen the simplest, most affecting songs. He's come a long way since the experimental mid-'00s, and his bandmates have followed suit. 'Fading Frontier' draws a new line in the sand, and it could be the beginning of a more direct and big-thinking Deerhunter.
More like this