Album Review:
Real Lies - Real Life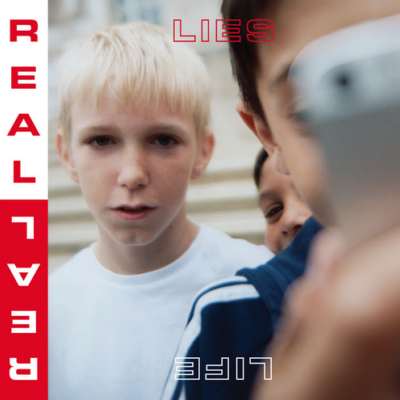 Makes you think, right?
Label: Marathon Artists
Released: 16th October 2015
With their early declarations that all London music was "a disgrace" and they were its saviours, Real Lies' intentions were always clear. Bolshy and bratty, theirs was a Gallagher-esque snot delivered with a Factory Records bounce – far from original, but drenched in a confidence that they knew would grab attention.
Strip back the showboating though, and their debut full-length 'Real Life' illustrates a harsh truth – a spiritual successor to Viva Brother's manufactured pomp, Real Lies' knife-twisting soundbites are little more than a cover-up for a musical direction that's lacking in any discernable identity.
Less saviours of the scene and more a relic of Britpop's worst tropes, Real Lies' lad attitude would be forgivable if it wasn't wrapped up in an achingly 'cool' post-Madchester aesthetic, all undulating synths and blown-out snare samples – snark at London all you like, lads, but you're aping the worst depths of its vintage shoppers' retro obsessions.
All the blog-busting singles are present and correct, and 'World Peace' is still a standout singalong, but elsewhere it's bucket-hat-pop by numbers, undulating synths bobbing along atop mumbled lyrical content that comes off like a thinkpiece hastily scribbled in the wake of a first visit to Dismaland. "Man, this town's so overgrown," laments 'Naked Ambition', "maybe it's time I did some growing of my own." Makes you think, right?
'Seven Sisters' is more Pet Shop Boys than Primal Scream, but it's all the better for it, the cabaret pop element at least lifting things up from the gutter for the briefest of moments. Elsewhere, though, it's a sorry sight – after spending so long trying to prove just how little they care, Real Lies' debut effort instead puts forward a group who've clearly agonised over every detail of their early '90s aesthetic, and forgotten about the songs in the process.

Get your copy of the latest issue
More like this