Interview:
Trust Fund: "The songs are just about my stupid life"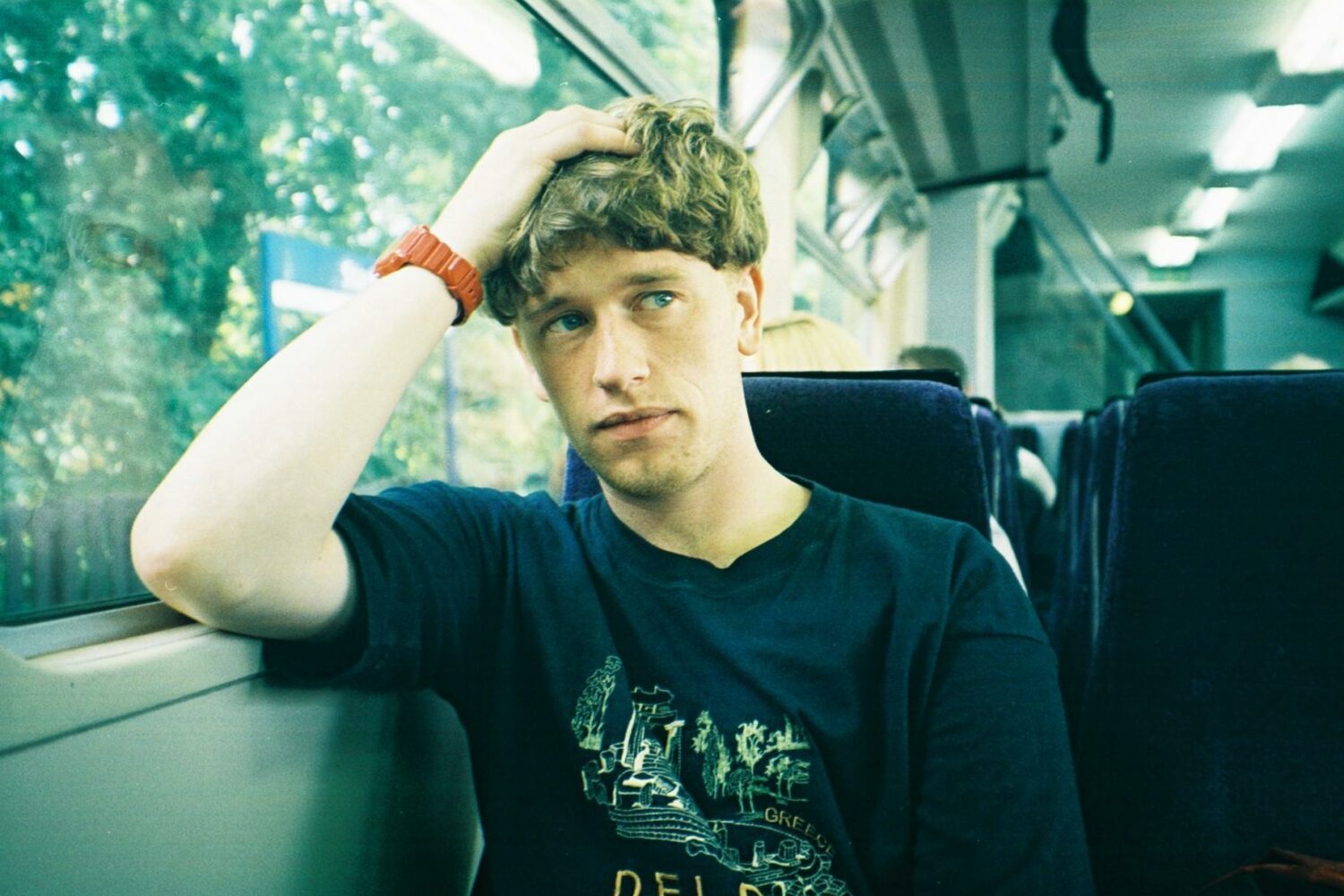 Preparing to release Trust Fund's second album of this year, 'Seems Unfair,' Ellis Jones has supermarkets on his mind.
Trust Fund's debut 'No-one's coming for us' came out earlier this year, and had a friend-like quality to it. It offered a knowing arm around the shoulder, the occasional quip to pick you up, and an openness that could lock in to however you were feeling, even when you didn't really want to talk about it. It's good to talk, though, you feel better for it. Trust Fund seem to know it. Before the dust has really come to settle on their debut, we find ourselves with the group readying their second release of the year, another outpouring with the same open sincerity.
For the group's lynchpin Ellis Jones – who comes to meet us after spending the day practicing for the recent Speedy Ortiz tour – the prospect of such a hasty turnaround for this second instalment is hardly a point of conversation. In fact, it'd be stranger for Jones to be sat waiting on a bunch of songs that have been written since before this year's debut was released. As soon as ''No-one's coming for us' was out, Trust Fund were back in the studio in Leeds laying down album number two.
"I still find it hilarious that we can actually sound like that as a band", says Ellis, with 'Seems Unfair' having a whole new level of depth in comparison to the often scrappier tracks that have attracted attention up to now. Working with MJ (Hookworms) at Suburban Home Studio – where new records this year from likes of TRAAMS, Joanna Gruesome and Menace Beach have been recorded – brought both new ways of working, and new sonic possibilities to a band whose recordings to date have largely been made in a bedroom. It's a graduation in sound that ties together the band's development over recent years.
"I wrote a lot of songs, and then we started playing as a band. On half of the songs the drums were in the last chorus, and until then it's just me being ropey on my own," says Ellis, speaking of the 2013 Reeks of Effort EP 'Don't let them begin'. "Playing that live, I'd feel pretty responsible for everyone else around me not doing very much. [With the new record] It was consciously trying to write band songs that we could all play together, and it seemed like the songs were just there to record in that way."
"It's important that we acknowledge who's enabling us to do what we're doing. We can't say that we're a DIY band. It's insulting to say that we are."
— Ellis Jones
Having songs that were made for the full studio treatment is one thing, but Ellis says that recording with MJ would never have been financially viable without the band's signing to Turnstile last year. For a band that has been eminent within the UK DIY scene, it's a process that Jones feels the need to be quite transparent about, moving forward. "We couldn't have recorded with MJ unless we were on Turnstile, because we wouldn't have had the money. It's the same with supporting Speedy Ortiz – there's no way we could afford to go on that tour if we didn't have the support, and it's important that we acknowledge as much as we can who's enabling us to do what we're doing. We can't say that we're a DIY band. It's insulting to say that we are, and it's important to acknowledge how much effort people put in to their music at all levels."
With the warm reception surrounding debut 'No one's coming for us,' and the Speedy O tour around Europe casting the net yet wider, there's a greater platform when it comes to 'Seems Unfair'. It's a record that stays true to Trust Fund's self-referential honesty, but Jones seems comfortable to quietly express something more. "We're trying to be a bit less selfish about writing songs," he says. There's nothing in your face about the politics of this record, but the idea of having individuality and even free will next to the stronghold of capitalism is there in the background, most notably in the form of tracks like 'Big Asda', 'Seems Unfair' and the scattering of supermarket references throughout the ten songs. Again - and unsurprisingly really for someone who's currently penning a PhD on the subject - it's something that comes back to his own DIY roots.
"If you're DIY, I guess that you can feel like the politics of your music are in the way that you organise. But now, to assume that your politics just radiate through your music when a lot of people are hearing it ,without any knowledge of who you are, is kind of ridiculous. I think it is more important to get something across about what we represent." When writing the record, Jones continued to find himself referencing supermarkets. He began thinking more widely about how the familiarity of massive corporations can lead us to feel safe and comfortable, while exerting a kind of control.
"Obviously I'm writing about stupid relationship stuff a lot, but I think being able to identify that broader theme is quite important," says Ellis. " It's what they do, and it works, and on another level you feel uncomfortable because you know that's what they do. But what else are you going to do? 'Seems Unfair' is about that kind of tension… No-one's lives are that explicitly political, but you sort of feel the tensions in quite an emotional and human way. I'm trying to write about that I guess. That sounds so grand!" he laughs. "The songs are just about my stupid life."
After a European run with Speedy Ortiz, Trust Fund head out for dates in some of the quieter corners of the UK in November. With a good bunch of friends to call on, it means that dates in the not too distant future are sure to follow. "I'm quite lucky because for lots of bands it [a set line-up] means that they can only go on tour for a one week a year, but quite selfishly it means I can ask who's around" he says. "Unless it was a band that we could do full time, which realistically is unrealistic, it will have to be flexible around peoples availability" he adds.
With 'Seems Unfair', it feels like possibilities are on the horizon that would have been hard to envisage even twelve months ago. It's a record that provides Trust Fund with the platform to continue their journey, from the DIY foundations that Ellis clearly feels so passionately about, into exciting untapped territory. Regardless of where it takes them next, what you'll always be able to rely on is that underlying, relatable honesty to a Trust Fund record; one that you know is going to connect with someone. That's never a bad place to start.
Trust Fund's new album 'Seems Unfair' is out on 30th October.