Live Review
Hop Along, The Garage, London
3rd November 2015
A seamless run-through.
Hop Along's third album 'Painted Shut', released back in May, remains one of the grittiest, most powerful records released this year, and tonight at a comfortably busy Garage, the band crash through the highlights from both that latest, and 2012's 'Get Disowned'. Tracks from the latter still get the best reaction, with 'Tibetan Pop Stars' inciting a reflection of every ounce of vocalist Frances Quinlan's passion from the crowd.
While vein-poppingly intense during songs, Hop Along are calm, funny and quietly appreciative in the breaks between them. It fits in with 'Painted Shut"s lyrics; rambling observations on mundane yet hilarious topics, delivered with a gusto that feels like it should be referencing life, death and bigger things. As such, the crowd seems unsure whether to pound their fists or chuckle along with Quinlan during her solo rendition of 'Happy To See Me', talking about a father waking up at 4am "to post a motivational video on YouTube, again."
The funny, charming, cutting 'Painted Shut' is transmitted live with every amount of emotion and humour the recorded version is given, and while little or no variation is shown from the studio versions tonight, it's a seamless run-through.
Quinlan often stops to exclaim just how grateful she and her bandmates are for the quite clear step up the band have made on these shores since their last visit, and the progression seen on 'Painted Shut' is fully reflected in the live setting. Never ones for year-long world tours, Hop Along's next visit to the UK is likely to be with a new record, whenever that may arrive. As a result, every second of tonight is taken in and digested fully with this in mind, and 'Painted Shut' given a run-out that does it absolute justice.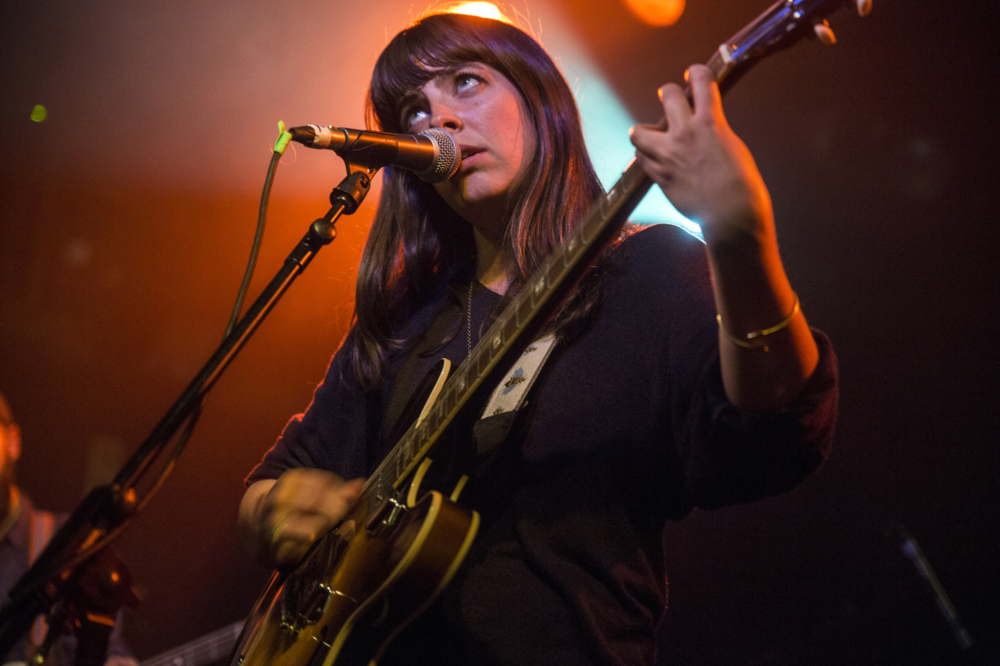 Photos: Jonathan Dadds

Get your copy of the latest issue