Teaches of Peaches:
Peaches shares new video for 'I Mean Something (featuring Feist)'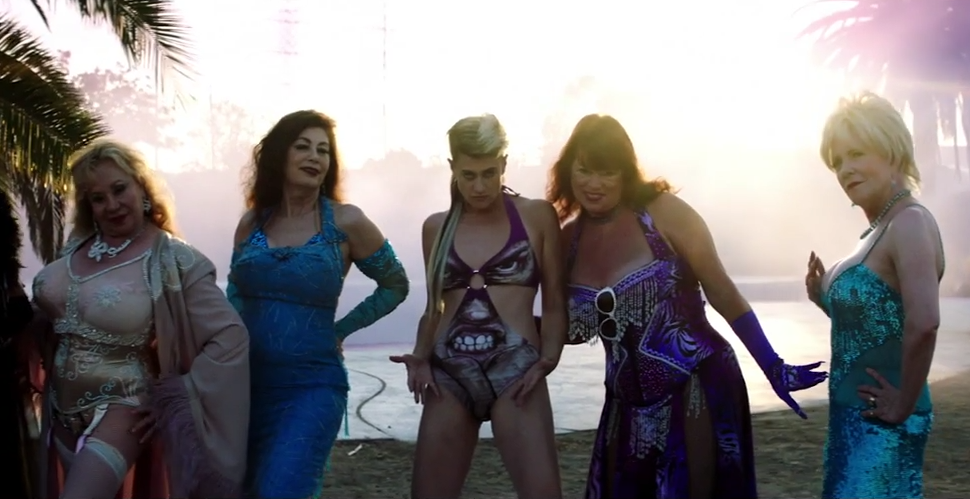 Burlesque legends, roller derby, and knitted penis suits; this is Peaches in a nutshell.
Imagine tipping the contents of Peaches' brain into one single music video. This one probably comes close. Her new visual for the Feist-featuring 'I Mean Something' sees her parading round what looks to be her own personal Utopia, a super kitschy town in Florida filled with glitter-clad individuals wearing outlandish leotards, flowing gowns, and, in one case, what can only be described as a knitted penis suit.
As well as Peaches, the video also stars various Burlesque icons including Kitten Natividad, Tiffany Carter, Shannon Doah, Satan's Angel, and Dusty Summers. Along with a roller derby crew, and a gang of skateboarders, comedian Margaret Cho - who also appeared in Peaches' 'Dick in the Air' video - also makes a return, delivering a long-awaited cake to Peaches' pool party. The video is directed by Silas Howard, best known for his work on queer film By Hook or by Crook.
Peaches released her last album 'Rub' in September this year; in our review we called it "lewd, bulshy, and gaudier than a kitsch ornaments warehouse with a sprung glitter pipe."
Watch 'I Mean Something's video below.