Interview:
Diet Cig: "We stomp and scream our hearts out"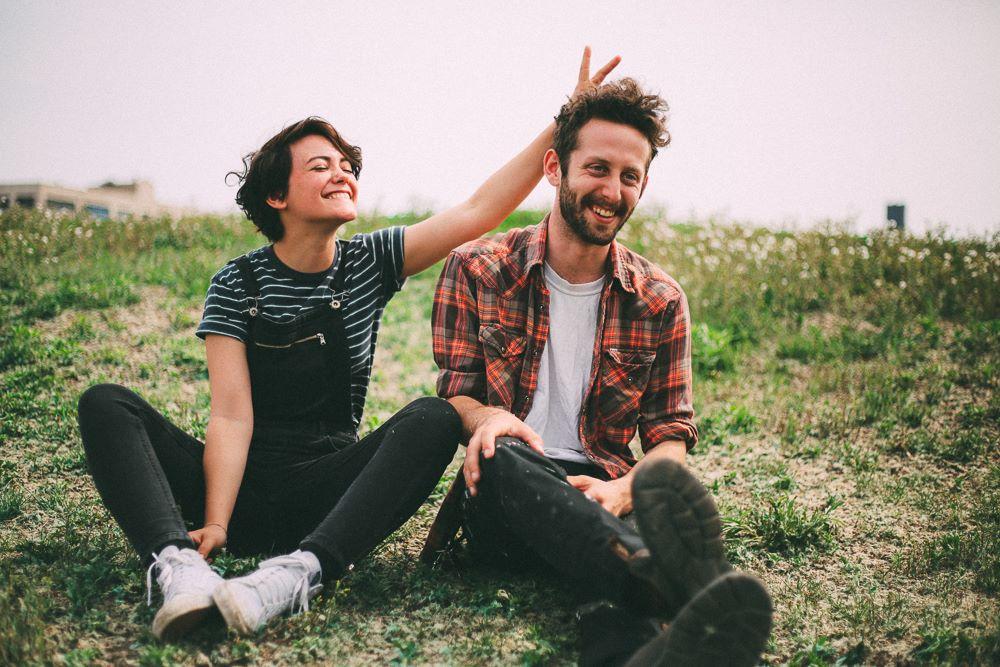 Diet Cig might act too cool for school, but that doesn't stop them from being top of their class.
Since the release of their debut EP at the start of this year, Diet Cig have been venturing as far as their melodies will take them with a unique brand of 'slop-pop.' "We got to go rock climbing and see mountain goats!" Alex Luciano exclaims. Following the success of 'Over Easy' in February, the New Paltz duo have been recording and touring across America, making the most of every moment. "We don't know how to be real people any more," the band laugh.
"We never planned on this to be anything, really," Noah Bowman ponders. "We recorded this EP to put out there and see what would happen. We had no idea that people were going to respond the way they did." With fortune smiling down on them, the two-piece are grateful for every moment. "I think somehow the stars aligned," Alex expands. "Somehow our music just hit everyone in the right sweet spot at the right time, in a way that we're still not totally sure how it happened. But it was really amazing."
Diet Cig sparked their kinship with fans through their starkly honest lyrics and simple refrains. "It's a lot of writing about my feelings and interactions I've had with other people," Alex explains. "I have songs that are about ex-boyfriends and songs that are about annoying people in our scene, and songs that are about myself."
"We had dinner with a nine-year-old girl who really loved the music, and her mum."
— Alex Luciano
"It's the kind of music that you want to dance around your room to when your mum told you that you can't go out until you pick up all your clothes off the floor," she describes. "I want people to be listening to my music walking down the street like 'yeah, I'm the best, I rule.'"
With songs of love, anger, enthusiasm, and outright enjoyment that both engage and entertain, the duo have captured the hearts of fans around the world. "We've got to see a lot of the country so far that we never ever thought we'd go to, and we've gotten to connect with fans that we didn't really expect to have," Alex enthuses. "We had dinner with a nine-year-old girl who really loved the music, and her mum," she continues. "When we get a chance to connect with some of the people who have connected with our music it almost feels like 'Oh my god we're not alone out here!' It's a really cool connection to have with people."
Recording isn't the only thing on the cards for the New Paltz pair. "You hear all these beautiful things about touring over in the UK…" Noah alludes. "It's in the works, and we are SO PUMPED!" Alex squeals. "We're going over for a week," she continues. "Just poppin' over, sayin' hey, drinkin' some tea, and getting' back to the US." Though their visit may be brief, there's no end to Diet Cig's excitement. "I just want to listen to bands that sing with an accent. I want to ride around on a double decker bus with my plaid coat on, and I want to have tea time," Alex babbles excitedly.
Taking to stages internationally, Diet Cig are making the first steps towards greatness. "We stomp and scream our hearts out," they say, enthusiastically. "We give everything we have."
Based on their track 'Harvard', we asked Diet Cig what their time as a band has taught them.
Alex: How to fix your amp when you spill beer on it.
Noah: How to sit in a car for a really long time.
Alex: It's taught me it can be tough out there in the music biz - for everyone, but especially ladies sometimes. It's also taught me that people are so resilient. We've met so many amazing people that are just doing it out there, musically, that are just so inspiring and amazing.
Taken from the November 'Our Shit, Our Rules' issue of DIY - order a copy below: