'Tis the season:
Close To Home Records release charity compilation in aid of MIND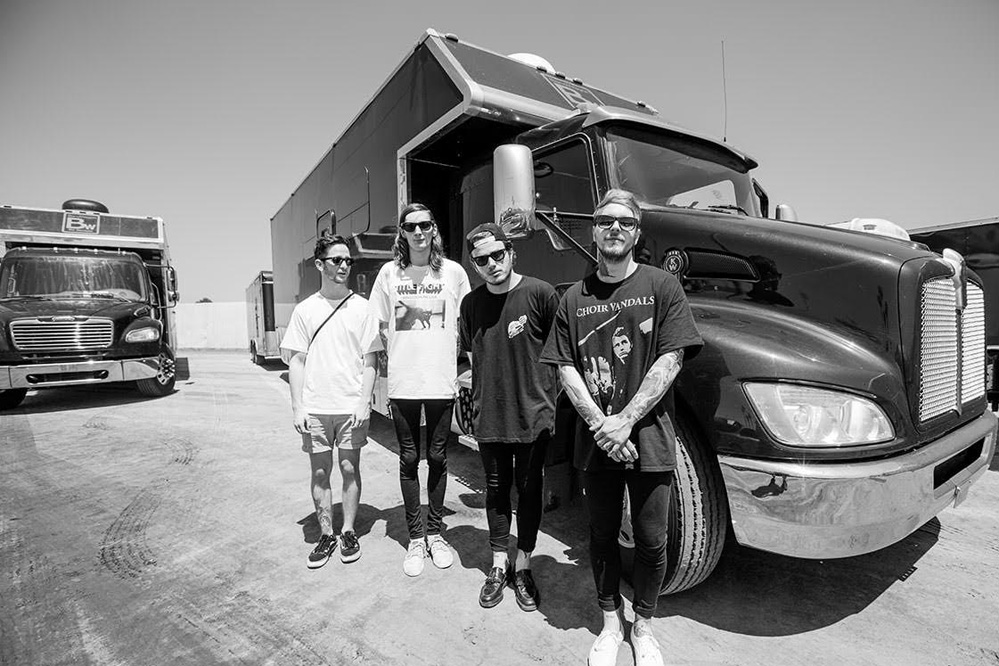 Fundraiser for the mental health charity features Moose Blood, Title Fight, Basement and more.
Close To Home Records have teamed up with Head Above The Waves - a Cardiff-based organisation that aims to increase the dialogue around depression and self-harm - to produce a mammoth, 45-track compilation of some of the UK and US' greatest indie, punk and shoegaze, all in aid of MIND: The Mental Health Charity.
Titled 'Some Kind Of Fix', it features the more established likes of Moose Blood, Title Fight, Basement and more alongside newbies like the Gnarwolves-associated Shit Present and that wicked debut track from Rain that we premiered a few weeks back. Speaking on the compilation, Close To Home Records head Joe Hart had the following to say: "The aim of the compilation is to bring together a selection of bands to show support and raise awareness of mental health issues that affect a lot of people every day. Somehow in 2015, we're still not quite at a point in society where someone can feel comfortable with talking about the fact they might be suffering from a mental illness. We're not yet at a point where we naturally offer mental health sufferers the support they need. This support should be offered without a thought, but unfortunately, way too often, I open a news tab on the internet or a page in a newspaper and I see someone who is given a platform to spread the complete wrong message when it comes to mental health."
The compilation's full tracklisting can be found below - pick it up from the Heads Above The Waves website.
1. Title Fight - Safe In Your Skin
2. Dearist - Fix
3. Superheaven - Gushin' Blood
4. Basement - Breathe
5. Rain - Slur
6. Forrest - Luna
7. Moose Blood – Anyway
8. Great Sale Day - Best Friends
9. Losing Sleep - Never Told You
10. Pretend Happy – Dirt
11. Epona – Closure
12. The Bank Trail – Wildcard
13. Walleater - Pig Pen
14. Fade - Reverie Summer
15. Hindsights - Out Of My Skull
16. Luke Godwin - Grinding Gears (Acoustic)
17. Greylines - Quiet Town
18. Sneeze – Wilt
19. The New Tusk – Uncomfort
20. Junior - A House That's Not Quite Home
21. Huskies - North Coast
22. Faux – Shoes
23. Hanna Cash - Worst Birthday
24. Bodyheat – Hold
25. Montana - Move On
26. Inside Jokes - Can You Make Me Happy?
27. Frankly – Surely
28. Nervus – Bones
29. Tilde – Gaze
30. Wallflower – Skin
31. Svalbard - The Vanishing Point
32. Dissolve - Clarky Cat
33. Happy Accidents – Autopilot
34. The Winter Passing - Fruits of Gloom
35. Bohica - Keep Me Awake
36. Water Canvas – Birthdays
37. Honey Joy - Saluting Magpies
38. Don't Worry – Travelsick
39. Claw The Thin Ice - In The Dark
40. Empty Blue - Pull Me Under
41. Shit Present – Evaporate
42. Personal Best - Human Nature
43. Land Speed - Sick To Death
44. Healing Powers - Friendship Bracelet
45. Lake Michigan - Under The Spell (Desire Cover)