Interview:
Eagulls in the studio: "At times the process became pretty gruelling"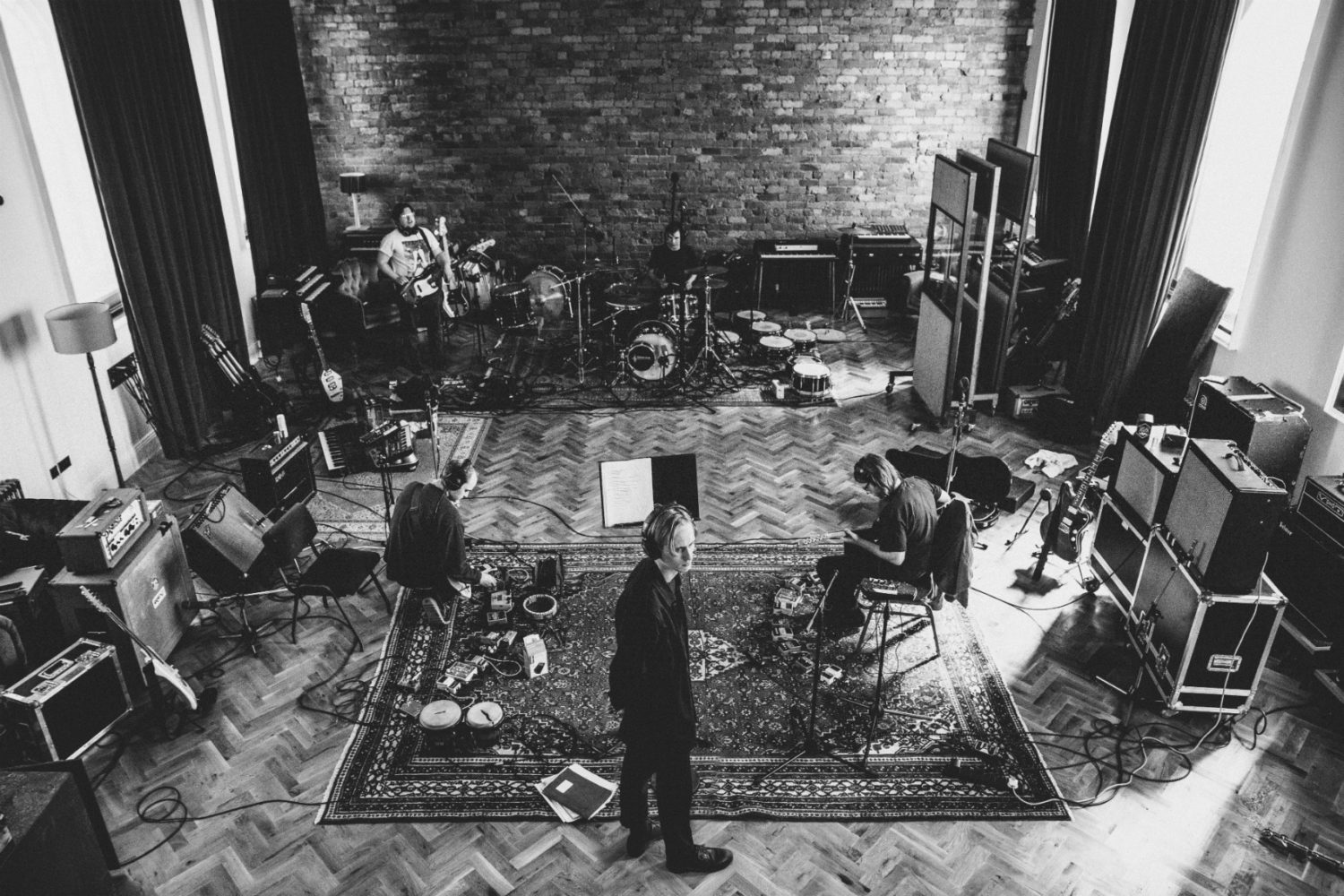 The Leeds bruisers talk DIY through the making of their upcoming second full-length.
Vicious and hypnotising, Eagulls' self-titled debut album was one of the defining British records of 2014. Laced in menace and a despondent, all-too-relatable perception of modern life, it felt vital in a way that few others could harness.
Taking the next steps was never going to be an easy ride - following up on a debut like 'Eagulls' was always going to carry untold pressures. But as they line up a run of intimate UK dates for the new year, Eagulls are stepping out of the studio with a second record in tow; writer's block, expectation and "a cold, vermin infested, brick box with no daylight" behind them. We spoke to bassist Mark 'Goldy' Goldsworthy and frontman George Mitchell about the process of crafting the as-yet-untitled follow-up to 'Eagulls' while they were wrapped up in the midst of its recording.
You've been working on your second record: going into this album, what sort of headspace were you in while writing?
Goldy: We put a lot of pressure on ourselves leading up to writing. It had been almost two years since we had written the first album so there was a lot of time to build it up in our heads. We were looking forward to getting some new stuff together but writing isn't an easy process whilst touring. There were things we definitely wanted to improve on from the first album so it was pretty intimidating leading up.
George: My headspace was somewhat confused really, but as always a creatively positive confusion was occurring. Still all the while whilst searching for answers, I was very focussed on the overall future progression of the band. I'm not going to lie, at times the process became pretty gruelling, practising new material over and over in a cold, vermin infested, brick box with no daylight, but we came out in the end with good new material.
After spending a good amount of time touring, do you think that fed into the writing process at all? Did it change how you maybe approached this new album?
Goldy: When touring and playing the same songs every night you come to know them inside out, more than you'd ever want to. The relationship towards your music can, for a time, deteriorate with overfamiliarity, but we also found that being overly critical of our music spurred us on and gave us some specific intentions going into the new stuff.
George: Collectively as a band we are incapable of writing music on tour. Countless ideas obviously arise all the time whilst trapped in a van, but you never get the space whilst away to put them down accurately. So when it came to the writing it sort of muddled up our process as we all had a million ideas clashing at once. We ended up coming to terms with just writing our music solely for its songcraft/recording capabilities and less for the touring band's circumstances. The songs ended up working great live though.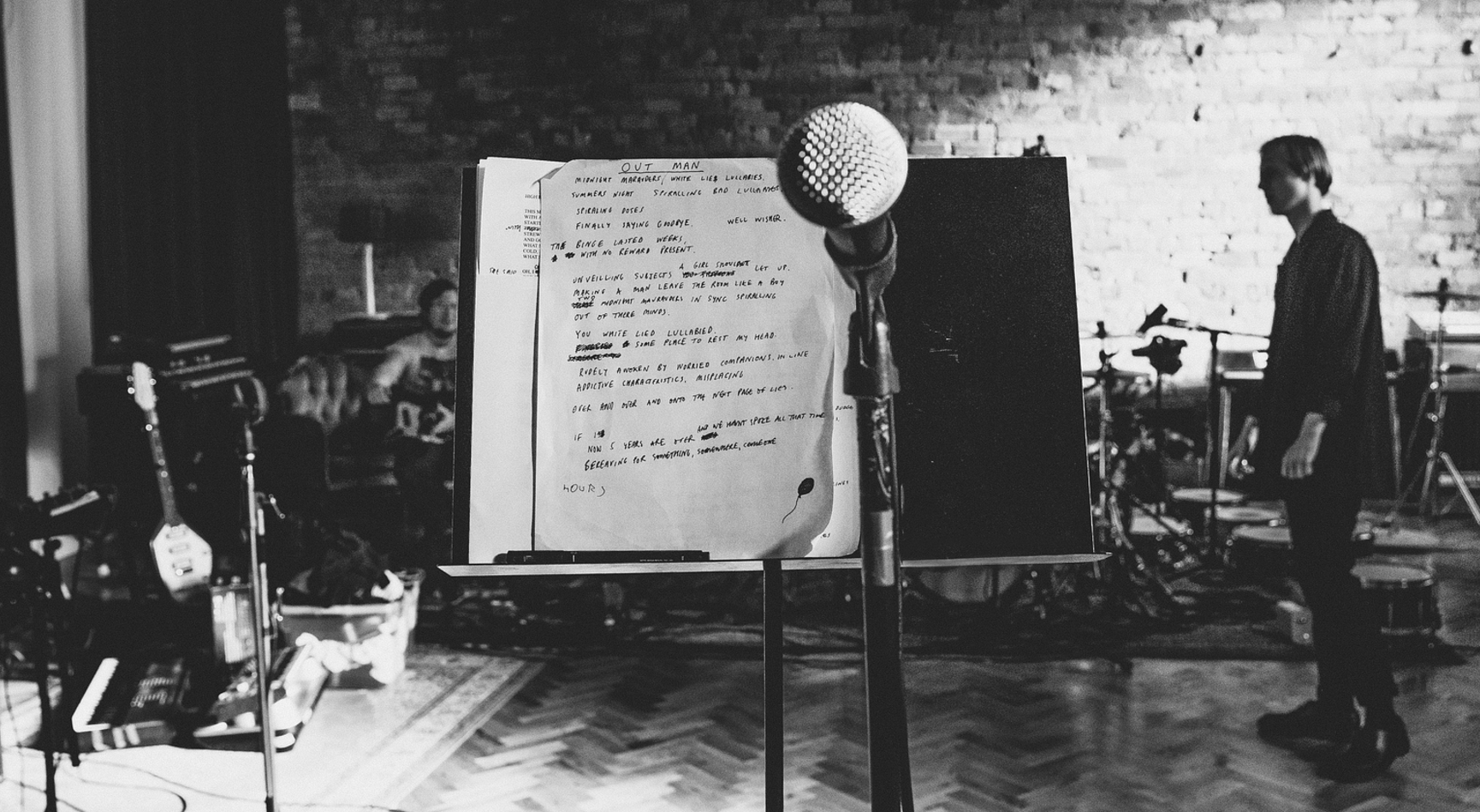 It felt like we were being categorised and pressed into a genre as some sort of one trick pony outfit.
— George Mitchell
In terms of the album itself, what did you want to explore? After releasing your debut last year, how did you want to build upon those foundations, or move away from them? Did that first album campaign teach you anything in particular that you think has fed into the new record?
Goldy: We definitely had some intentions when we set out writing these songs. There's a lot we still like about the first album - it's direct, abrasive and was very cathartic for us - but on the second album we wanted more ups and downs, musically and emotionally. We've tried to step back from the initial urges and haven't just settled for the first incarnation of a song. We've reworked and reworked, trying to be more critical of structure and texture in an attempt to hopefully create more contrast and a varied response to the songs.
George: Our first album's foundations set out to be speedy and visceral sounding from the gate to the finish and it worked for us at that time. But after touring it for over a year and a half it felt like we were being categorised and pressed into a genre as some sort of one trick pony outfit. We wanted to show more dynamic in this album and focus on expressing our energy in different ways rather than a brash onslaught. I wanted to romanticise the beauty of bleakness whilst keeping an abrasive but positive sonic energy.
Lyrically, what have you explored on this record?
Goldy: The introspective personal themes are still present but there's also a lot more about George's relationships to other people. The imagery and use of the trivial and mundane to address more intense feelings still remains intact. There is self criticism and talk of unresolved feelings and experiences but where this album differs is the sense of optimism and hope underlying all this.
George: I have tried to explore an array of subjects whilst stepping away from 'I' to speak more about 'us' overall. 'Us' being everyone in general. I suppose my words are exploring our consciousness and life's questionings. Deep thoughts, hand me down cultures, the three L's of Losses, Lust and Love, the weekend warriors mentality, sayings, the general British ways, chance, regrets. A wide spectrum that is all concealed as melodic, riddle-like verses.
'Possessed' from debut album 'Eagulls' (2014)
As for the actual recording process, where did you record and who did you work with? How was the experience?
Goldy: We recorded the album at The Nave Studios in Leeds with Matt Peel producing and engineering and we are currently mixing the album with Craig Silvey. The whole thing has been pretty consuming but the songs feel like they're coming together. We had worked with Matt at his old studio on the first album but had limited time and resources so it was good to be able to get into it properly with him this time round, but the days still seemed to fly by. It's our first time working with Craig Silvey but all is going well, he's really bringing that space into tracks that we were after.
George: The Nave Studio is an old church, that has been regenerated into a beautiful recording space with some great vintage equipment. A great aspect of this studio was being able to record straight to tape on the classic tape machines which was something we'd longed to do. The experience was very daunting for me especially as I hadn't finished off a lot of the lyrics when we first went into the studio due to a sudden spate of pressure-caused writer's block. But somehow I luckily managed to get over it and write/record some of my favourite songs so far.
Eagulls' as-yet-untitled second full length will be released in 2016.