Album Review
Savages - Adore Life
4 Stars
Placing love on the surgeon's table, and dissecting it, they're every bit as mindbogglingly ambitious.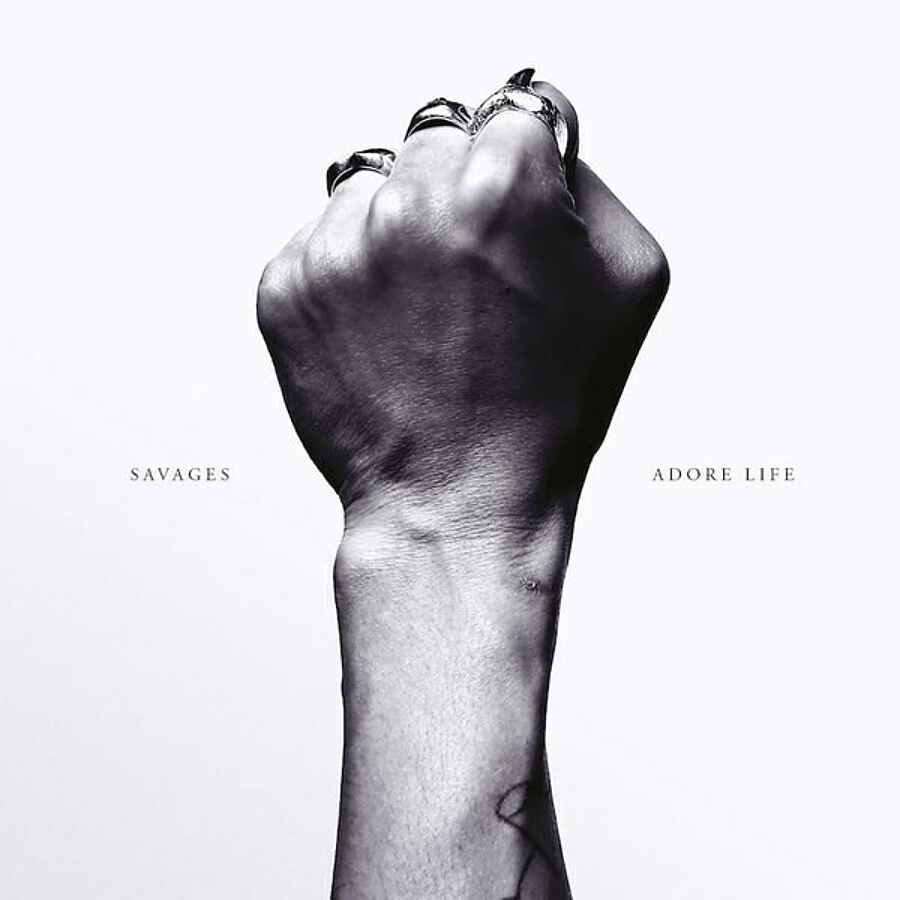 From the very beginning, Savages' live show has possessed a highly flammable, kinetic magnetism. The idea that Jehnny Beth has mere 'stage presence' is a clanging understatement. She stares down her audience with narrowed eyes, threatening to explode into crackles of angry purple potassium at a second's notice, her band fearlessly road-testing new material at almost every show. Savages' debut album 'Silence Yourself' bottled this into a spiny, bulshy, confrontational essence, and came with its own monotone tannoy announcement printed on the front. "If you are focused, you are harder to reach. If you are distracted, you are available."
Capturing this intense focus was the name of the game on 'Silence Yourself' - a debut concentrated on documenting Savages' first steps in frenzied, hyper-live fashion. It also made them harder to reach; serious, intense, art peddling post-punks. Gradually, over the last few years, those walls have been coming down at live shows. And now, with both feet forward, their second album commits to the same cause. Distraction may remain as unwelcome as a vuvuzela at a poetry reading, but with 'Adore Life,' Savages ditch the distance. These days, they place less value in unavailability.
It's immediately evident in 'Adore Life,' which, by title alone, is all about boundless, all-consuming zest. That's roughly the mood board for the sound of this entire record, too. Though Savages remain toweringly intense, carving strange grooves like 'Slowing Down The World' out of Ayse Hassan's battering, unforgiving bass, there's a smirking playfulness to 'Adore Life' which proves its pumping heart. Jehnny Beth's vocals double up and cascade like a sudden, glammy surprise on the thudding 'Sad Person'. 'Something New' splutters into life with strangled high notes, half-arsed rehearsals of scale warm-ups that quickly get defiantly thrown into the wake of Fay Milton's industrial beat. An arm-swinging, rock opera waltz appears without giving prior notice, sandwiched into the middle of the sort-of title track, 'Adore'. "I'm interested in what you have to say," chants 'T.I.W.Y.G' - a track which ends with an uproarious crowd laughing at a comedy show . This is clearly a different manifestation of Savages to the one that blankly ordered "shut up!" two years ago.
Savages may have a newfound warmth, but placing love on the surgeon's table, and dissecting it, they're every bit as mindbogglingly ambitious. At times, the musical chaos they paint teeters on the hair-thin borderline of being impenetrable, but Savages - as always - get away with it. Harsh, aggressive, hungry, and urgent, 'Adore Life' is everything a Savages album should be. Unexpectedly - and this proves its greatest success - 'Adore Life' is also the kind of album that holds the door open with a beastly arm, then cackles with post-prank joy as a carefully balanced bucket of water soaks everyone at the party.