Chk it out:
!!! (Chk Chk Chk) share new video for 'Every Little Bit Counts'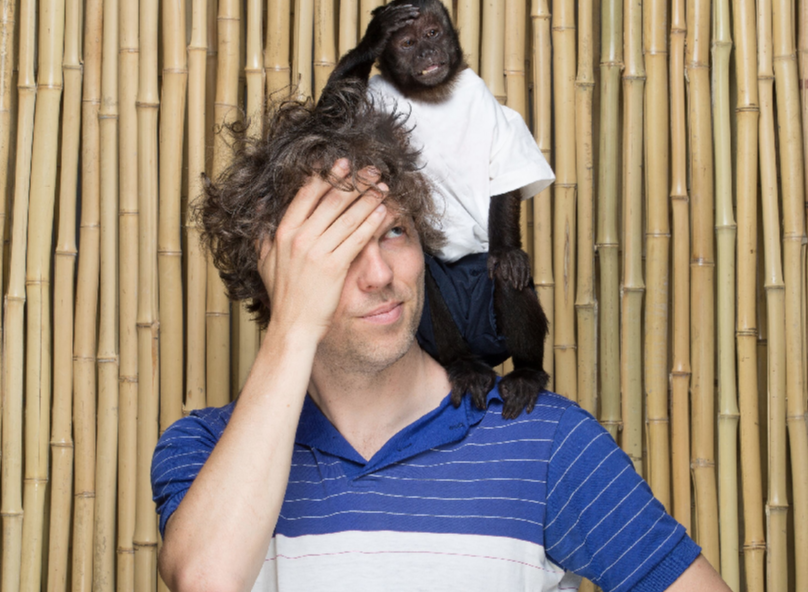 Nic Offer gatecrashes news broadcasts and interrupts weather forecasts in the bonkers clip.
!!! have shared a new video for 'Every Little Bit Counts' from their latest album. 'As If' came out on Warp last October.
Directed by Casper Kelly - who also worked on the video for 'Ooo,' and is responsible for Adult Swim's 'Too Many Cooks' - the video shows !!! frontman Nic Offer gatecrashing various segments of a rolling news channel. He crops up as a haywire sign language translator, a lone singing man, and at one point, even rocks up with a carnival troupe. Offer later recruits the station's weather presenter as a dancing accomplice, and things turn completely bonkers.
In a press release, Casper Kelly said of the new video: "'Every Little Bit Counts' excited me because it is such a fun, fun song and tonally different from the weirder, darker stuff I usually do. The basic idea is there's a stuffy world, in this case the news, and Nic comes in like Willie Wonka or the Cat in the Hat and has a bit of fun with it. Crazily and coincidentally, while shooting on the set Nic told me he once did a thing like this in real life - he was walking somewhere and there was a news crew interviewing a man opposed to gay marriage, and Nic popped in and said something in the mic. If someone by chance taped that newscast he'd love a copy."
Watch 'Every Little Bit Counts' (the !!! song, not the Tesco slogan) below.