Album review
Kanye West - The Life Of Pablo
4 Stars
An attention to detail like no other.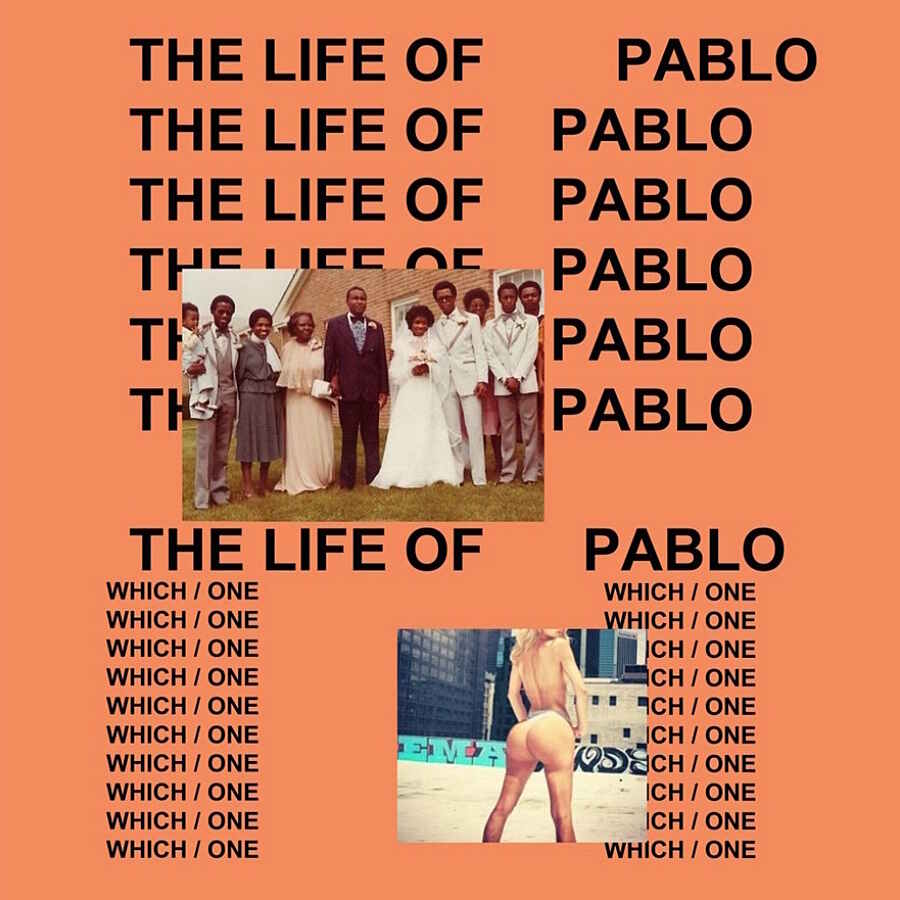 It's impossible to fish 'The Life Of Pablo' out of the stormy seas that preceded its arrival. Twitter meltdowns that painted him in a more than problematic light, constant delays and botched track releases, bizarre fashion shows that doubled up as the debut of a not-actually-even-finished-yet version of the record - there's plenty more, but you know it already. Hogging the limelight for months, the Kanye West of 2016 is either a master puppeteer of every element of the modern media, or struggling to cope with that attention he refuses to relinquish.
'The Life Of Pablo' paints West with a little from each pot. "Name one genius that ain't crazy," he demands on 'Feedback', a screeching early highlight that lays Kanye's ethos on the table. Numerous tracks clock in at under a minute, and those that don't are jumpier than a rabbit in headlights - impossible to contain or dissect, it's a rollercoaster record that's every bit as erratic as the man who birthed it.
At points it feels like a cross-section of every one of Kanye's records to date. The aforementioned 'Feedback' deals in the harsh noise that defined 'Yeezus'; parts of 'FML' and 'Wolves' call to mind '808s & Heartbreak''s frostier sentiments; 'Waves' and '30 Hours' wouldn't be out of place in the "pink polo" Kanye days of his earlier works referenced in 'I Love Kanye', '…Pablo''s brilliant and bizarre mid-point.
Kanye's admission that album seven - back when it was called 'So Help Me God', remember that? - was heavily influenced by gospel music rings true. It's one of the only constant threads of '…Pablo', and it's an influence which transcends the music: lyrically, too, West returns constantly to the theme of salvation. References to his anti-depressant Lexapro abound, and on several occasions he seems desperate to break free of his incomprehensible fame. The request for 'No More Parties In L.A.' is just the scratched surface of Kanye's desire for a quieter life - as 'Father Stretch My Hands Pt. 1''s Kid Cudi crooned hook declares, "I just wanna feel liberated."
'The Life Of Pablo', in spite of its mammoth guestlist, feels primarily like a character portrait of Kanye himself. None more so than on 'Facts', where references to his shoes and his wife's personal brand of emoji which "just shut down the App Store" draw the most attention.
There are points where that portrait is less than savoury. Those headline-baitingly crude lines about Taylor Swift remain, and his references to sex and former flames reach a new level of crassness throughout. It's like he's desperately trying to push the buttons of his detractors, but in turn only playing right into their hands, and he comes off weaker because of it. The anti-Kanye crew thrive on this vile side of his personality, and on '…Pablo' it's turned up to 11, at times drowning out the intricacies of the art it sits atop.
One thread illuminates both the record and its context perhaps more than any other. though - the oft-scoffed at idea that Ye's perhaps more self-aware than he's granted credit for. On '30 Hours' he oh-so-knowingly spends the track's final third declaring it "the bonus track… my favourite albums used to have bonus tracks" and reflecting on what a laugh he's had at Madison Square Garden just hours before. It ends with him taking a phone call while the tapes are still rolling.
It's 'I Love Kanye' that ties up 'The Life Of Pablo' in the most fitting of bows though. Sitting halfway through a record that's packed with guest spots and hundreds of producers, 'I Love Kanye' instead pitches Kanye alone in the booth. "I miss the old Kanye," he states, going on to pick apart his own transformation - "I hate the new Kanye, the bad mood Kanye" - before addressing his audience of billions with a rare moment lacking in bravado. "I love you like Kanye loves Kanye," he concludes with a giggle.
A genius - and yes, perhaps a little bit crazy - with an attention to detail like no other, no matter what might slip from his grasp ($53 million for one, if recent statements are to be believed), Kanye West is in full control of every atom of 'The Life Of Pablo'. Whether he'll let you believe it is another matter.
More like this