Get Excited About…
The moments set to define Glastonbury 2016
We take a look at the standouts from this morning's announcement.
Earlier this morning, a whole host of bands were announced for this year's Glastonbury, joining headliners Muse, Coldplay and Adele.
Once the poster, designed by Radiohead collaborator and artist Stanley Donwood, was fully digested, more than a few names popped out that are certain to provide the festival with its best moments.
From LCD Soundsystem's triumphant return, to yet another step up in the rise of Wolf Alice, to the unstoppable freight train that is Foals, we've highlighted some of the acts that are set to make this year's Glastonbury truly special.
View the line-up poster below, and read our recent interview with Donwood here.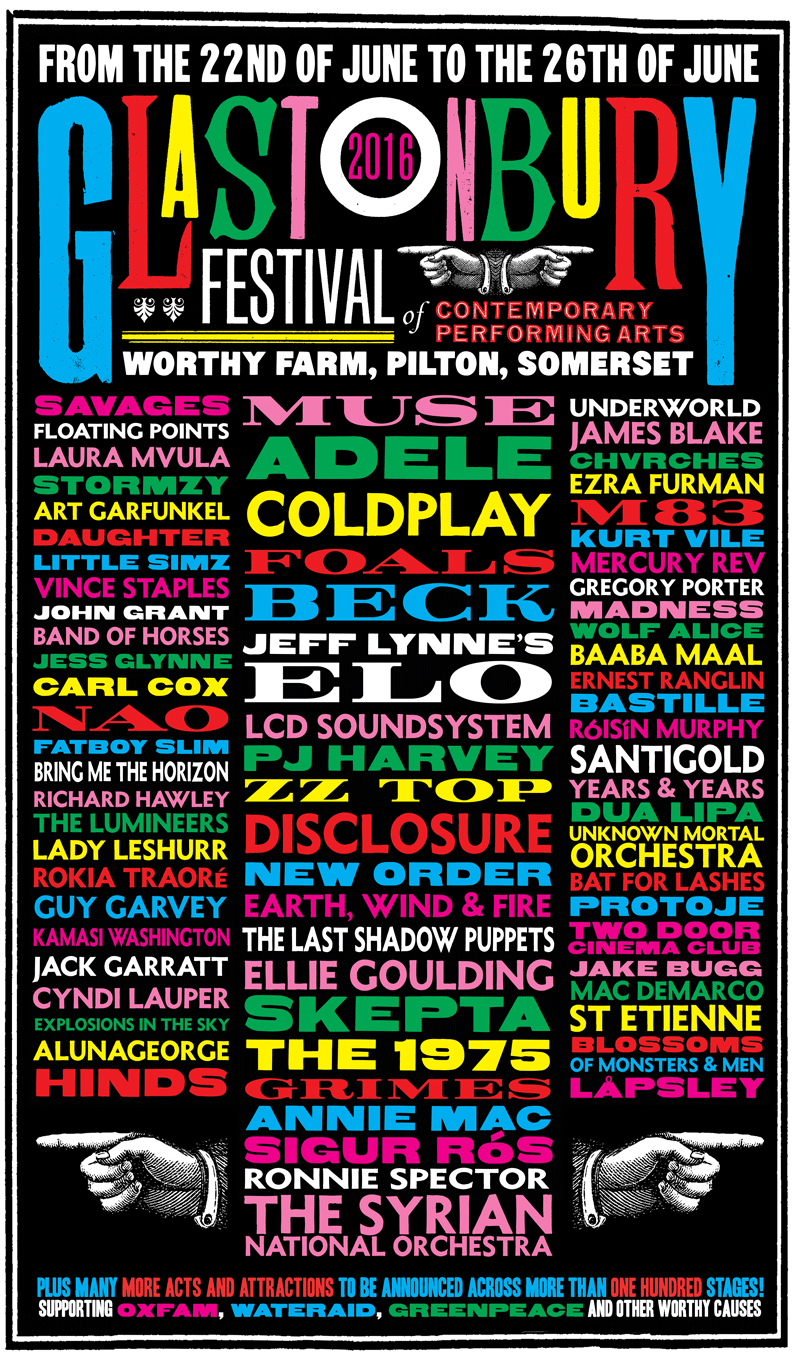 Foals continue their path to the top
Foals' set at Glastonbury 2013 will surely go down in legend. The penultimate set on the Other Stage that began to silence all the naysayers who said the Oxford troup couldn't headline festivals. They've already definitively rubbished that notion, being announced as bill-toppers at this year's Reading and Leeds (read why we're excited for that one here), and what looks like a sub-headline slot below one of Muse, Coldplay and Adele on the Pyramid Stage at this year's Glastonbury looks certain to be the final stepping stone before Yannis and co. reach the very top at Worthy Farm - and everywhere else on the planet - too.
Read DIY's 'What Went Down' cover feature with Foals from last year here.
LCD Soundsystem are returning heroes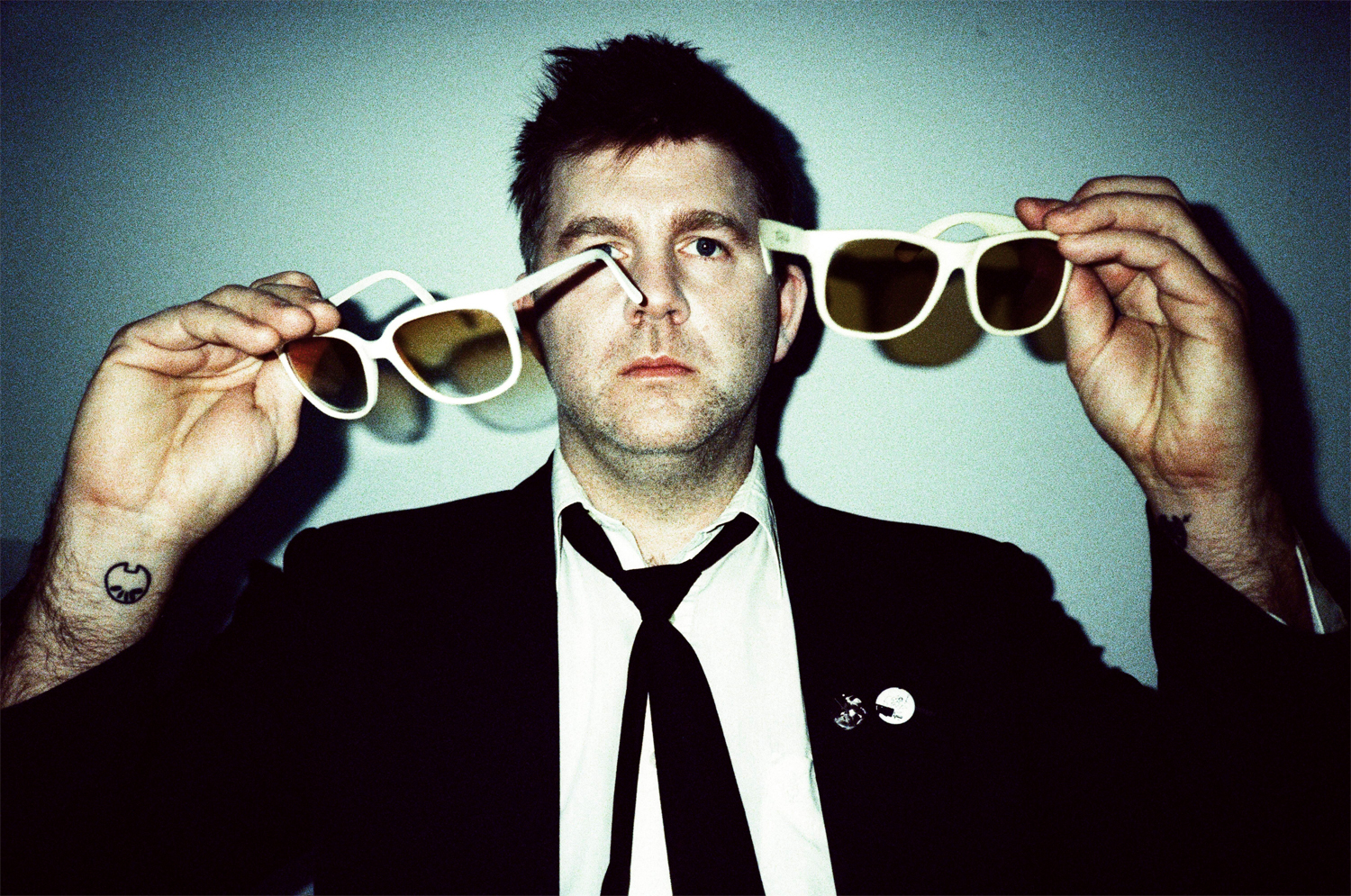 Glastonbury's bloody bonkers poster layout means it's difficult to accurately decipher which bands are playing which stage at this year's festival, but nothing but a closing set on the Other Stage would be fitting for the returning LCD Soundsystem. As footage from the band's comeback gigs over the Easter weekend in New York shows, James Murphy's clan are no less potent or crushing than when they left five years ago. The band have also been announced for Lovebox and T In The Park in the UK, but James Murphy's well-publicised love for Glasto, and the white-hot atmosphere the festival always provides, may well make this set the highlight of the band's comeback tour.
Read DIY's take on LCD Soundsystem's reunion here.
Wolf Alice make it three in a row
Wolf Alice's performances at the last two Glastonburys have been big enough moments in themselves. Their 2014 performance on the John Peel stage, coming after the release of the 'Creature Songs' EP, solidified the band as one of Britain's brightest new hopes, while last year's set on the Park stage was one of the festival's crowning moments. Despite a programme mix-up which had the band on stage over an hour earlier than expected, and the biblical weather, the band provided the set of the weekend up on Emily Eavis' stage, with Ellie Rowsell launching herself into a sea of drenched bodies in the front row at the end of a glorious rendition of 'Moaning Lisa Smile'. We'd put our money on the Pyramid Stage hosting Rowsell and co. this year, and it's set to be (yet another - somehow) huge step up in the band's career.
Read the DIY review of Wolf Alice at Glastonbury 2015 here.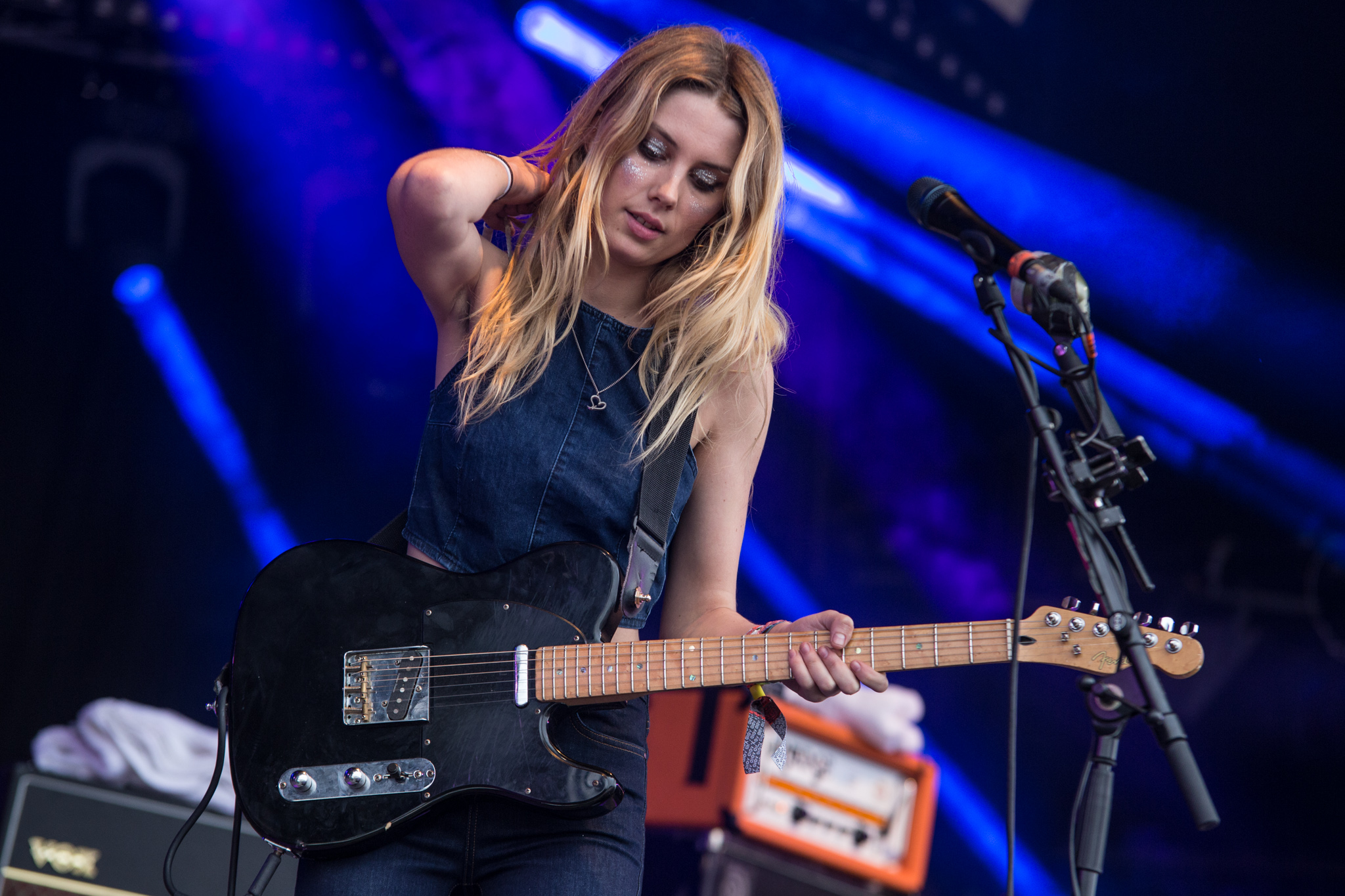 Bring Me The Horizon make the crossover
While Bring Me The Horizon's sub-headline slot at last year's Reading and Leeds was the band's biggest moment to date, it was still showing them operating largely in their comfort zone. Latest album 'That's The Spirit' threatened to take them away from the somewhat insular audience they've made their own, and to broader (sorry) horizons. This Glastonbury slot is sure to be the first of these kinds of moments, showing Bring Me The Horizon to be a band for everyone.
Read DIY's recent interview with Bring Me The Horizon here.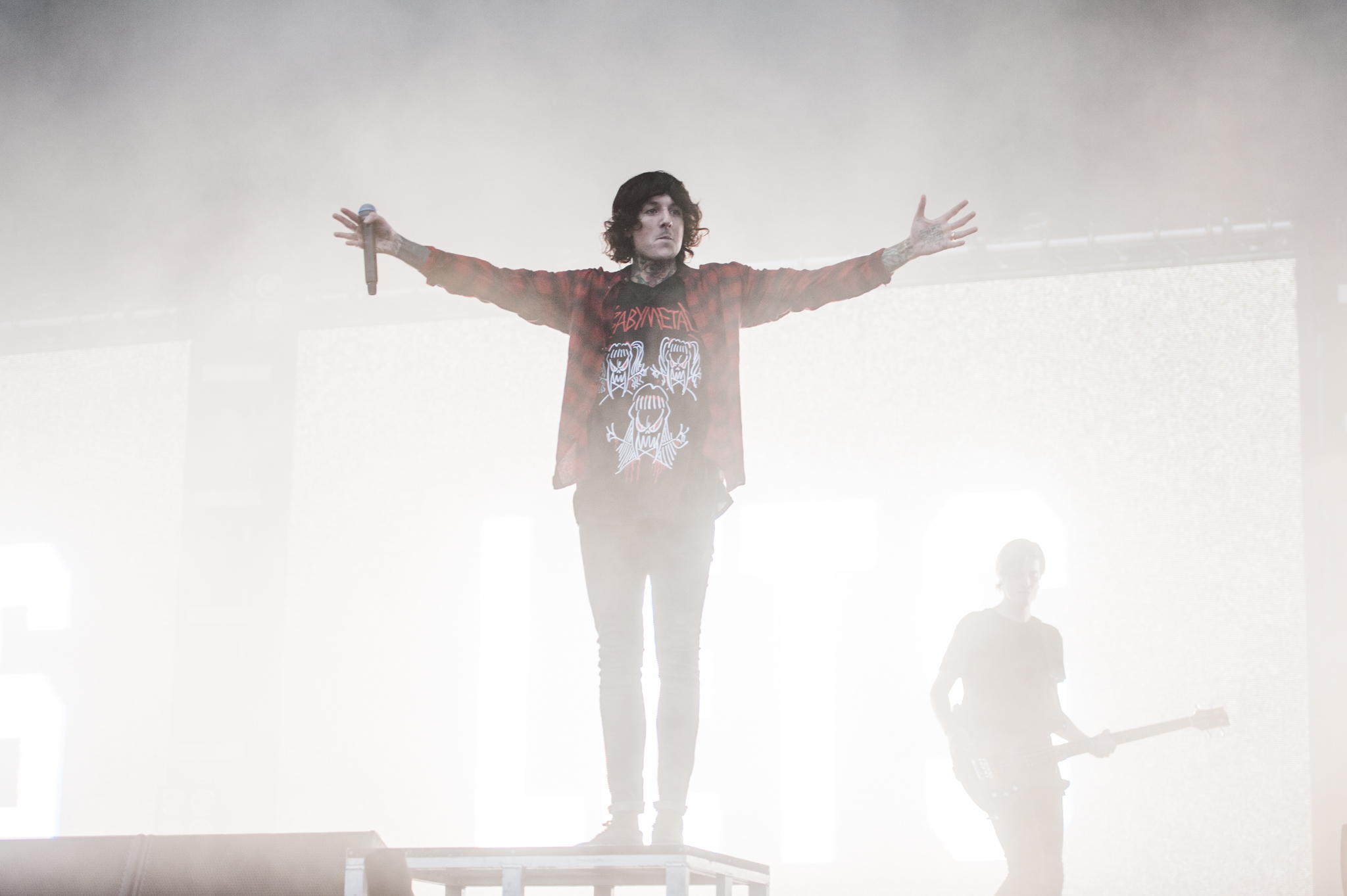 After casting our investigative eye on the poster for this year's line-up (looking at font size, basically), it seems like grime kings Skepta and Stormzy have pretty huge slots at the festival. After the Brit Awards were criticised for largely overlooking the genre in this year's nominations, it's quite the nod of approval from the biggest festival in the country to be giving the pair such a big platform, while also furthering their new-found outlook as accepting of all genres. If either of these are put in a tent, we'd advise getting there hours early.
James Blake ending his radio silence?
Where's the bloody album, James? Already announced to headline this year's Green Man and Field Day, along with multiple performances abroad, James Blake's got quite the summer schedule for a man without a release date for his album. He's been promising 'Radio Silence' for a long time now, and told the audience during his slot at last year's Latitude that he'd just played a new song from it, and being so prominent on this year's festival line-ups already surely means the album can't be far off. Maybe it'll be here by Glasto. Maybe not. At least the wait's exciting.
Read why we're excited for James Blake's new album here.
Låpsley goes back to the start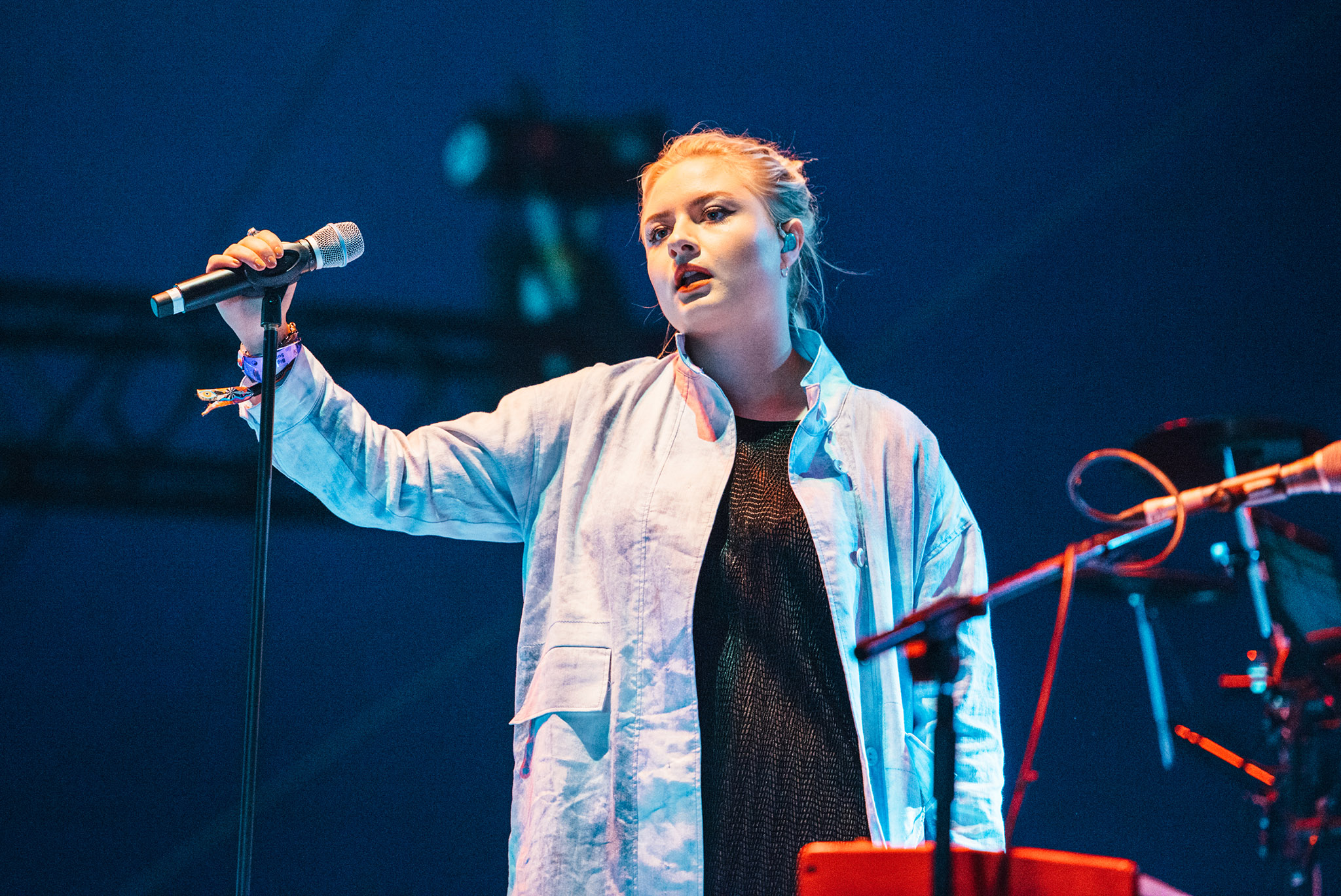 Back at Glastonbury 2014, Holly Fletcher hit the stage on the BBC Introducing stage. Never one to take small steps, it was Lapsley's first show...ever. Her career has continued at breakneck speed since, and she's set to return to the site of her beginnings at this year's fest with debut album 'Long Way Home' in her pocket. This year's set is still months away, but you'd be silly to bet against a main stage appearance come Glasto '18.
Read DIY's recent interview with Låpsley here.

Get your copy of the latest issue