Album review
Yeasayer - Amen & Goodbye
4 Stars
A brilliant, breathless, great big bundle of weird.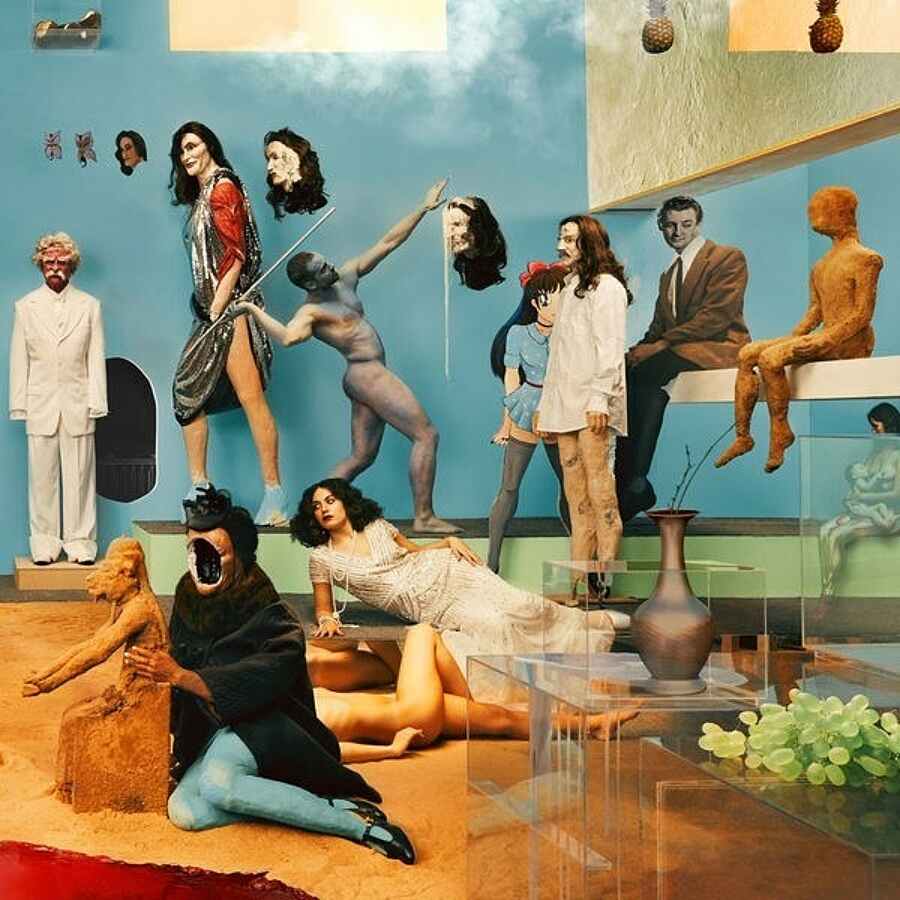 Glammy, overwrought hints of Electric Light Orchestra at their most melodramatic, fuzzed-out recorder solos piped through a triple encoder, and the looming influence of the terrifying Hieronymous Bosch and his debauched paintings of hell; Yeasayer's latest, 'Amen & Goodbye,' is an album that refuses to sit still. Worming and writhing its way through mildly sinister ditties about highly poisonous shrubs, barely-composed plunks that fall away into spiky-edged chaos, and twisted medieval pop songs nodding to RuneScape's 'Divine Simulacrum' - of all things - Yeasayer's boldness and daring reaches the wildest juddering heights of their finest work, 2009's 'Odd Blood'. What's more, the Brooklyn band often aim higher still.
Pissing about with fancy musical gadgets in the name of sonic experimentation is one thing, but remarkably, in the middle of all this bubbling, squelching, splat-painted mayhem, Yeasayer also manage to make their web of chaos sound, not just inviting, but irresistible. The speedy-osmosis particles that collide to form 'I Am Chemistry' start out tooting like a recorder club on inordinate levels of acid, somehow morphing into a crooning ballad section complete with a crunking breakdown. 'Silly Me' meanwhile stutters into life with tragi-comedy plunks, and two seconds later, it's a massive jam with the catchiest self-deprecating chorus going.

Every shift - however dramatic - happens with grinning seamlessness, in a pantomime puff of magical glittering smoke. Wherever Yeasayer have hidden away all of the intricate cogs generating endless idea-fuel for 'Amen & Goodbye' they make it all look so easy.
Crafting pop music that sounds like Zelda's Ocarina of Time crammed into a cobweb-dusted garage; like Simon and Garfunkel playing 'Scarborough Fair' from a far-away galaxy filled with prism-warping air, Yeasayer's album is a brilliant, breathless, great big bundle of weird. It's also their most innovative record to date.