Album Review:
Frankie Cosmos - Next Thing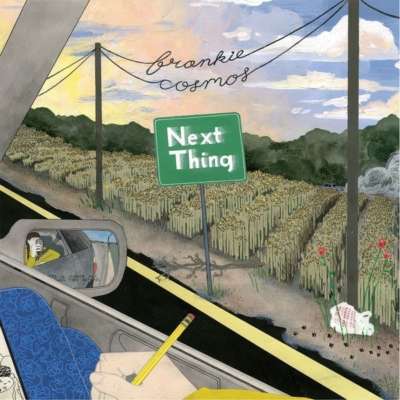 Laying everything on the line, Frankie Cosmos scrutinise every ounce of who they are and what they know.
Label: Bayonet Records
Released: 1st April 2016
Greta Kline is a musical tour de force. With over forty albums and EPs released on Bandcamp as Ingrid Superstar, through time spent playing in various bands (including as bassist for boyfriend Aaron Maine's project Porches), and most recently under the pseudonym Frankie Cosmos, her unique lyrical stylings and characteristically quirky sound have earned her a place in the heart and minds of fans far beyond the New York scene she calls home. Despite this, her music is very much rooted in the world that she encounters around her every day.
Taking all she's learned through years of bedroom recording, 'Next Thing' is the sound of an artist flourishing in her element. It exemplifies the DIY origins that brought Frankie Cosmos into being – with fifteen clear-cut tracks clocking in at a mere twenty-nine minutes – while demonstrating the musician at her most endearingly candid.
Whether questioning her purpose in 'Tour Good', or establishing her place among friends and fellow New York musicians in 'Embody', Frankie Cosmos' music is as sincere as it is sweet. A million miles from 2012's lo-fi debut 'Much Ado About Fucking', the album presents itself with an unvarnished authenticity.
Greta's vocals soar with a profound imagery, painting pictures of people, settings, and sensations so real it's like they've been drawn from the listeners' own lives. "I haven't finished this song yet, will you help me fix it?" she pleads on 'Outside With The Cuties', inviting anyone who cares to be a part of the authentic world she's created on record.
'Next Thing' is the over-contemplation of today and tomorrow. Laying everything on the line, Frankie Cosmos scrutinise every ounce of who they are and what they know. There are no answers, no solutions to any problems, and no gateway doors through escapism, but for half an hour the record shines a light through confusion, and just for a while, it doesn't have to feel like such a loss to be lost.