Interview:
Drenge talk jazz covers bands, "waning self integrity" and Periscoping baglama players in Turkey
Eoin Loveless joins DIY's 50th issue celebrations with an all-new chat.
Bonkers brothers Eoin and Rory Loveless - or, the artists currently known as Drenge - know a thing or two about causing a ruckus. From their frantic, crunching, grunge-tinted rock to their increasingly off-the-wall off-stage antics, they're the archetypal daft duo. Like the class clown you end up having to hide the keys to your parents' spirits cupboard from, they were top of the list for DIY's big 50th issue celebration.
Below, we chat to Eoin about all things Drenge - from early days as a bouncy castle loving three year old, right through to The Actual Future as we talk all things past, present and future of music.
In 2011, they were: Saving up pennies for a bus to Sheffield from Castleton, most likely. In 2011, Drenge were just about beginning to play shows, as incendiary and wild as the ones they play now (albeit a bit more rough around the edges.
Right now, they're: Hidden away making a start to their third album. Last year's five-star rated 'Undertow' was one of 2015's finest.
What's the best thing about being in Drenge?
Being able to play our songs to a really great bunch of people night after night.
What have been your favourite / most surreal / most silly moments of the past few years?
Tours with TRAAMS, Peace and Wolf Alice. An amazing couple of shows in East Asia which peaked with [Ash's] Tim Wheeler going on a recon mission to pick up Foo Fighters' fancy French wine that they'd left in their dressing room.
If you could relive any day from the past five years again, what would it be and why?
I enjoyed being in New York last January during Snowmaggedon. There was no traffic on the roads after 11:30. It was like a zombie apocalypse set at Christmas.
"I'd love to see a reformation of Jack's Reference Band - my Dad's old jazz covers band."
— Eoin Loveless
Which forgotten bands of the past would you like to see come back?
I'd love to see a reformation of Jack's Reference Band - my Dad's old jazz covers band. The only time I can remember seeing them play was when I was 3 and I was far more interested in the bouncy castle next to the gazebo they were playing in.
If you could give yourself one piece of advice when you started out, what would it be?
Make sure Kanye gets a copy of your album!
If you could pick one album you loved as a teenager, and make it compulsory listening for future teenagers, which one, and why?
I used to do my paper round and listen to a French folk pop compilation called Cuisine Non-stop. It's not compulsory listening, because most of it is really unusual, but it's far more interesting than anything else I was listening to at that age.
What does a new band need in order to 'make it'? Time and space? A stroke of luck?
Relatives in the industry and/or waning self integrity.
Which three new acts are the most exciting, and why?
So Pitted, Sub Pop folks from Seattle. I saw them in Leeds the other night and a few people left because it was "too weird". I was in stitches. Hot Shorts from Manchester - Weezer for web-designers. Seize The Chair from Sheffield, they're really lovely boys with wonderful facial expressions who make a really great racket.
How do you think the Internet has revolutionised how bands get recognition?
To my mind, I can't think of the last band that properly 'broke' because of the Internet. What it allows for is bands to share their music, in the vast majority of cases for free, around the world - so it's the first place they properly let their music be heard. The ways bands get recognition are still pretty traditional.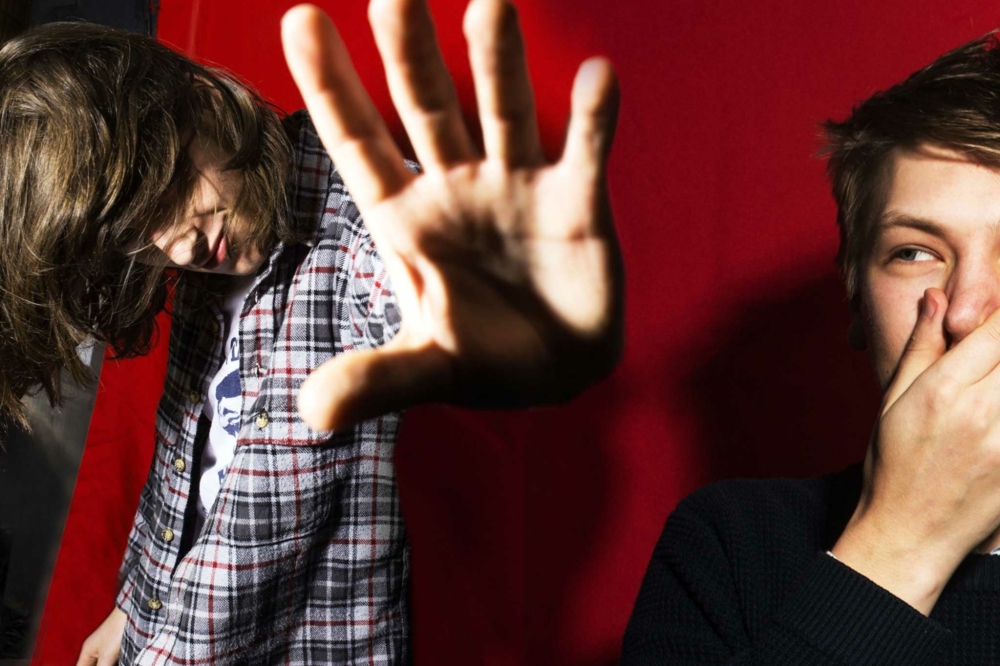 "Venues were going crazy because we were breaking their sound limits just tuning the snare drum."
— Eoin Loveless
How important do you think it is for bands to support one another?
It was key for us, when we started out, to make friends with bands from across the city. Being part of a network of bands that would put on shows and help each other out with equipment and transport was hugely rewarding. It's more difficult if you're not near a city with a thriving music scene, but I think there's a strong community of bands who stay in touch almost solely via the Internet and that's helpful too.
How do we continue to nurture the music scene?
Continued support from venues and promoters in making sure local acts have a chance to share stages with touring bands/artists. More commitment from TV/radio to showcase acts that aren't backed by labels. Those Old Grey Whistle Test shows [ask yer dad - Ed] have bands that they look like they've pulled in off the street - whether they went on to conquer the world or not is irrelevant, but there's more that can be done to showcase the current music climate.
What's your favourite music venue in the world and why?
The late Kazimier in Liverpool. The three shows we played their were incredibly special and it was a wonderful room, full of character.
What can we do to save the current crisis of venues being shut down?
I think music venues should be able to apply to become buildings of cultural importance. This would protect them from unfair rises in rates and from being shut down to noise complaints. The noise issue was really bad for us when we toured the Netherlands a few years ago. We're a loud band, but the venues were going crazy because we were breaking their sound limits just tuning the snare drum.
Are streaming services the norm, or do you think we'll be listening to music in a very different way in five years?
I think streaming still has a long way to go. When most cars are connected to the Internet, then that will have a very strong impact on how the majority of people listen to music.
Outside of bands, what's the most exciting thing happening in music right now?
I've been using periscope a lot to dip into different music around the world. My favourite place to check out is Turkey where there a plenty of people who stream themselves singing and playing the baglama on a Friday night
Photos: Emma Swann / DIY.
Taken from DIY's 50th issue special, out now. Subscribe to DIY below.

Get your copy of the latest issue