Album Review:
Future of the Left - the peace & truce of future of the left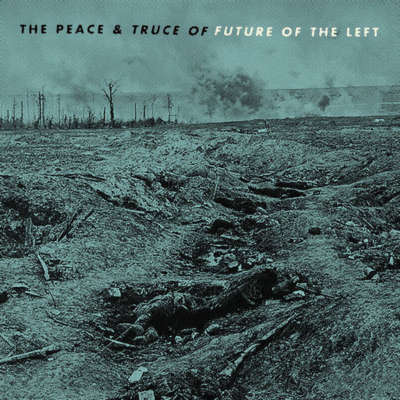 This is a band tight enough and confident enough to know they can take anything, and anybody, on.
Label: Prescriptions Music
Released: 8th April 2016
'The Peace & Truth of Future of the Left' is a rawer, leaner and filthier sound. A gut-trembling rumble echoes throughout the whole album and the group have never sounded tighter, or more like a band for that matter. Jack Egglestone's inventive, bludgeoning drumming dominates while Julia Ruzicka's bass brings that robotic dark dingy funk. They work in tandem with tempos shifting as buzzsaw guitars slice through, with Falco's scabrous vocals swinging from spoken word to unearthly snarling growl. All the way through it feels exhilarating: in a way, with its primitive, unprocessed thrills, it even feels akin to 'Mclusky do Dallas'.
Like 2013's 'How To Stop Your Brain In An Accident', 'The Peace & Truth' is crowd-funded and, without the shackles of a record label, this autonomy seems to have given the band the freedom to scorch their own path. It continues 'How To Stop's…' move away from the synths that dominated the earlier albums and pushes things towards darker gnarlier sound - the production feels less slick here yet their vice-like tightness means they can turn their hand to a few styles.
The cavernous guitars of opener 'If AT&T drank tea what would BP do?' not only provides a reminder that Falco knows his way around a great song title but also an ear-pummelling track. 'The Limit of Battleships' goes from high-tempo pogo-ing bass with a furious Falco asking 'Have you ever been wound up to the point of prison food' through to an erosive breakdown, as he spits through gritted teeth that 'it burns like writer's block'. From the snarling combustible march of 'Back When I Was Brilliant' through to the crackling ramshackle funk of '50 Days Before the Hun' (which surprisingly brings to mind 'Odelay'-era Beck) this is a band tight enough and confident enough to know they can take anything, and anybody, on.