Live Review
Years & Years, Wembley Arena, London
8th March 2016
An occasion the trio take triumphantly in their stride.
For most, a night at Brixton Academy might be a pointer of early success, but for Years & Years, they've already played it twice over and demanded yet more. Tonight's Wembley Arena outing is the sum of a rise that's been nothing short of astronomical - and an occasion that Years & Years take triumphantly in their stride.
The main event is preceded by an artist on an upward trajectory of her own. MØ's boundless energy is the perfect curtain raiser - her limbs flail and ponytail whips from the moment she enters the fray. With 'Lean On' she receives her most universal reception – taking off in to the crowd as cheers go up along with a sea of smartphones. It might be her Major Lazer-guesting hit that draws the biggest reaction, but whilst her early steps have threatened to be defined by collaborations, tonight she shows the signs of an artist taking full control of her own destiny.
For Years & Years, taking to the stages the size of Wembley has felt inevitable for some months now. And now they do, no stone has been left unturned. With Emre Turkmen and Mikey Goldsworthy appearing beneath laser beams before frontman Olly Alexander emerges on a rising platform from beneath the stage, this performance has all the pomp of an arena spectacle from the get-go. "This is already the best night of my life… I'm wearing a crop top for god's sake!", he announces after tearing through the early-set one-two of 'Take Shelter' and 'Worship'.
There are aspects of Olly's presence that now thrive in all of their extravagant majesty, but his underlying humility continues to be a massive draw, too - his vocal occasionally interrupted by sheepish giggles as he clocks on to people or banners in the crowd. Reams have been written about the use of his platform to champion social justice causes and there's little more to say in that respect, but after an LGBT flag emblazoned with the Years & Years logo and an illustration of Mikey's cat lands on the stage, it's soon draped around Olly's shoulders as the climax of 'Gold' takes hold. It's a poignant moment to say the least, amid the night's celebrations.
Earlier on, confetti cannons had covered the stage as 'Shine' hit its highest point. You wondered at that point how Years & Years could possibly continue to match those levels of intensity and spectacle. The truth is, they do it at a canter, with their mash-up cover of 'Hotline Bling' and 'Dark Horse' and new track 'See Me Now' adding extra strings to their bow. The latter takes a note from the book of 'Border' with its driving rhythms but adds to it tonnes more bounce and bonafide hooks. It's a sure sign of greater things to come.
After the fully choreographed finale of 'Desire' – with troupe of dancers in tow – Years & Years play their card of inviting their support back on stage to duet. After Shamir joined in at Brixton last year, tonight's encore sees Years & Years turn 'The Boy Is Mine' in to a thumping electro-pop hit with MØ, before drawing the curtain on a defining night with 'King'. For most, closing their debut Wembley appearance in such a fashion would be a career high, but for Years & Years, it's just the next stepping stone in an ascent that feels limitless. The outlook's not bad for a group that tonight confirm themselves as the pop band the UK needs.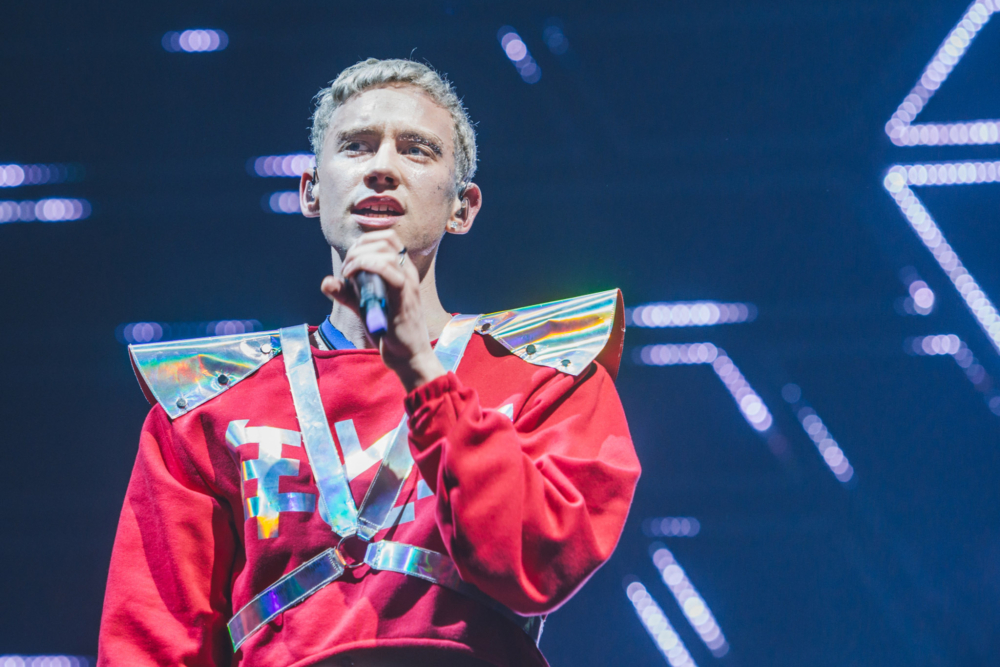 Photos: Carolina Faruolo

Get your copy of the latest issue