Album review
James Blake - The Colour In Anything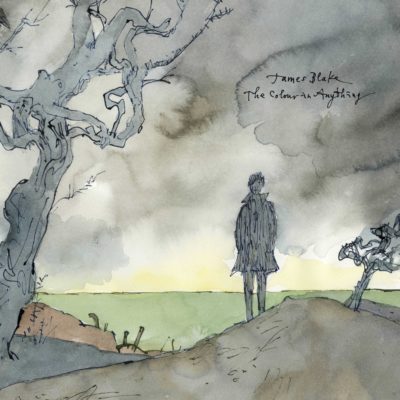 Blake's personality is encased within 'The Colour In Anything'.
Label: Polydor
Released: 6th May 2016
The go-to punchline for anyone searching for a "sadboy", James Blake's renowned for his melancholy. It's an unfair pinning, really – as tragic as his musical tales may be, anyone who dares to dig deeper will find countless other sides. He premiered Jamie xx tracks under the pretence they were new cuts from one "Simon Tallywhacker", and created the character DJ Badger as an excuse to wheel Stephen Merchant onto his radio show. The class clown who still manages to get straight-As, alongside those Radio 1 Residency japes his 1800-Dinosaur collective have been quietly penning some of UK dance's most pulverising cuts, letting them loose under low ceilings and in dingy corners of every major city as part of their intimate club-nights. Everything from garage to techno gets a look-in away from Blake's more sombre full-lengths. Heartbroken though that solo work may be, there's more to Blake than blubbing.
Admittedly, he might not be cracking lyrical in-jokes with all the Saharan dryness of a Stewart Lee sketch, but every other facet of Blake's personality is encased within 'The Colour In Anything'. Where his first two albums may have carved a slick-sided niche for Blake to embed himself in, his third-effort drags the kitchen sink into the cave. Stripped-back piano balladry ('f.o.r.e.v.e.r.' and the album's title-track) sits alongside club-influenced numbers like 'Points' and 'I Hope My Life' (the latter even suffixed by the tag '1-800 Mix' on the tracklisting). It's all bafflingly cohesive, though, Blake's trademark clicks and bleached-out percussion stapling everything together without a seam in sight.
Blake's love of looping remains, but it's employed in a different fashion. Where breakthrough tracks on Blake's first two records like 'I Never Learned To Share' and 'Retrograde' relied on the repetition of diamond-sharp hooks, 'The Colour In Anything' largely eschews any easily lodged lines. Instead, it's a subtler approach, a melody or flickering cut of percussion lassoed and twisted back around on itself. While those heart-breaking lyrical one-liners might've instantly struck a chord, 'The Colour In Anything''s approach proves every bit as crushing, each gentle turn of the corkscrew slicing like a razor. It makes for a record that reveals itself slower than his previous works, unfolding like a flower rather than bludgeoning you with balladry.
Despite that, James' voice remains the deserving centrepiece. Still fragile, but now sounding more confident than ever, those pipes sound warmer and thicker than ever before. 'Love Me In Whatever Way' finds him belting out lines like a modern day Sinatra, and everyone one of countless layers of that vocal which make up 'Choose Me''s choir-like opening sound fit to fill a cathedral. Where before even the slickest statements were crackly and nervous in their delivery, here he sounds ready to take on anything.
"Music can't be everything," Blake ponders on 'Meet Me In The Maze', the album's exploratory closing number. It's a surprising statement from a man whose every move is analysed like the liner-notes of a high-art exhibition. Instead, he's opted to shift the power balance, pouring his everything into the music itself and finding his multi-faceted personality on the front-foot like never before.

Get your copy of the latest issue
More like this