Album review
Yak - Alas Salvation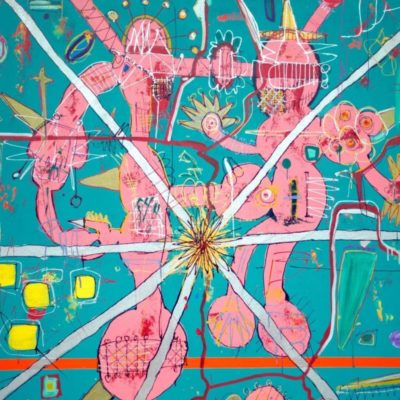 'Alas Salvation' is the debut of the year so far, make no mistake.
Label: Octopus Electrical
Released: 13th May 2016
Sleaze, sludge and scuzz rule the roost on Yak's debut album. But to put their magic down to three vital ingredients would be missing the point. With Oliver Burslem at the helm, the trio have a whirlwind chemistry it'd takes other bands decades to master. And with 'Alas Salvation', they've set a marker for every borderline-insane newcomer emerging in the next decade.
As a frontman, Burslem acts like he's been researching the move-by-move heroics of yesteryear's giants. Those Mick Jagger looks aren't a red herring. On stage, he careers from churning organ to speaker stack like a prison inmate given his first taste of freedom. The odds were against Yak being able to replicate this wild form on record. But they've stolen the lights, the audience and the fever of a venue, wedging it slap bang in the middle of their debut.
It's no surprise Jack White lent his attention for last year's 'No' single. Opener 'National Anthem' rapidly barks "victorious!", everything stamped by the thick, stomping fuzz White's spent his years advancing. But Yak aren't just about sheer, unrelenting noise designed to take you out of your comfort zone, and they're anything but reverential. 'Use Somebody''s looping solos are a bloodthirsty sibling of early Tame Impala, while 'Take It''s Wild West road trip gives psych the razor-sharp edge it often lacks. 'Alas Salvation''s title-track has existed since last year, and it remains a marker, Burslem chanting "I've come to save your bacon!" like a mad scientist on the loose. And closer 'Please Don't Wait For Me' is the glammed-up answer to The Horrors' 'Primary Colours' days.
Across their first work, Yak showcase the inner depths of their mad character. They test noise to extremes, they lose track of time and they make very little sense. It's as captivating as records come. But despite their heroics - from on-stage antics to everything laid bare here - you'd doubt they're aware of just how good they are. 'Alas Salvation' is the debut of the year so far, make no mistake. And it's the kind of record that can inspire the next generation to shun insecurities and any notions of cool. Be a character, shun the norm and say something weird - that's the Yak ethos, and it'll spread like wildfire.

Get your copy of the latest issue
More like this