Fear of Men: "this is as real as I could be at the time"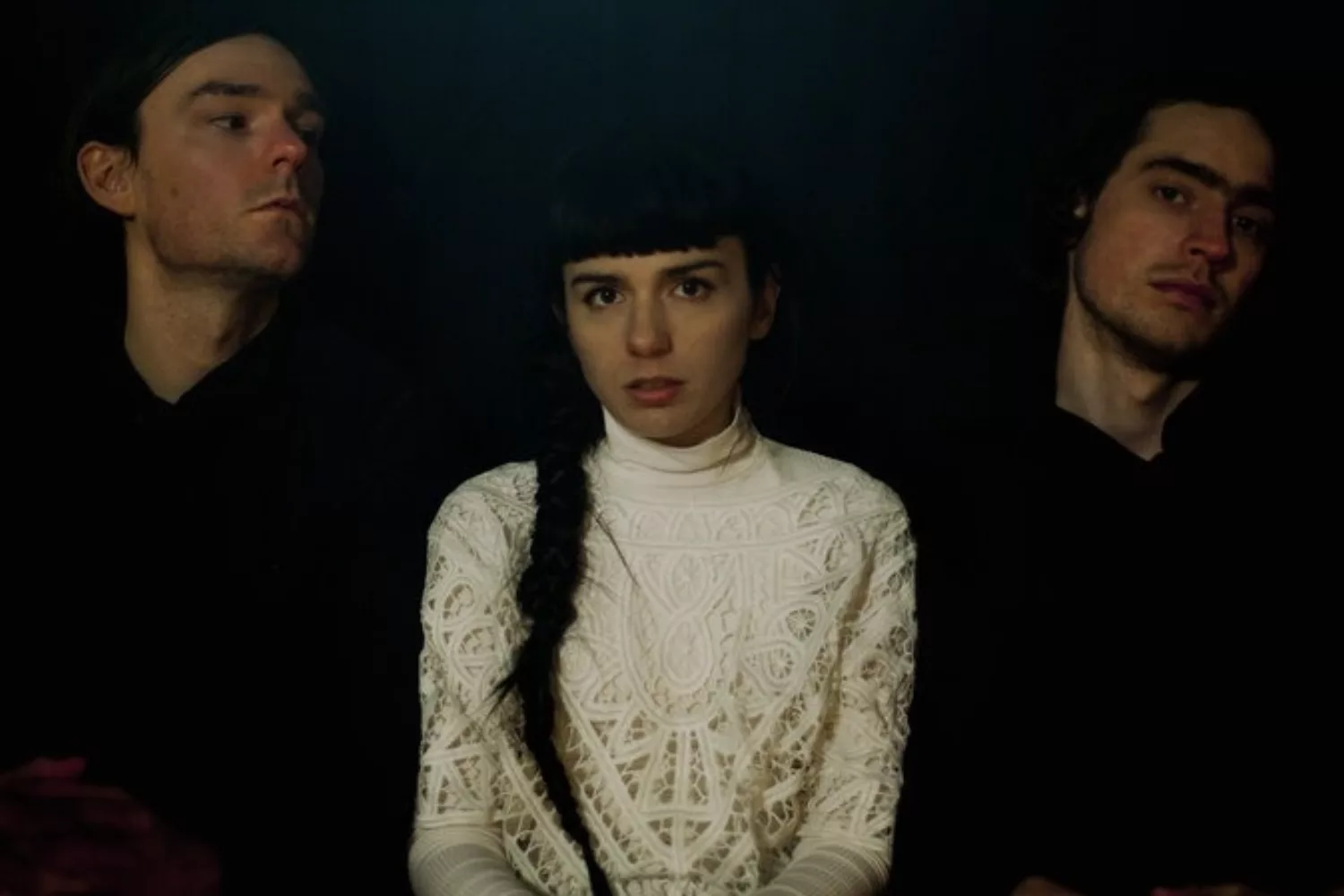 With second album 'Fall Forever,' this Brighton band jump headlong into their boldest explorations yet.
Fear of Men are stepping out from the dark and into the light - kind of. The Brighton-based band caught attention for their effortlessly enjoyable debut album 'Loom', a record that put them out their as purveyors of pop music, but not as you know it. Tense and beautifully restless, 'Loom' is as guitarist Daniel Falvey puts it "an introspective record" - one that was literally recorded underground and mostly at nighttime. Enter their new album 'Fall Forever': a sumptuous and at times subtle collection of melancholic yet crystalline pop songs that sees Fear of Men pulling back the curtains; even if they're curtains in an old chilly abattoir.
"We took that introspection as far as it would go, what with the sounds of strings falling in on themselves and so on," Falvey says, chatting to DIY with frontwoman Jess Weiss. "On this album, it was about stripping away some of those layers and almost slowly coming out of that oppressive space. [New album 'Fall Forever'] still has a lot of the neurosis of 'Loom' - we're probably always going to be that band - but it felt to me like we were definitely coming out of that space. This feels very separate."
Separate it should feel. 'Fall Forever' feels like a band fully realising their potential - Weiss' vocal sounds more front-and-centre than ever before, and everything meticulously engineered and recorded. Tracks like 'A Memory' and 'Island' propel Fear of Men forward with a newfound clarity we haven't heard from them before. An array of electronics act as a fresh backbone, pushing their arrangements to another level. "I suppose we wanted to find ways to use our instruments in different ways, and be bold," says Falvey. "That was like our first aim in terms of things like electronics. It wasn't so much that we wanted to go electronic, it was like - what's gonna be the boldest sound here? Also, what's going to be more aggressive?"
Aggressiveness might not be something regularly associated with Fear of Men, but on 'Fall Forever' you better believe they pack bite. On stage recently at East London venue The Victoria, they emerged sounding huge - the drums shook the room, the guitars took off and Weiss seemed more comfortable on stage than ever before. There was a healthy confidence in the air, something that's been brewing with these guys for a while now.
"You've just gotta be open to what you wanna say - it's like using a scalpel to strip away the layers from before, bringing the rest to the forefront and exposing yourself."
— Jessica Weiss
"Well, just to address something, I think some of the bite in the lyrics is me telling myself what I needed to hear at the time," explains Weiss. "These things are what I needed to tell myself and what I needed to do to be the strongest person I could be at the time. Telling myself that I didn't need anyone, while also making myself completely vulnerable. So there's loads of layers acting like a self-fulfilling prophecy: you put these ideas out into the world and then you're able to take that on. I think there was maybe an element of looking at myself from the outside this time."
That constant self-assessment appears to be everywhere. "The change in me isn't what you want it to be / I'm not present in my body," she sings on 'Undine', a track that juxtaposes a deeply punchy rhythm section with woozy guitar lines and an ethereal atmosphere. It encapsulates everything that's great about 'Fall Forever', and its heart-on-sleeve lyricism is of a quality that flows throughout the entire record - never contrived or artificial, Weiss has allowed herself to bravely portrait an honest snapshot of her life - and she isn't holding back the punches, either. "Used to be scared to be misunderstood / now I don't care if I'm not what you want," she concludes on 'Island', and that couldn't be a more accurate to the record.
"I'm sure as I grow and change as a person, what comes out on the next record will be different," she says of her lyrics. "I like to think of everyone as moving closer to developing their real self and I guess - like with the music - that they're able to let go of layers of artifice about themselves. And so I feel like this is as real as I could be at the time. It's a natural process, and there's also something in letting yourself be honest about that and letting yourself be okay with that," Weiss goes on. "You've just gotta be open to what you wanna say - it's like using a scalpel to strip away the layers from before, bringing the rest to the forefront and exposing yourself while also coming across as stronger and more true."
Fear of Men play a DIY Presents gig tomorrow (10th June) at London's Old St Pancras Church. Head here for full details.
Fear of Men's new album 'Fall Forever' is out now.

Get your copy of the latest issue