From the magazine:
What's going on with… Los Campesinos!?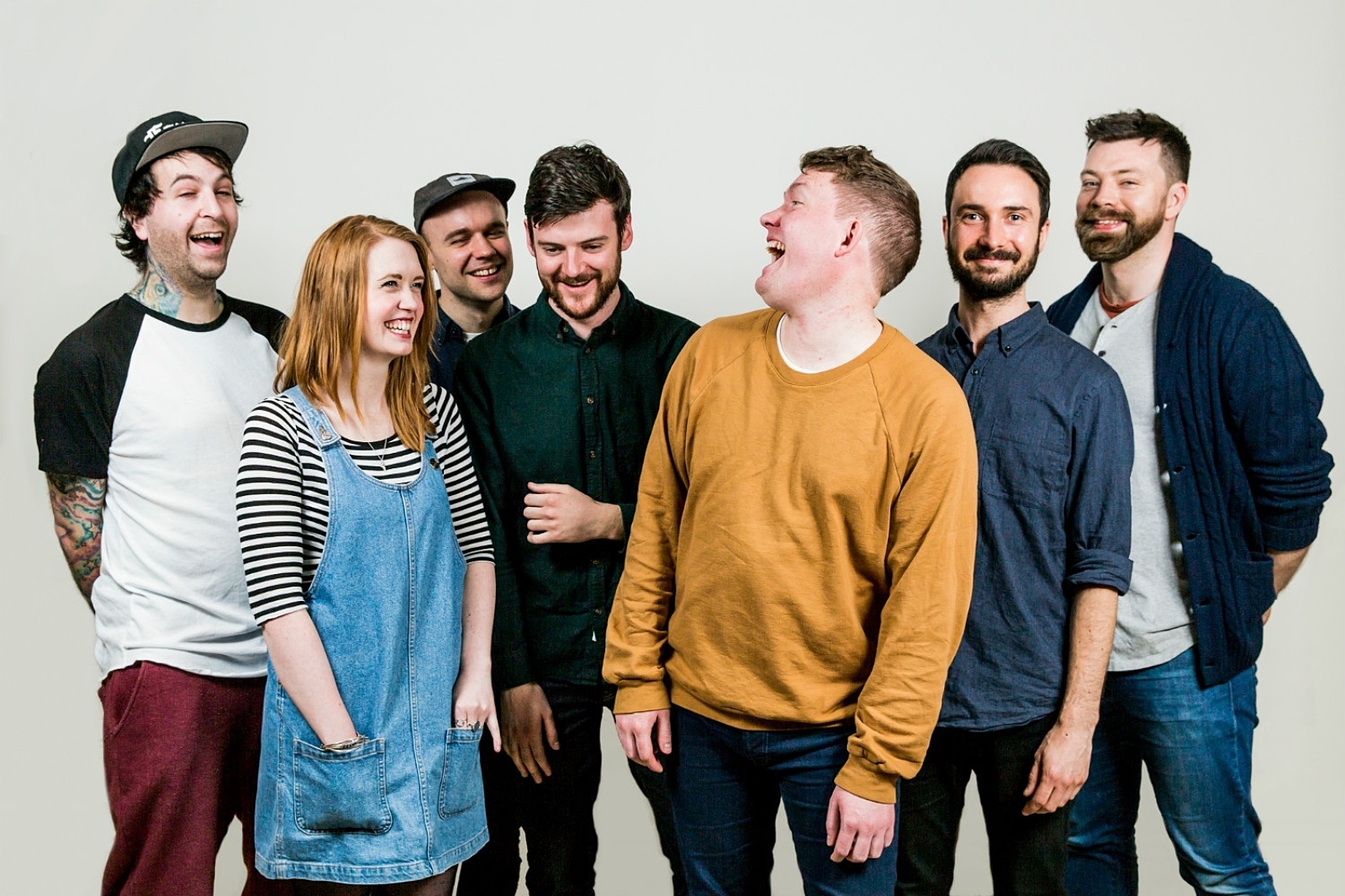 With the Welsh rabble back in the studio, we decided to get the first word on progress for brand new album.
It's been three years since Welsh seven-piece Los Campesinos! released their brilliant 'No Blues', and with only a few festival appearances in their calendar (and a boarding pass for a plane to Portugal up their sleeves), it's easy to wonder what they've been up to of late. So, we decided to ask - Gareth and Tom Campesinos! spill the beans below.
Hello there! Can you believe it's already been three years since 'No Blues'? Where does the time go?
Gareth: Do you know what? Yes, I can believe it - it seems like forever. I feel like my life runs in two separate lanes, one inhabited by the band and the other with everything else. The band time-line has really dragged, with us having done very little, just itching to do another record, while the time involving everything else in my life has gone at a thousand miles an hour. Since 'No Blues' came out my football team has celebrated a heroic promotion, and then faced a lacklustre relegation. That can really age a man.
It felt like 'No Blues' provided a bit of a platform for a 'step up' - you've been headlining festivals and the like recently, right?
G: That's very nice of you to say and I would like to agree, but sadly I see 'No Blues' as more of a missed opportunity. I think it's our best work - and there was a lot of potential for singles to be taken from it - but unfortunately as soon as it came out, it felt like it was rushed away again, with us unable to tour it. That's helped motivate us to do this next one 'properly'. We have been playing some nice festival slots, but I think they're more due to an amount of good will we've amassed over the past decade, rather than off the back of any success of 'No Blues'.
We hear you're hard at work on a follow-up, how's that been going?
Tom: Good thanks! I started writing songs when I was in Seattle last year in between two legs of a US tour playing in Perfume Genius' live band. It'd been about three years since writing the songs for 'No Blues' by then, so I felt suitably refreshed and excited to write again. I've been living and messing with that set of songs for about a year now, so I feel like they're at a point where I'm happy to start sharing them.
G: What Tom's written for this new record is fantastic, like, really exciting for me. So now I've gotta write the lyrics to do it justice. This meant I quit my job (not that much encouragement was needed) and am spending a lot of time day-drinking in beer gardens with a note pad, scratching down drunken ideas.
'Avocado, Baby', from 'No Blues' (2013)
"I'm spending a lot of time day-drinking in beer gardens with a note pad, scratching down drunken ideas."
— Gareth Campesinos!
How are the new songs sounding?
T: I'm probably a bit close to judge, but I think 'No Blues' was, psychologically at least, the last record we made as a 'pro' band. The past couple of years have been extremely frustrating for a bunch of reasons I can't really mention, and I think we've been forced into questioning whether we want to do this anymore or why we're still here. So I think these songs are a combination of an excited, affirmative answer to that questioning as well as a release of that frustration. Basically it's a bunch of loud euphoric pop songs that'll hopefully make you dance and cry.
And now you've gone back to the shack with John Goodmanson…
T: John is one of our favourite people in the world and I think we'd pay for him to come over just to hang out. But we'll probably make an album as well.
Is [new, touring bassist] Matt a proper, official member now? Have you knighted him Matt Campesinos!? If so, how was the ceremony?
G: He's in the new promo shots so he's lumbered with us I guess. Though, lucky for him, the bailiffs won't go to his house when they're ransacking the other six of us. The ceremony? Jägerbombs and UK Garage, every night. The only way he knows.
Do you have a timescale? Reckon it's still on course to see the light of day this year?
G: I promised people there'd be a new LC! album in 2016 but we'll be looking at January / February next year I reckon. We could get it out this calendar year, but I think records that get sneaked out in time for November/December often suffer for that (I mean, the DIY end of year list will be out by then, right?). For certain we'd like to get at least two or three new tracks out this year though as this will be our longest ever gap without releasing new music, and some headline shows towards the end of 2016 too.
What's the plan moving forward then? Or is it all top secret?
G: I don't think we really have a plan! We're excited to release the album and play shows off the back of it. We'd love to go back to the USA, and we know there are an awful lot of people there who would like us to be back there. We're in a great position as a band where we don't need a manager, a record label, or to be paying several thousand pounds to radio pluggers to exist at the level we're at. We're prepared to work hard and take responsibilities for our own goings on, and that's a really positive position to be in for a band right now.