Interview:
Band Of Horses: "There are no rules now"
On new album 'Why Are You OK', Band Of Horses are embracing both the challenges and the freedoms that come with years in the game.
Rewind four years from this summer – where Band of Horses find themselves fresh from the release of new album 'Why Are You OK' – and you'd find frontman Ben Bridwell going through his usual writing routine for the band's fourth release 'Mirage Rock'. Put simply, he escapes by removing himself from the confines of a busy lifestyle and staying secluded until something resembling an album comes out at the other end, with the routine rarely differing.
Until now, that is. 'Why Are You OK' is the fifth album (or the seventh, should you wish to include 2012's 'Sonic Ranch Sessions' and 2014's 'Acoustic at the Ryman') from the six Seattle natives that have come to be known as the swashbuckling Band of Horses. Naturally, the switch in Bridwell's routine isn't the only change this time round, with an abundance of new anecdotes influencing the record's lifecycle. "The album leans on the truths that are out there," begins Bridwell when quizzed about what's different two years after their last release. "It's not about me anymore… [leaving home to record] isn't really a possibility. I went with the flow – I had to make it count."
Going "with the flow" – for Bridwell, at least – meant letting fatherhood play its part on Horses' recent trajectory – a change in tempo that saw 'Why Are You OK' being written in the twilight hours in Bridwell's garage in South Carolina, a space originally made for experimentation during Horses' earlier days. "It was nice to go back to my weirdo stuff, doing things that are going to be different from the other guys. There's a certain feeling that I – and only I – can get across with bad guitar playing and weird tunings!"
But, before the "weirdo stuff" could begin, there was a struggle for Bridwell, who found writing 'Why Are You OK' understandably difficult – not just because of his location. "I was having trouble getting songs to cross the finish line. I knew the melodies and I could figure out the musical arrangements, but I had trouble finding the lyrical narrative." Your archetypal writer's block, this is not. Band of Horses have always been – in some way or another – profound storytellers, and this time around, Bridwell felt a new environment wasn't the only new angle the album needed. "I was stymied by masking things with metaphors and the whole smoke-and-mirrors approach to lyrics that I tend to lean on, I think that was holding me back." Inevitably, this was his issue and one that he could only solve himself through a new and significantly more open mindset. "Once I gave into the process and allowed myself to speak freely, things opened up and I found the way to go" Phew. "I didn't look back from there."
A back-to-back session with 'Why Are You OK' – all 52 minutes of it – will leave you none the wiser about Bridwell's tribulations. Partly, this could be down to Band of Horses' particularly innocent sound. A luxury that many bands, especially those five albums deep, don't possess. It offers a welcome insight to how the six-piece continue to operate, both as long-term friends and as bandmates. "As long as we get the right feeling down, there are no rules," he says of the easy-going recording process that got the new release nailed down, and in turn created this particular feel. "We didn't have to know the song at all… but once the material was good, we found ways to serve the song. After all, it didn't have to be all of us in a room… because that's an uncomfortable thing, as the last two albums were totally collaborative. We were all involved – all in – and it was nice to back to amateurism."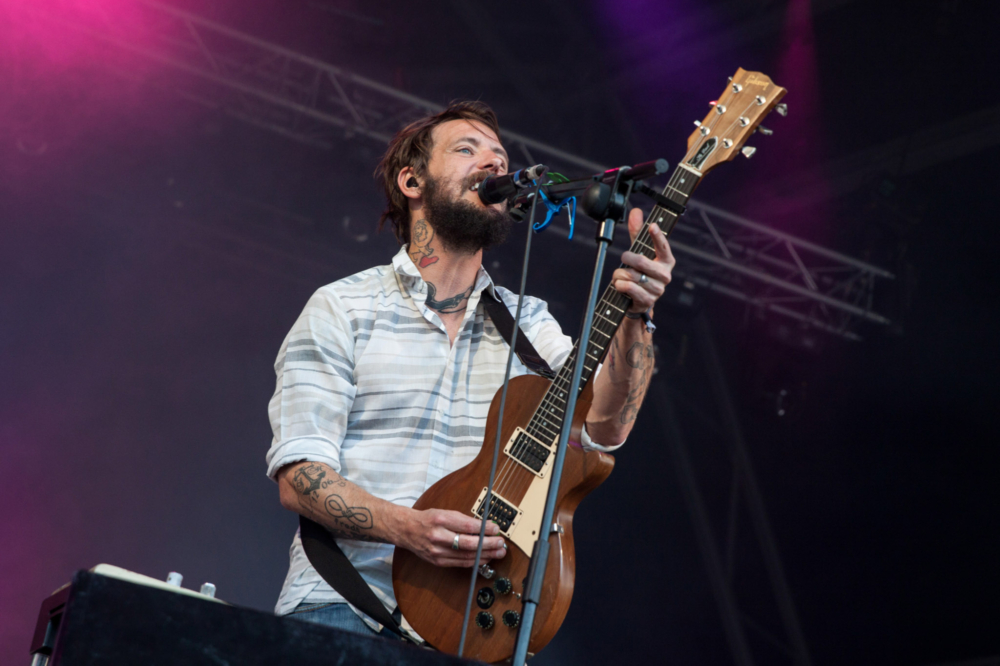 "Just like any creative pursuit, you have doubts and indecisiveness."
— Ben Bridwell
When it came to nailing that "right feeling", there was a touch of sonical majesty that helped, in the form of Rick Rubin. "He played more of a mentoring role than a nuts-and-bolts kind of thing," explains Bridwell about how Rubin touched on 'Why Are You OK'. After all, it wasn't their first encounter. Rubin had helped BOH to get signed onto Columbia Records and Sony during 'Mirage Rock''s release – and offered to help this time around by inviting Bridwell to his house.
However, it was towards the end of the album process where "the sonic magi", as Bridwell refers to Rubin, had his most notable take. "We had songs, and it seemed to be an album, but I had more demos that were kicking around that deserved a good look at." Rubin helped push those demos – specifically, 'Whatever, Wherever', 'Dull Times/The Moon' and 'Hag' – to the point where they became album leading tracks, rather than rough material that almost didn't make the cut. "Just like any creative pursuit, you have doubts and indecisiveness, but he just helped me realise that [what was recorded] was good and that I needn't be indecisive. People have different opinions, but if someone like Rick says, 'Yes! That's great!', then I can go with conviction and recognise that they deserve a stab."
'Whatever, Wherever'
Of course, a path to releasing an album is never an easy one. Full of trials tribulations, self-doubt, creative constraints (and for Band of Horses, sometimes Rick Rubin), each album is a worthy piece of work in itself and should be celebrated as such. For BOH, however, this creative challenge continues to be routine for a band, that – even on the cusp of releasing a fifth studio album – prides itself on all things abnormal. Rubin was just a start and end note – "A crucial visit very early in the recording process"– for a release that will keep the six-piece grounded and crucially, still curious about their sound.
"I like not knowing anything about it, you know?" Bridwell says, talking about how BOH's sound has steadily evolved up to this point. "I'm pleasantly surprised with all of it and I'm still flying blind." Still, it's a new way of doing things for them, and the future remains suitably bright. "I think we're just getting started," he finishes. "There are no rules now."
Band Of Horses' new album 'Why Are You OK' is out now via Columbia.
Header photo credit: Andrew Stuart

Get your copy of the latest issue