Festivals:
Headliners of the future: round two
A year on from our first investigation, we catch up with the bookers of Latitude, Bestival and more to chat the acts they think could one day top bills.
We've got a bit of a fixation with who headlines our music festivals. Sometimes, that means a sizeable chunk of attention can move away from the undercard and the other artists playing, which can be a shame. But there's an important reason for why we're like this. Seeing artists rise from playing a bandstand to a crowd of fifty - to headlining major festivals in front of five-figure crowds - is exciting. As fans, we get to join them on that journey. We get to share their success and their joy. It's one of the reasons why Biffy's headline set at Reading & Leeds in 2013 was so satisfying. It feels so fucking great to see good people win. That's why we care about headliners so much - because we want the people we support, the 'right' people, if you will, to succeed.
Last year, we set up a roundtable with the people pulling the strings behind the scenes of some of the UK's biggest music festivals. We wanted to find out, at a time when we appear to be seeing the same elite group of acts headline every festival (*cough* Muse *cough*), which new artists were set to rise through the ranks and top the bills of the future.
The problem with making new headliners isn't a lack of talent. Grimes. Wolf Alice. Chvrches. Savages. The Maccabees. Foals. Alt-J. James Blake. Hinds. We could go on and on.
In fact, when festivals like Latitude are making headliners out of said Maccabees (great decision by the way, guys) and Wireless has put BBK at the top of their bill (to name but a pair) it shows you just what rude health music in Britain really is these days. We're very lucky.
We got back in touch with Latitude, Reading & Leeds, Bestival and also reached out to the (very lovely) titular Lee from LeeFest in order to find out who is set to rise up to headliner status.
Natasha Haddad, music programmer for Latitude Festival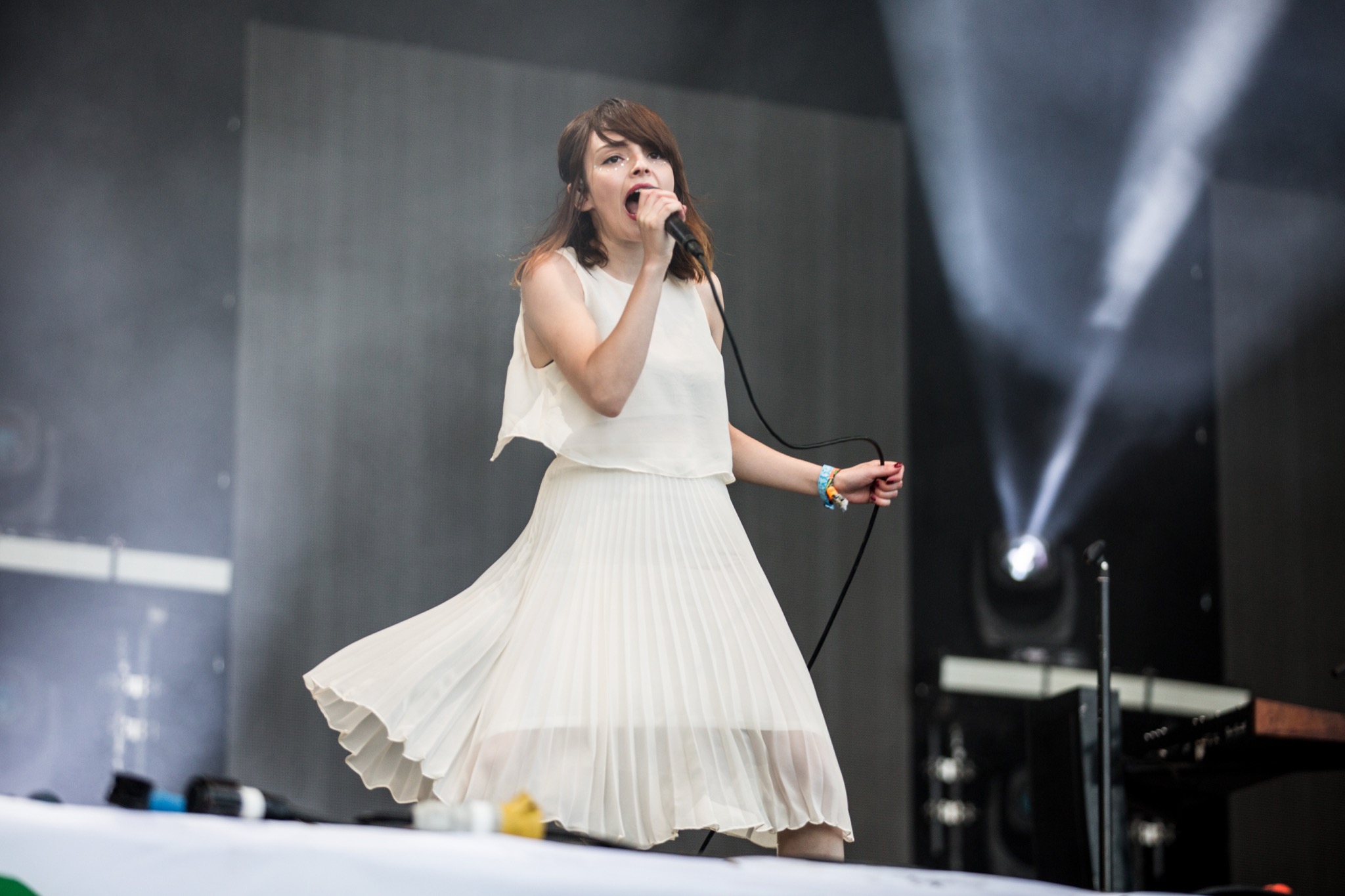 Chvrches at Glastonbury 2016. "They're an absolute Latitude band" says Natasha Haddad. Photo: Emma Swann / DIY.
So, Natasha, who do you think could one day headline Latitude? What about Chvrches?
Yeah! They're an absolute Latitude band and I'd love to continue working with them as along as they'd want to. Really happy that they're back with us this year. They did a show for us a couple of years ago actually - it was amazing. There's footage on YouTube. They had a great reaction from the audience. They've grown so quickly.
Are you backing anyone else?
We spent a lot of time trying to get Grimes. I went to her Brixton show and I was just amazed at how much of a show it is with, essentially, just a soloist on the stage. Richard Ashcroft played in 2013 - he's a solo artist who comes on the stage on his own and he just completely resonated further out of the tent; the feeling of him being there just stretched so far - and I think Grimes will have that same effect. The power that comes off from the stage and the whole performance of the show she puts together is so big, so I'm really excited to see how that goes down at Latitude.
We spoke about James Blake last year. Back then, you said that he was one for the future. What do you think about him now?
Yeah, I'm really excited to see the new show. He's doing a couple of other festivals this year, so I'm going to go along to see him. He's got some great people guesting on his new album, collaborating. He's one that I'm keeping an eye on - he's a great fit for Latitude.
The Maccabees are "the big one" for Natasha Haddad at this year's Latitude. Photo: Mike Massaro / DIY.
Who else on the line-up this year are you excited about?
The big one for me is The Maccabees because I've been there the whole time – I was at their first ever gig! It's been a natural progression for them to headline. I've been following their career and they mean a lot to me as a booker and I think they mean a lot to the festival too.
Across the other stages, I'm really happy that we've got Pantha Du Prince, Anna Meredith and Kelly Lee Owens. Christine and the Queens as well, we've got her playing the same day as Perfume Genius so I'm excited about that day.
And actually I'm really excited about Sturgill Simpson. He's like a country artist whose performances are so involving of the audience, and you don't have to specifically like country music to get completely sucked in listening to his music. I think he'll connect with our audiences.
Slaves saw the piece you did last year - they're coming back this year and they were like 'Yeah!' Our audience loves to see artists come back and work through the stages, they remember their previous experiences and it really matters. It matters to the audience and us as a festival to be a part of that journey for the artist. Slaves played the Lake Stage about two or three years ago, so it's really great to have them back.
Jon Mac, booker for Reading & Leeds Festivals
We're so excited to see Foals headline this year. Great call, Jon!
I've worked with Foals since they sold 300 tickets in London, so I've been lucky enough to be one of those people that's seen their career path from day one to where they are now. To have an act with loads of albums out and a great back catalogue that still feels fresh... it's a rare privilege to book an act like that to headline Reading & Leeds.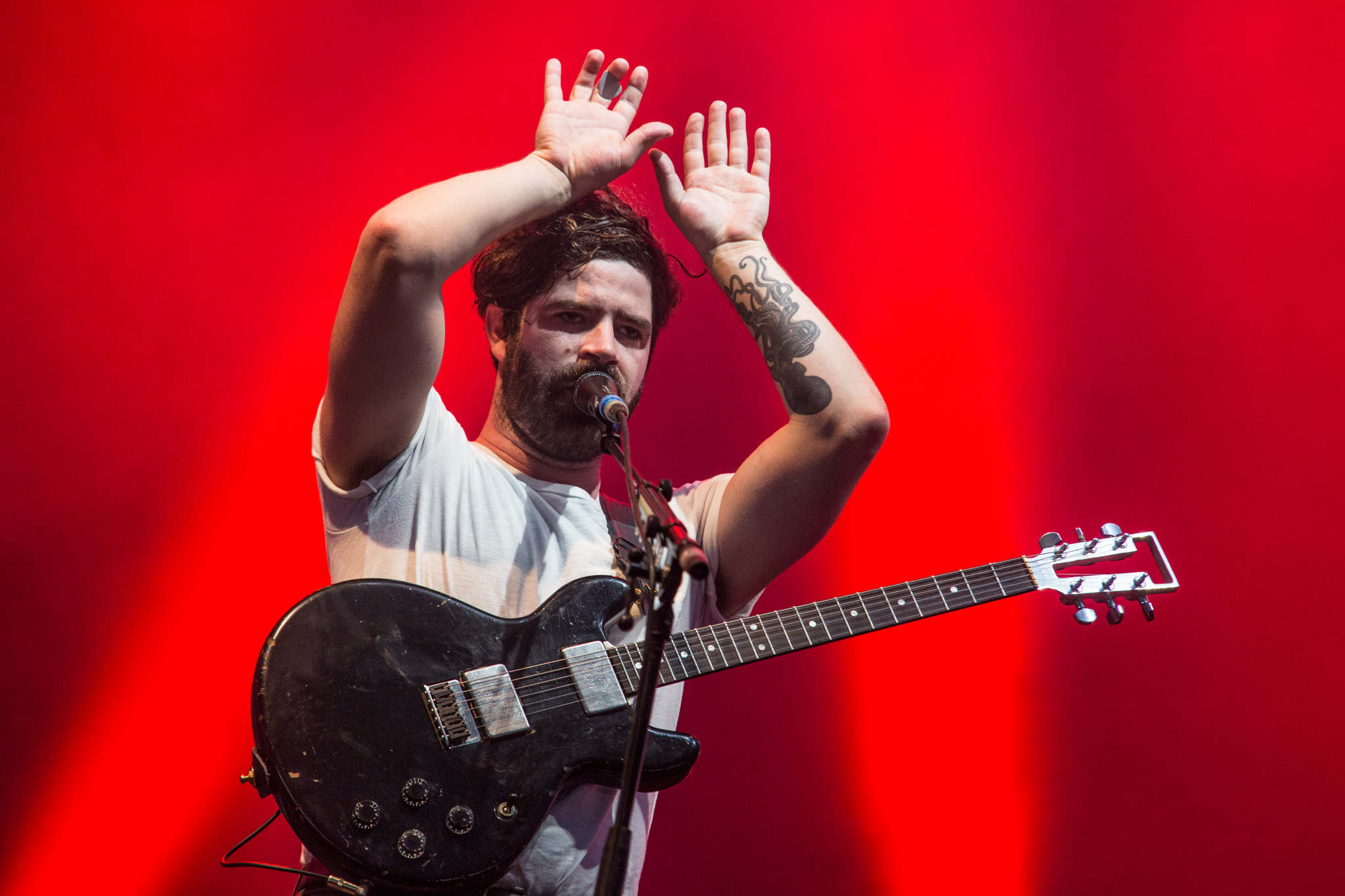 Foals' surprise set at Reading 2015. Photo: Emma Swann / DIY.
It's great to see Chvrches and BBK in big slots this year, too.
Chvrches are a lot bigger than a lot of people realise. They sell a lot of tickets, they sell albums, they're again a bit like Foals... they're very cool and a lot of people like them. And actually Chvrches are one of those acts that, three albums from now, could quite easily headline any festival.
I absolutely love Boy Better Know. I work on Wireless Festival as well, and we've got them headlining the Sunday this year. BBK are a collective of artists, obviously, rather than any one act, or any one song, but I think they represent an important movement in British music and British culture - probably the most important movement in about twenty years. It's really exciting. There's a lot of interesting and talented people involved in the scene, so it'll be interesting to see where it goes.
Is there anyone else further down the Reading & Leeds line-up that you've got your eye on?
Travis Scott, he really wants it. He's got an edge and an energy to his live shows. He's got a good team around him and he's really focused.
People like Young Thug, he played an amazing show at Reading & Leeds last year. He's playing Wireless this year, he's someone to come and watch for the future.
Wolf Alice is an act that's going to go onto really big things as well. There's a lot of good talent coming through. Even new acts like Anderson Paak, he's an act that's going to have a global career I think.
Who are you personally most excited to have on the line-up? Someone with a bright future? Someone who could maybe (whisper it) headline in the future?
I think we've got Fetty Wap's first festival shows in the UK? He's an artist that's very unusual in that he's had a lot of big hits but hasn't played live here yet. So to have his first big shows in Europe is exciting. Most artists will start touring when they gain any notoriety, and maybe lose focus on creating new music.
But an act like Jamie T or Fetty Wap, they'll work more and more on music. Ultimately, what we need for the big headliners is a very strong back catalogue and it's always the temptation for artists, if they have a successful album, to tour it for eighteen months to two years. But, as Noel Gallagher said, he had twenty-six years to write his first album and six months to write his second. You've got to always focus on the music.
Lee Denny, owner (and namesake) of LeeFest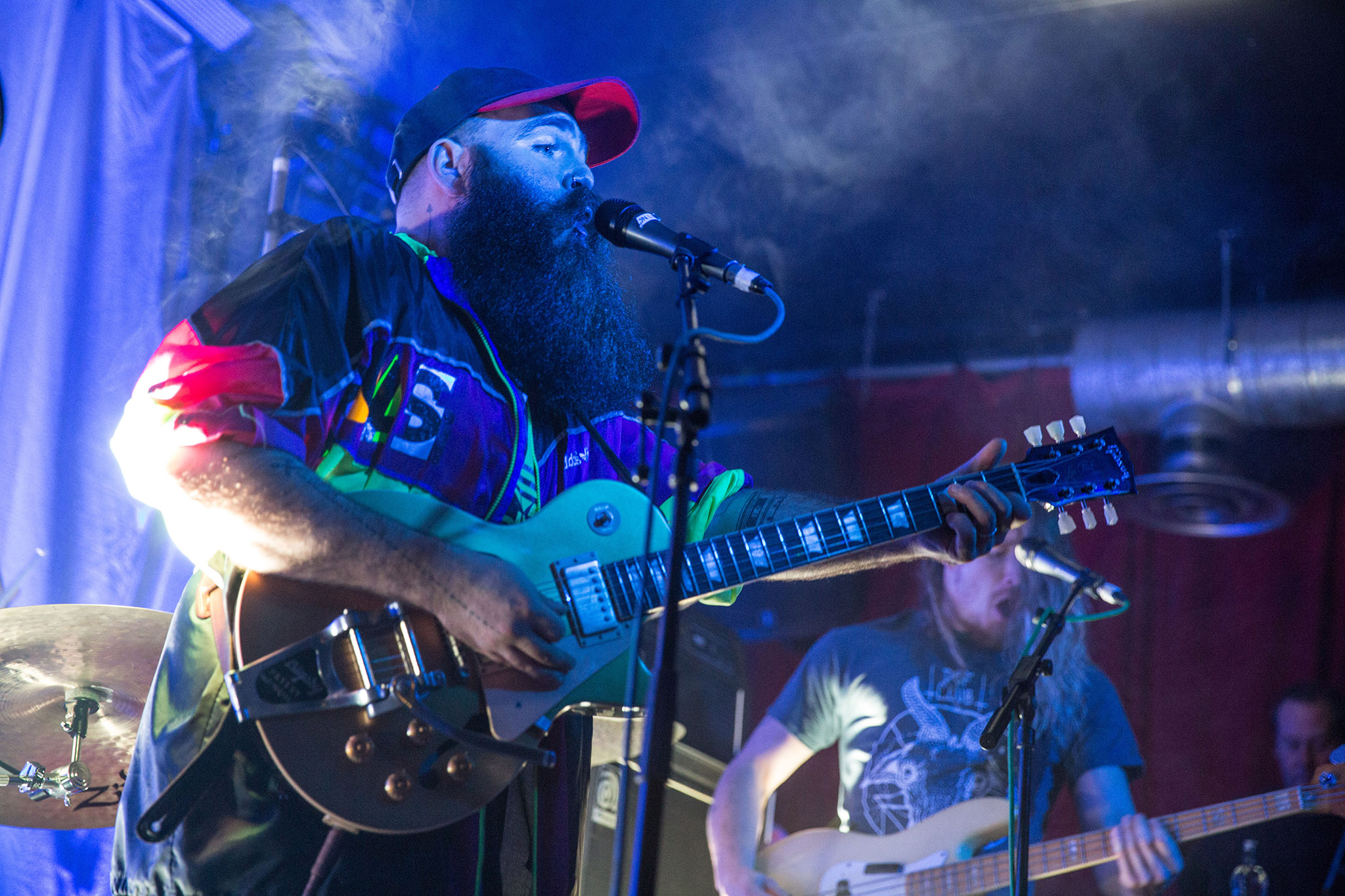 Clean Cut Kid on the DIY Presents stage at Community 2015. They're "really exciting", says Lee Denny of LeeFest. Photo: Emma Swann / DIY.
Which artists were you excited about getting booked this year?
The people that we're most excited about are the smaller up and comers. For me, Clean Cut Kid, Beaty Heart and Vant are really exciting. People like Little Simz and Shura too.
What do you think about Shura and Spring King rising up the ranks?

Everything we book we hope will one day rise up the rankings. Obviously, Shura is kind of... in development already. She's going to have the album soon enough. Hopefully that will hit this year and do really well. But yeah... sorry that's a bit of a cop out isn't it? 'Most of our line up.' [laughs] But we really do book people because we believe in them.
What about artists like Wolf Alice? Is that someone who you'd be interested in headlining?
Yeah! We've spoken to Wolf Alice and there's always a list of bands that we'd like every year but for whatever reason it doesn't work out. For example, schedule clashes or... they get nabbed as exclusives for bigger festivals so they're not always able to play for us... which is always heart-breaking, and really fucking annoying. [laughs] There are a few that we speak to every year and it never quite works. We get a bit bashed around by the big boys when it comes to bands at their level.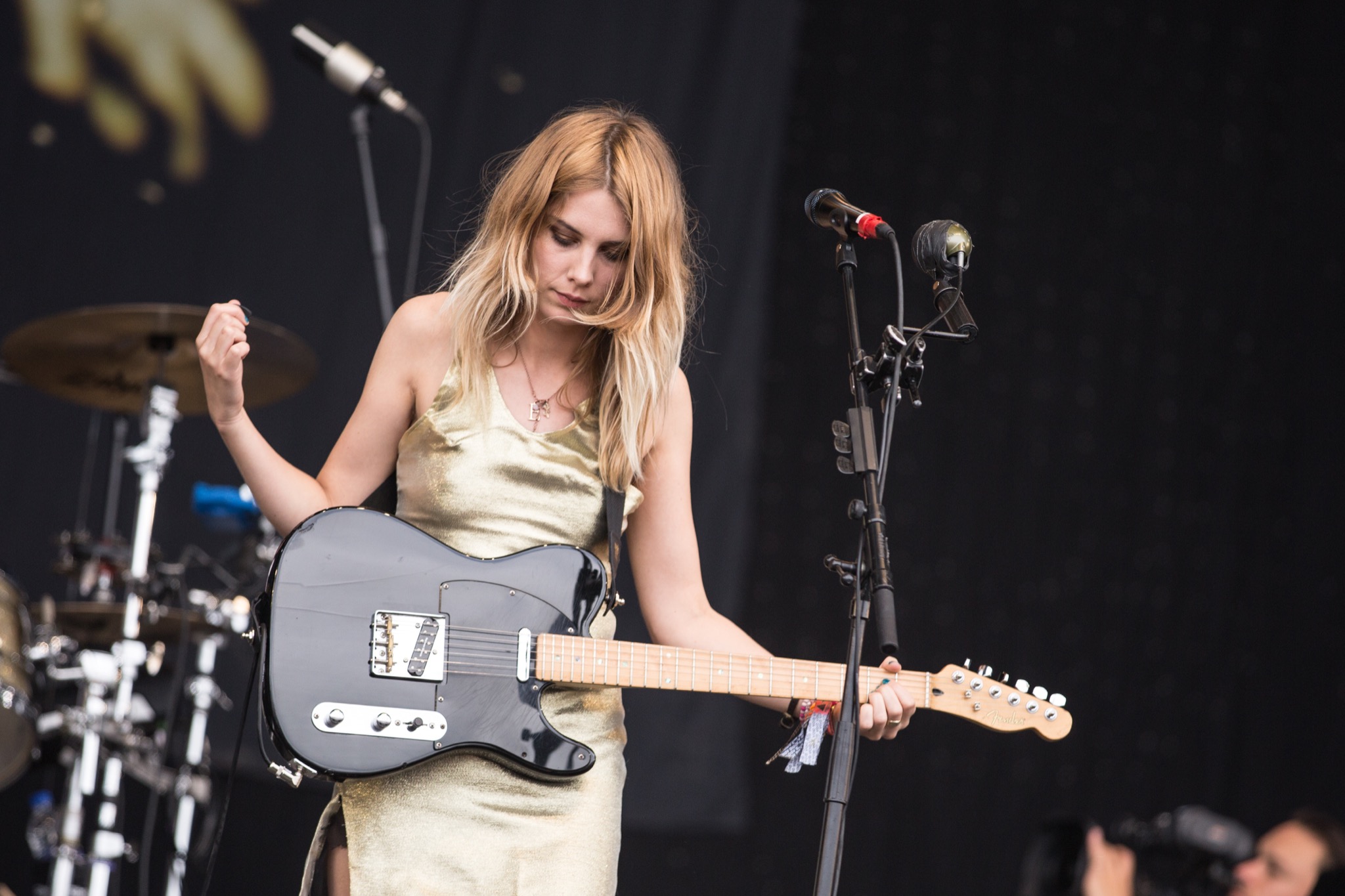 Wolf Alice on the Pyramid Stage at Glastonbury 2016. "We get a bit bashed around by the big boys when it comes to bands at their level", says Lee Denny. Photo: Emma Swann / DIY.
Which artists are you particularly proud of bringing up the ranks?
So every year we're putting as much of our budget as possible into booking bands. The ones who are playing smaller, Barfly-type shows at the moment. London Grammar were one. I didn't know them but I just got their music passed my way, then booked them. Then they put their first EP on SoundCloud and it just went absolutely mental. So they played and then have gone on to some awesome stuff. Jack Garratt - he played - Bastille, Young Fathers - another cool one for us. They played the same year they won the Mercury Prize. It's fun to be part of that.
Rob Da Bank, co-founder of Bestival
The line-up is so eclectic this year. We're big fans. You've got Skepta, Wolf Alice, Jagwar Ma, Diplo… all on one sheet. There's a real momentum behind artists like Skepta and Wolf Alice acts specifically - do you think they could rise up to headliner status?
I wouldn't say they're necessarily festival headliners yet, but last year BBK at Bestival were one of the biggest and rowdiest crowds - in a fun way - that we had. I know Skepta will pull a massive crowd.
Wolf Alice are definitely on the way up. You know, it's good to see bands like The 1975 [getting higher billing]. I don't know if they have a headline slot, but they're smashing it in the UK and the US. People like that. There are definitely bands that will be headlining major festivals.
People like Bastille or Years & Years should maybe be headliners. Who ends up in that final slot is sometimes a lottery. Obviously Major Lazer have had a couple of massive years. But the undercard is important. Like you said, we have a fairly strong undercard this year, it's not just the headliners, it's the other 10 or 20 acts underneath as well.
I definitely think there's opportunities for DJs to headline Bestival. I'm totally open. I'm so open to headliners - it doesn't have to be something heritage or a band. It can be a DJ, it can be a comedian. People are always saying get Flight Of The Concords!
But I think we can get a bit hung up on the headliner thing - I just want a balanced bill.