Interview:
Martha talk growing up and "still being rowdy punks"
The Pity Me punks are keeping their feet on the ground as they approach album two - but still letting their heads scrape the clouds from time to time.
"We didn't want to fall into the trap of making the same record again," begins Martha guitarist J. Cairns, or JC. In truth, the Durham group have such an endearing gift for telling the most vivid of stories that a repeat of 2014's 'Courting Strong' would have gone down a treat – as JC points out, "there's still so much to say about" the tales of their growing up which formed the basis of their debut LP. But nope, they've turned to the present day for 'Blisters In The Pit Of My Heart', and they've cleared their own highly set bar.
"This record's more about where we are now in our lives," JC emphasises, "and the navigation between real life – in inverted commas – like, adult stuff, and still being rowdy punks." The four members of Martha are not full-time rowdy punks – they all have day jobs, be that JC driving bands on tour or drummer Nathan Stephens-Griffin lecturing in criminology. They've "all got to work around each other."
As much as real life is a significant part of what Martha are all about – "We try to write about our own experience [and] how we feel because it's what we know," JC says – there comes a point for everyone when reality all gets too much, doesn't there? "We do make stuff up sometimes," he states. "Some of our songs are based completely on fiction and sometimes the escape from reality comes into the navigation between the real life and the rowdy punk life that we keep going on about."
'Goldman's Detective Agency'
They make that work so wonderfully well on 'Blisters In The Pit Of My Heart'. How many other bands would turn to 90s Coronation Street romances for inspiration as Martha do on 'Curly & Raquel'? "That's one of my favourites on the record," JC enthuses. "I mean, it is in essence a song that's about love, but also being a weirdo – and we kind of looked at Coronation Street and pop culture in general because as we grow up that's how we develop our conceptions of love… Coronation Street can be the most mundane, everyday shit, and that's sometimes really easy to relate to," he explains, "and especially with Curly and Raquel because Curly was always a bit of a nerd and we really relate to that," he concludes, struggling to contain his laughter.
Martha have even been known to fictionalise history, re-scripting it in their own brilliantly imaginative way. They're at it on the album's lead single, 'Goldman's Detective Agency', as they turn influential anarchist Emma Goldman into a private eye who defeats corrupt police and politicians. "Across a bunch of our earlier releases, we'd sing kind of fictionalised versions of the lives of people we admire," explains JC. "[Emma Goldman] has been so influential in terms of how we see the world and she was so important. Also, we're pretty into detective fiction so we thought 'Let's combine the two.'"
Whether it does so by revelling in Weatherfield nostalgia or time-tunnelling back to the first half of the 20th century or not, 'Blisters In The Pit Of My Heart' excels in its dealing with what JC calls "everyday politics". "Something we try to do," he says, "is highlight how we treat each other and how we navigate this shitstorm that we're living in as individuals and as social entities." If there's a shitstorm to navigate, you could do far worse than have Martha guiding you through it.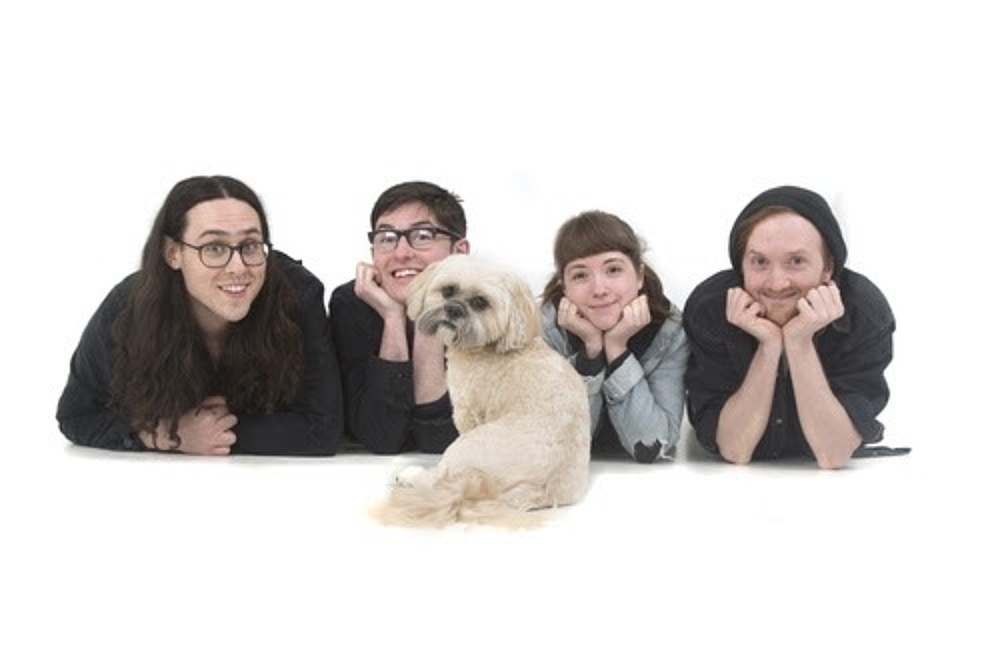 Martha's base of operations is the village of Pity Me, and while others may flee to big city 'scenes', it sounds like there's nowhere they'd rather call home. According to JC, hailing from the area, and "the isolation [and] sense of community you get from sharing in that isolation with other people", have been "integral" to the make-up of the band.
"So many people from Durham or any other small country will kind of move as soon as they can," he says, "and I totally get that because it does kind of get hard here sometimes when there's fuck all to do and there's no one to hang out with – but we really like it here, and there's a lot of other folks here that really like it, and I think we're onto something good."
If JC thinks Martha are onto something good, well, that's because they are – 'Blisters In The Pit Of My Heart' is only further proof of that. Its release comes at the start of a month that sees them play a landmark gig at London's Tufnell Park Dome. "It's kind of daunting," he admits, "but I think we're excited more than anything. We're so far away from London and it's really humbling to go so far away from home to have people want to come and see us." The show is yet another product of Martha's superb DIY ethic. It's so important to everything they do and JC sums it all up perfectly. "This isn't a business thing for us. It's just rocking out."
Martha's new album 'Blisters In The Pit Of My Heart' is out on July 8th via Fortuna POP!.

Get your copy of the latest issue