Live Review
2000trees 2016
7th - 9th July 2016
Kagoule and Creeper also entertain the masses at the event's 10th outing.
Having had the Thursday crowd pre-warmed by an explosive and sweaty set from math-rockers And So I Watch You From Afar, The Bronx immediately pick up the mosh pits gifted to them and crack on with the task of making this, Trees' 10th outing, as memorable as possible. Crunchy riffs and tight melodies ensure they stick out even to first-timers.

Bleary-eyed fans are camped out at the main stage for Vant, who open Friday's proceedings with an energetic set that sees Mattie roll over backwards while playing a guitar solo at one point. Stage antics aside, the sun is out and even the uninitiated are won over by their charismatic blend of slacker pop, grunge groove, and near-Britpop delivery.
Kagoule slot in somewhere between a c86 sound and a fuzzy early Smashing Pumpkins B-side. It's gnarly, yet undeniably pop, especially thanks to Lucy Hatter's gorgeous vocals, and their set passes all too quickly.
Muncie Girls fall somewhat closer to the pop-punk tree. 'Respect' and 'Gas Mark 4' both stick out as immediate highlights, with the former perhaps connecting slightly better live, even if the breakdown in the latter could have been dreamed up as a weapon in a lab to be deployed at rock festivals.
Special props have to go to Luke Ellis on drums, who delivers a powerhouse performance that multiplies the already energetic set into something really special.
Twin Atlantic are on solid stadium-rocking aspirant form tonight. They've come a long way from peddling angular songs at the bottom of the Trees bill, and both look and sound a lot more comfortable with their new material than the old. 'Brothers And Sisters' gets the festival moment treatment from the crowd, and though the same is true of early-career lighter-in-the-air tune 'Free', the tracks being so close in the setlist only serves to highlight how superior their newer tunes are in terms of mainstream appeal, with an odd evolution taking in simpler instrumentals but arguably more complicated lyrics.
Over the entire weekend, it's doubtful that any band has more t-shirt wearing devotees than Creeper, who deliver a high-energy set to rouse their faithful, with tunes like 'Black Mass' causing an explosion at the front of the audience.
Demob Happy's almost QOTSA-like grunge tunes are a breath of fresh air, powerfully knocking the hair back as they blast through a set of alt-rock blinders that would have been at home in 90s Seattle.
"Can I scream?!" The line that everybody expects Dennis Lyxzén to open Refused's set with actually doesn't happen until their final number, but luckily the intervening noise is an arrestingly-delivered masterclass in heavy punk rock. Songs from comeback album 'Freedom', like 'Elektra' sit comfortably next to classics like 'Refused Are Fucking Dead', and show as well as anything else just how boring the bleating haters were about Refused coming back after all these years. Before they smash out 'New Noise', Dennis stops to speak, "guys, men, dudes, get your fucking shit together," he states, observing that the number of women playing at the festival by his estimation is less than ten, and that this is not an uncommon occurrence. Challenging the audience and organisers to do better by working together, he says, "the people who book this festival, it's fucking fantastic, but you need to do better. Next year, 25% women, and in five years 50% women and 50% men. That's the way it should be!" Loud cheers and a sizeable number of boos rise from the crowd, but Refused aren't here to debate - kicking into 'New Noise' may be a jade's trick, but it's a classy one to end the festival on.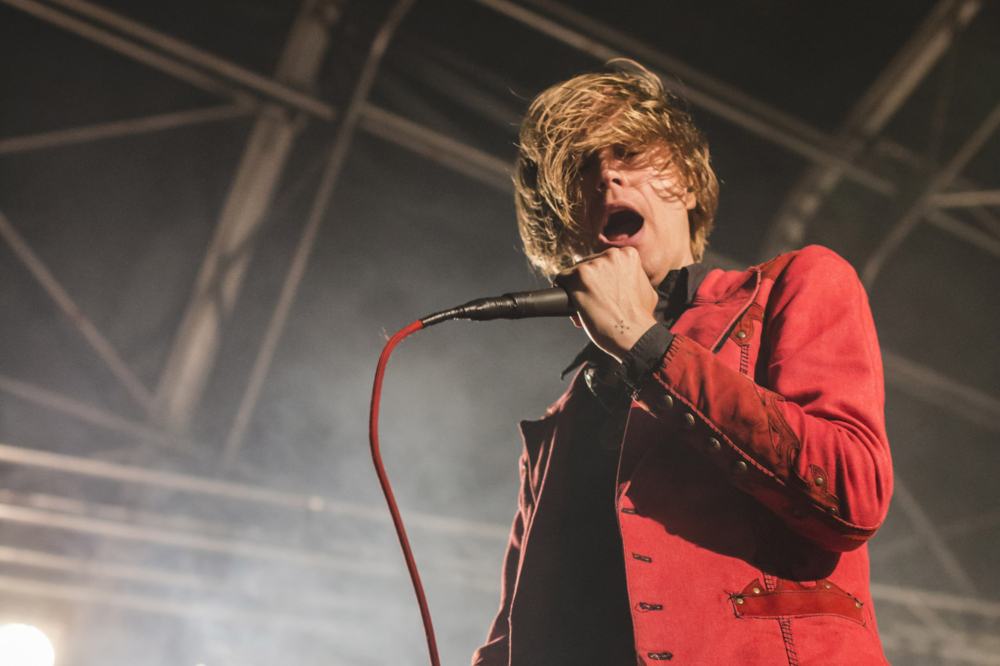 Photos: Sinéad Grainger

Get your copy of the latest issue