Round-up:
Tracks: The Big Moon, My Chemical Romance, Nao, & More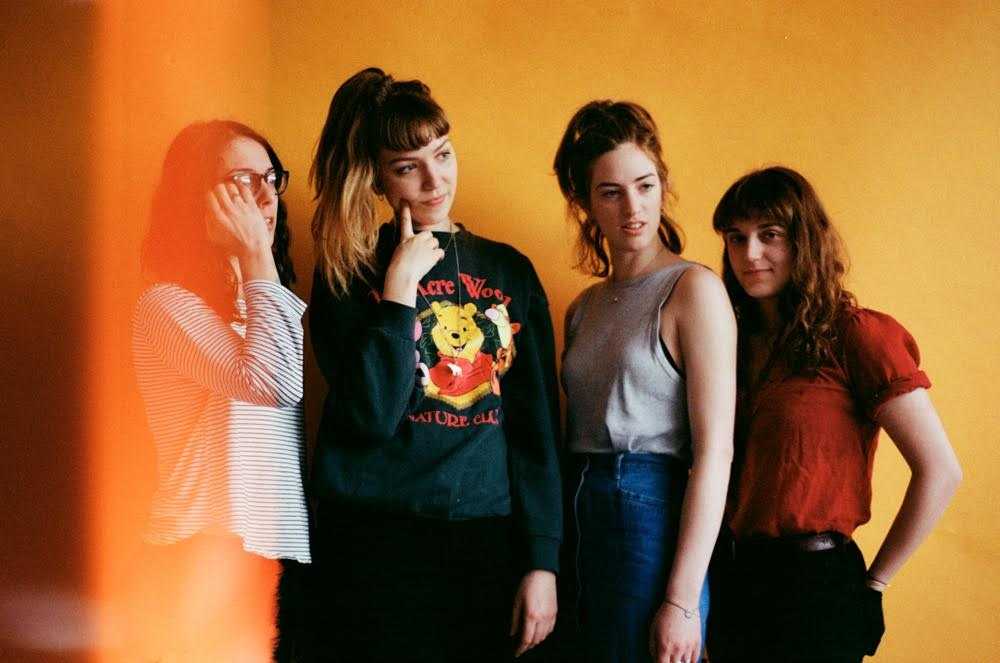 We deliver verdicts on the week's best and biggest tracks.
It's Friday! Frank Ocean's long-awaited record - apparently out in July - still isn't here (yet) but meanwhile, there are tonnes of new tracks to get stuck into; from massive acts sharing scrappy demoes, to all the #NewMusicFriday playlists you could ever dream of. Everyone under the sun is releasing new music left, right and centre. We've boiled things down to the bare essentials.

Sticking to tradition, we've compiled the most head-turning and impressive tracks of the past seven days. The Big Moon have finally contained their live standout 'Silent Movie Susie' onto tape, while the ever-barmy Jenny Hval is busy taking a turn in a new, accessible direction. That's just for starters, and all.
For everything else out this week head over to the DIY Listening Hub, or hit play on our Essential Playlist.
The Big Moon - Silent Movie Susie
It can take some bands years to replicate their live game on record. For an unlucky few, it's like a double-edged sword and a constant curse. Energy doesn't translate to tape with ease, that much is evident. But no such problem hits The Big Moon, a group whose all-smiles, berserk on-stage dynamic is their biggest draw. With new single 'Silent Movie Susie', these antics are peering out from every side.
Built from customary "woo-ooh-ooh" refrains and Jules Jackson's sophisticated songwriting, this is just as fun, ever-changing and enthralling as your everyday Big Moon gig. Backing vocals extend into breathless yelps, guitar sections link arms and stride together, and a playful side fleshes out into something substantial. Nothing quite compares to witnessing the experience IRL, but this is a perfect antidote to being stuck at home instead of in a sweaty venue. (Jamie Milton)
My Chemical Romance - The Five Of Us Are Dying
Let's face it, there's something about listening to demos that can be mightily unsettling. Originally designed as a blueprint, a skeleton, for the artist's ears only, when that fourth wall gets removed, it can take some getting used to. However, when it comes to My Chemical Romance's re-release of 'The Black Parade', heading into the unknown is going to be half of the fun.
'The Five Of Us Are Dying' - a title that'll be familiar to many a fan from 'back in the old days' - is as rough and ready as they come. After its sombre piano intro, its charges headfirst into an explosive mid-section, matching that decade-old adrenaline rush of the song it would go on to become. But, it's scrappy, it's bratty and the operatic grandeur of 'Welcome To The Black Parade' is only ever glimpsed fleetingly. Clearly a diamond yet to be cut, and - very admittedly - a rough version, it is, however, My Chemical Romance through and through. (Sarah Jamieson)
Jenny Hval - Conceptual Romance
You could call Norwegian singer and composer Jenny Hval's work a lot of things: challenging, experimental, noisy, abstract… But accessible? Well, on her last album 'Apocalpyse, Girl', opener 'Kingsize' talked about "the huge capitalist clit" and paused to ask "what is soft dick rock?" Yeah; accessible is pretty much the last thing you'd think of.
So 'Conceptual Romance' doesn't totally sound like a typical Jenny Hval song. Despite the fact that she sings "I'm high, high on madness," it's actually a pretty tranquil affair, filled with smatterings of twinkling piano, ethereal synths and a very sweetly delivered chorus. But this is Jenny Hval. She couldn't have just made a typical synthpop ballad. Instead, there's enough surreal poetic license and lo-fi production to suggest that she's not going mainstream just yet. Still, between this and 'Female Vampire' there's enough to suggest that her upcoming album 'Blood Bitch' might just be (whisper it, quietly) accessible. (Eugenie Johnson)
Nao - Trophy (ft. A.K. Paul)
Nao's career kickstarted with an A.K. Paul collaboration, and just as the London singer gets ready for lift-off, out steps another.
In similar shuffling fashion to breakthrough moment 'So Good', 'Trophy' doesn't sit still for one second. Tough-as-nails, concrete-struck guitars judder in the foreground - the perfect companion to Nao's saccharine vocals. It's a match made in heaven.
What's more impressive about her first album, however, is in how far she strays from this skewed-soul territory. There's so much more on offer, from behind-the-scenes voice memos to more drastic spins on conventional pop. It's a record that deserves to catapult her towards greatness. (Jamie Milton)
SLØTFACE - Take Me Dancing
Talking about new single 'Take Me Dancing', SLØTFACE vocalist Hayley Shea says: "Some people were skeptical of us releasing a song about dancing and getting drunk because they felt like it made us 'less believable feminists', but that is kind of the whole point of this song."
Though the band's guitarist have always been as dance-leaning and full-of-life as they are here, the subject matter never quite lined up. 'Take Me Dancing' substitutes SLØTFACE's trademark serious-as-it-gets topics for one that just wants to have a few lagers and behave a bit regretfully, tbh.
The track is undoubtedly SLØTFACE's biggest step yet, and a whole load of fun, showing there's more sides to this rabble than first thought. (Will Richards)
How to Dress Well - Lost You / Lost Youth
It's easy to correlate Tom Krell aka How to Dress Well's music with despair and very little else. He sounds best drenched in sadness, and some of the best moments from 2014 LP 'What is This Heart?' take that route. But according to Krell, new album 'Care' is a more compassionate, celebratory glimpse into human decency. And even in the space of 'Lost You / Lost Youth''s five minutes, he seems to be honing in on new territory.
"I think I know what love is now / I think I've kinda figured it out," he sings, on a chorus that could easily send Nick Jonas even further stratospheric if he nabbed the rights. In different hands, this would be a moody, chart-topping ballad sung by millions. But in true How to Dress Well style, Krell dresses it up in strange attire, throwing showy guitar solos and dense beats into the same melting pot. It's not quite all-out joy, but it's a far cry from HTDW resting on his laurels. (Jamie Milton)
Blaenavon love a good juxtaposition. Dishing out shiny, perky guitar lines for fun, they're also specialists in brutally dark, romantic imagery. "Let's pray, let's pray, let's pray for death!" isn't exactly the kind of chorus you'd want your kids singing at the dinner table, but don't rule out it spreading like wildfire.
As an instrumental, 'Let's Pray' would be a sweet, sunny-side-up indie banger, fit for Match of the Day goal montages. Combined with Ben Gregory's bewitched tales, it becomes something beautifully twisted, like playing frisbee in a graveyard. Blaenavon's frontman is skilled at embracing his own mortality, turning dark thoughts into pop gold. (Jamie Milton)
Thom Sonny Green - Phoenix
Alt-J drummer Thom Sonny Green's output hasn't been contained to between the sticks. In the past, he's remixed Clean Bandit, Wolf Alice and everyone's favourite vegan, Moby. He's always been upfront about his own taste, too - ranging from TNGHT to Death Grips, some of which is subtly incorporated into his band's latest 'This Is All Yours' record.
Thom's solo debut, 'High Anxiety', isn't just a new outlet for tour anecdotes, or a means of staying calm when thousands of miles away from family and friends. It's also a showcase of his electronic knowhow. Some songs share traits with Arca's fidgety experimentalism. Others, like 'Phoenix', walk the line between Boards of Canada and Zomby territory. Fleeting but precise, they offer a glimpse into another world - not just one separated from Alt-J, but one belonging completely to Thom's own imagination. (Jamie Milton)