Album Review
Alex Cameron - Jumping the Shark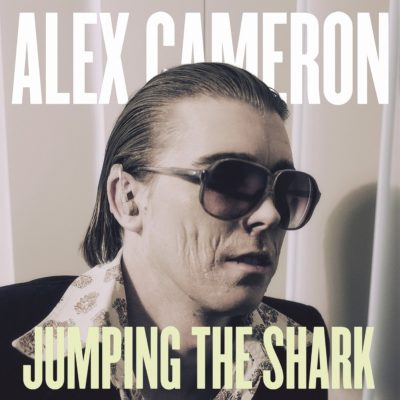 Alex Cameron is an oddball. And on his debut album, he mixes knowing references with deadpan humour.
Label: Secretly Canadian
Released: 19th August 2016
Alex Cameron's arresting video for 'Take Care Of Business' is a pastiche-slash-homage to Nick Cave: all sharp suit, wide collar, swept-back hair, deathly baritone croon and preacher-y hand movements in a seedy nightclub. There's also the one for 'She's Gone', in which he does a weird crouching Future Islands style dance. In slo-mo. On the roof of a car.
Yep, he's an oddball. Cameron has constructed an elaborate backstory involving a (possibly imaginary) "business partner" called Roy Molloy who plays the saxophone in his band, even though he doesn't really have a band and his record seems sax-free. He also refuses to conduct interviews outside his local bowling alley, or to discuss his appearance, which includes some prominent facial scarring.
Harking back to the late-70s/early-80s dawn of synthpop, 'Jumping The Shark' joins the dots between the pre-punk minimalism of Suicide and the lo-fi experiments of Ariel Pink, with its heart in the quirky noodlings of the first wave of synthpop – Fad Gadget and Human League, Tubeway Army and Ultravox, Flying Lizards and OMD.
Basic rhythms, simple synth melodies and the occasional burst of fuzz guitar provide a primitive vehicle for Cameron's idiosyncratic lyrics, where the record's real pleasures reside. Based on "experiences and stories", these vignettes, delivered in a treacly croon, mine Cameron's childhood and upbringing in the suburbs and rural areas of Australia. Their unifying theme is failure and dashed ambition. His characters – a rogue's gallery of addicts, cheats and villains – share a nobility in their arc of sadness and self-destruction.
Consequently, 'Happy Ending' refers not to closure, not even ironically, but to the unadvertised extras available in a massage parlour ("Let's go to Chinatown, That's where we'll find our happy ending"), while 'Real Bad Lookin' is an inebriated electro-waltz, sketching the fantasies of "the goddam drunkest ugliest girl / guy at the bar."
'The Comeback' is the extended complaint of an embittered old showbiz trouper threatened by a new generation of entertainers, fantasising about getting his show back by any means necessary. There's more of his trademark deadpan humour in 'Internet', with its Numanish two-note melody and affectionate tribute to the office technology of the late 1990s, with its promise of easily affordable hi-tech opportunity: "Got two modems, And a fax machine. I've got receptionists, They keep my office clean."

Get your copy of the latest issue
More like this