Album Review:
Slow Club - One Day All Of This Won't Matter Anymore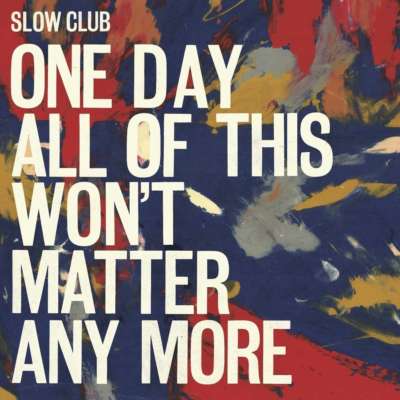 Handing things over to the session band at Spacebomb studios, Slow Club have changed routine on their new album.
Label: Moshi Moshi
Released: 19th August 2016
Sheffield two-piece Slow Club have come a long way since their 2009 debut, 'Yeah So'. Comprised of 12 tracks of sweet indie-pop, it was an aesthetic that earned the band deserved early praise. But it would have ultimately worn thin, had the duo not built and expanded upon it every record since.
Unsurprisingly, 'One Day All Of This Won't Matter Any More' is the furthest removed from their debut yet. On previous records Slow Club had, for the most part, played everything themselves. Here they hand things over to the session band at Spacebomb studios, gelling together the duo's now-different writing styles together in an effortless amalgam.
Now living in separate parts of the country, essentially living separate lives, the pair's writing styles have developed separately too, something they freely admit to have been a struggle, when recording started. Bringing in the studio's session band helped combine the chemistry of Slow Club with something new, resulting in a record sleek and almost effortlessly easy-going.
Therein lies part of its problem. The record's opener, 'When the Light Gets Lost', is a loping and transient affair that kills the pace before it's begun. 'Ancient Rolling Sea' however is a notable highlight. Brooding and entrenched in deep pop grooves, it's an early insight into the more realised tracks of the record's stronger second half.
Though no less sleek, those songs which form second half feel more purposeful, less meandering. 'Rebecca Cassanova' is a propulsive pop number, while 'Champion' is a driven and anthemic folk track, matched only by the final few minutes of closing effort 'Let the Blades Do the Work' in terms of uplift.
It's unfortunate that the first half of 'One Day All Of This Won't Matter Any More' feels as ephemeral and as fleeting as it does, as what follows is arguably some of the strongest work Slow Club have released to date. Steeped in decade-spanning traditions of pop, rock and folk, it's an ambitious record marred only by early and apparent nonchalance.
More like this