Album Review
The Parrots - Los Niños Sin Miedo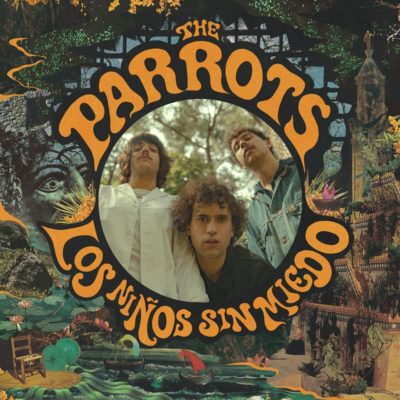 The Madrid garage-rock group's frantic debut whisks you away to rock 'n' roll tropics.
Label: Heavenly
Released: 26th August 2016
No one likes being told what to do. When everyone was trying to steer The Parrots in a certain musical direction, they continued defiantly on their own. "The idea of 'Los Niños Sin Miedo' ['The Fearless Children']," explain the lovably rowdy Madrilenians in a statement around their debut, "came about because in Spain it's really difficult to make it as a rock 'n' roll band" and no one would back them when they started out. The trio's first work is a product of their continued hard graft and refusal to conform.
Boisterous opener 'Too High To Die' is a suitably triumphant way to begin. As tends to be the case given his distinctive, feral rasp, it's impossible to make complete sense of frontman Diego García's words. He hardly has the elocution of ABBA, but he does sing about having "so much fun", which is enough of a vantage point. Good times are exactly what The Parrots have and encourage, after all. They come thick and fast throughout 'Los Niños Sin Miedo', not least on 'Let's Do It Again', their tipsily jovial answer to 'Kick Out The Jams'.
It may have been made by a Madrid band in the southwestern city of Cádiz, but 'Los Niños Sin Miedo' can transport you far further than Spain, whisking you away to rock 'n' roll tropics. 'James Gumb' journeys to that very fantasyland; its steadfast, rumbling, unrelenting bass line cutting through a steamy jungle as García is joined on vocals by the squawking and chirping of birds (which better be parrots, or they've got some explaining to do).
The rock 'n' roll tropics, however, are just one region of The Parrots' world. 'Los Niños Sin Miedo' is a richly enjoyable exploration of the weird and wonderful, and a big two fingers up to all those who ever doubted them. ¡Viva The Parrots!

Get your copy of the latest issue
Records & Merch
£8.99
More like this