Reading 2016:
Basement talk massive tours and "meth town" at Reading 2016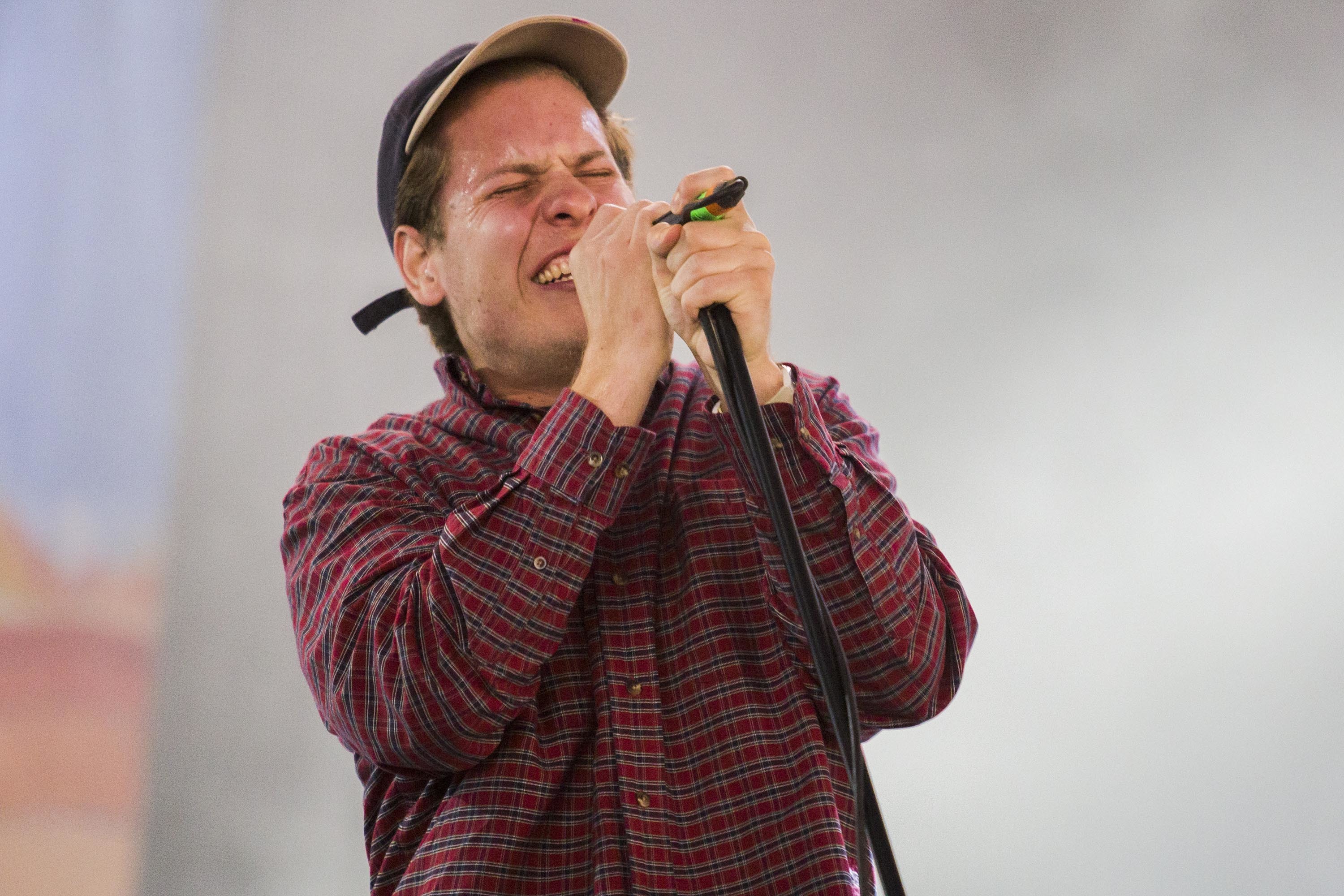 With a huge tour alongside Bring Me The Horizon and potential new material coming up, their rise is only set to continue.
After smashing through a riotous Reading 2016 set, Basement are in high spirits. "You don't expect to see a full tent playing second in the afternoon!" guitarist Alex Henery grins, "we were like, 'if we can just get that first little gap filled out, that'd be great.' And then we walk in and it's basically full up – it was amazing."
Leeds was "just as good", but they admit to their bias. "We're from the South – when we were growing up, it was always Reading for us. Reading was always the thing – wanting to go to Reading, waiting for the lineup, waiting for the tickets." Vocalist Andrew Fisher made his first appearance as a punter at the age of fifteen, racking up a few subsequent year until he "got to a point where I didn't like being dirty," he laughs.
Looking ahead, there's a huge tour with Bring Me The Horizon on the, er, horizon. They admit that they don't feel ready – in fact, they're shitting it. "But it's gonna be so sick!" Andrew enthuses.
"They're [Bring Me] probably gonna have a wall of amps, and we'll walk on with just one," laughs Alex. That's not to say they've not got big plans – a ten foot drum riser is top of the wishlist. Drummer James 'Crab' Fisher wants to go full Travis Barker and get his kit suspended upside-down over the crowd. "I'm that kind of drummer, really. I learnt that way!"
They took a day off from festivalling yesterday – "we had a really nice day with our friend Ed yesterday and played Cranium 'til like 3am." How civilised…? "Oh, it got uncivilised!" laughs bassist Duncan Stewart. They're probably allowed to put their feet up and indulge in some board gaming, though – they've got a huge rest of the year lined up.
Jetting off to a massive U.S. tour in a matter of days, there's also the small matter of new material incoming. "We're actually spending some time in California at the end of this run, to start getting some ideas together and try to come up with some… songs, I guess," Andrew reveals. "We're trying to allocate some time – we've got five days or so, in a place in California…ish."
"Songs, I guess" and "California-ish" might not sound particularly set in stone, but there's one decision that is – the swanky-as-hell Airbnb that they've nabbed themselves. They're very proud, Crab especially. "We wanted to have a nice place to stay – it's got a pool, it's got a sauna. It's up in the mountains and in the middle of nowhere, so we can play loud music!" It's not all sunshine, roses and saunas, mind. "We told our manager the name of the area and he was like, 'Oh, meth town!'"
Right then. Look out for Basement's incoming meth album. Basement Bad, anyone?