Reading 2016
Fall Out Boy talk Reading 2016 and new project 'Bloom'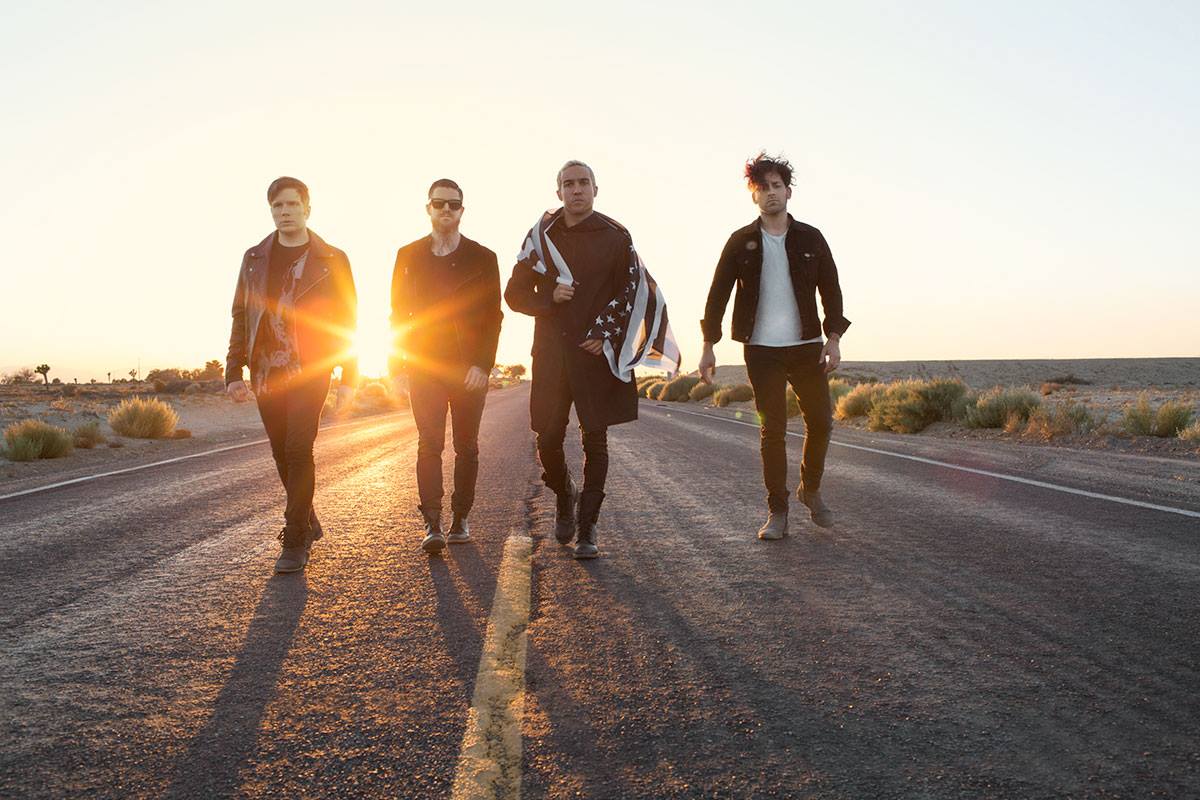 The band's Pete Wentz opens up about their new art project: "The hard shit doesn't have to break you."
Later tonight, Fall Out Boy will be greeting the Reading Main Stage like an old friend. As a band, they've spent the past decade working their way up the bill and it's tonight that they'll help Biffy Clyro to close proceedings on the final day.
Speaking to us earlier today, the band's Pete Wentz reveals that their co-headline set wasn't exactly something they saw coming. "I mean, it's crazy," he says, ahead of their biggest slot yet at the festival. "Honestly, we weren't even gonna do anything this summer, so [being invited to co-headline] was clearly a big deal because it got us over here to play. We've created a new show, basically for the festival, which we've never done before."
That's not all they've been up to. Their latest stage set-up all comes based around their brand new "project", which was revealed by Wentz via Snapchat earlier this week. Titled 'Bloom', the art project will also come with a short film, as he explains.
"The idea is that it's a companion piece for a short film - some of which we'll play before our set. It's all about how sometimes you have to crack a pavement before you can bloom, and that the hard shit doesn't have to break you, it can make you a stronger person. It all kinda fits together, if it all runs smoothly!"
"It's all about how sometimes you have to crack a pavement before you can bloom, and that the hard shit doesn't have to break you, it can make you a stronger person."
— Pete Wentz
Their latest creative outlet comes after the band released their 'American Beauty / American Psycho' record back in 2015, and sees them again pursuing a less traditional avenue. "I just think that we live in such an interesting time for art and we wanted to create something that was experiential for people," Pete says. "Something we've never done before, and maybe something people have never seen before, that they can take part it in and have a moment like 'I was at Reading 2016 and I was involved in it'. So much of my childhood is wrapped up in Terminator 2 and Guns 'N' Roses and it all works well together, but we had to curate it all ourselves. Now, we're in a time where we can curate it for people and they can add to it, add layers to it, remix tracks and it's such a cool process that I really wish it had existed when I was younger."
As for the message of the project, it's about seeing hope when - especially at a time like the present - it feels like there might be none. "I think that I look out at the world sometimes, especially having kids," Pete offers up, "and all I see is negativity and hate that's so divisive. It bums me out and I know that people have a hard time - I've had a hard time - and one of the things you should know if that you can make it out of the other side and be stronger because of that. That's why I think it's important. Sometimes we tell people it gets better, but it's like, sometimes it gets fucking worse and then it can get better and you can fight your way through it. Sometimes, you have to actively want to do it - it's not as though you can wake up one day and it'll be sunny, sometimes you have to want things to change."
WE'VE GOT A FAVOUR TO ASK
We're often asked about you, our readers. So we'd really appreciate it if you'd offer up a bit of information about you, and your music-loving habits by filling in our 2019 readers' survey.
Click here to reach the 2019 DIY readers' survey.
(Don't worry, none of what we're asking for is personally identifiable - and no questions are compulsory.)