Interview:
Dreaming big: Pinegrove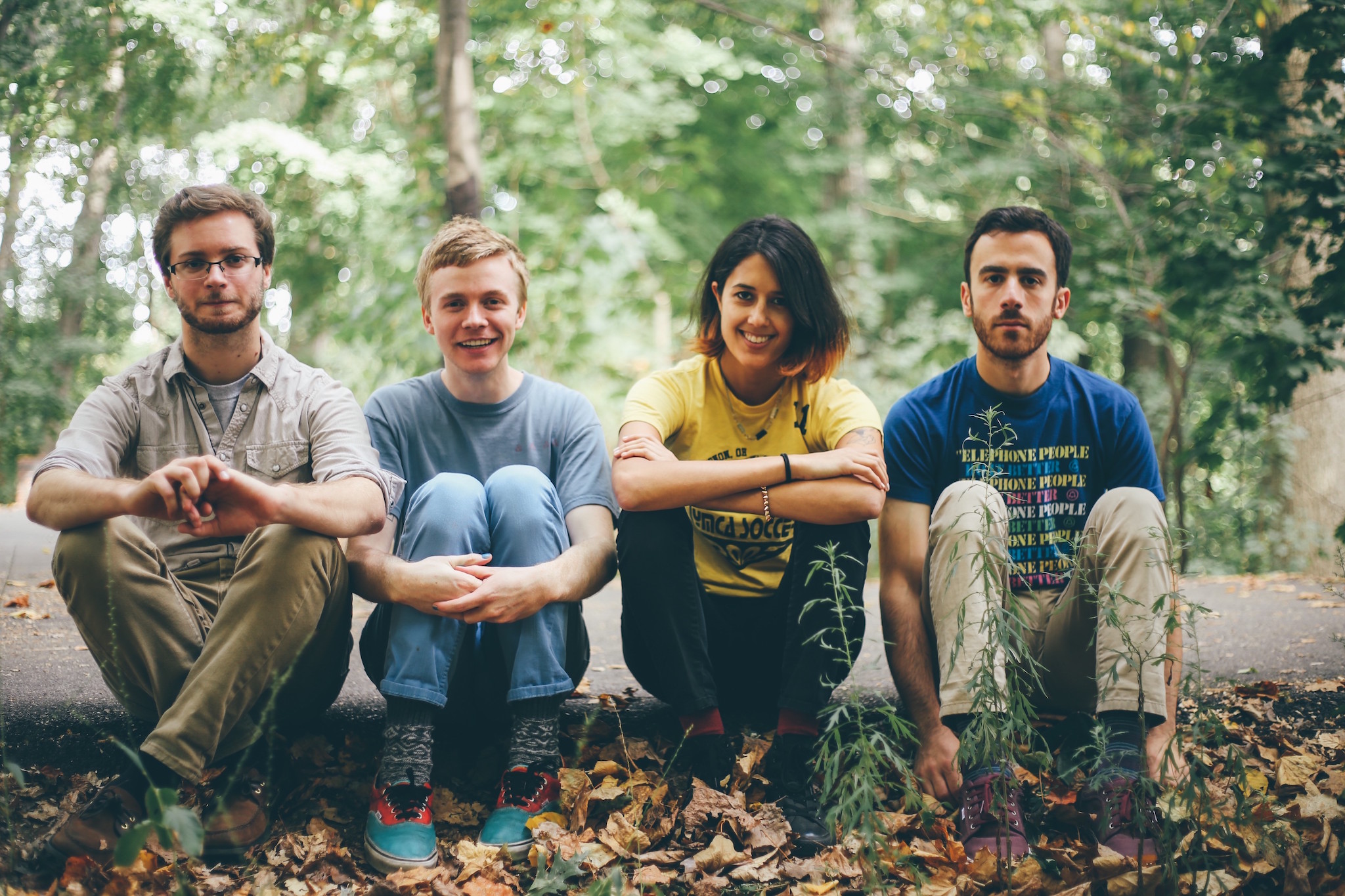 With 'Cardinal', the Montclair, New Jersey have made one of 2016's sleeper triumphs. Evan Stevens Hall talks the story behind their first work.
An amalgamation of rough-edged indie, anxiety-fuelled emo and light country guitars, Pinegrove's debut album 'Cardinal' is a record that feels both insular and big-thinking. The prevailing themes of language, memory and home - grandiose topics by their nature - are tackled with an easy-going maturity, making them accessible while belying the band's relatively young years.  
Released in the States at the start of 2016, then again in Europe over summer, it's a record predicated on the past, yet manages to swerve the overbearing nostalgia that would otherwise stymie the record's pace. 
Instead, 'Cardinal''s eight tracks breeze by in under half an hour as frontman Evan Stevens Hall reflects on, questions and second guesses everyone and everything he knows, or thought he knew. Himself included. And though he might not find all of the answers, the familiarity of his self-doubt and anxiety is enough for at least some comfort and understanding to be gleaned.
Fresh off the back of an American run of dates, and now currently touring Europe, we caught up with Evan to find out a little more about the band, what makes him tick, and how time spent on the road has shaped and grown his understanding of the world, while arguably presenting as many questions at it answered.
You've just released the European version of your debut album 'Cardinal'. How do the reactions over here compare to those in the States?
It's sort of tough to know! When 'Cardinal' came out in the US it was the first time any press outlets had been paying attention to us, and I have to admit I was a bit of glutton in reading the reviews. But by now I'm a little less eager to read what every reviewer has to say, the thrill of it has worn off somewhat, and I don't really track our progress in any active way. But it has been great to connect with so many people at our shows. And it seems like people are excited for our tour coming up in Europe, so that's terrific.

You've spent quite a lot of time on the road recently, something that's reflected in 'Cardinal'. It's also an album interested in the idea of place, particularly your home-town of Montclair. Both seem equally important to the record, despite feeling almost contradictory. How would you describe your relationship with the two, and how do they factor into your writing?
I have always loved travelling and definitely it has helped give me perspective on where I come from. Just as meeting new people and personalities helps you understand better who you are. It situates you more firmly in the world. 'Cardinal' deals a lot with communication - how information can travel, by letter, by language - and how that can reinforce or confuse identity. It's funny, I'm finding right now that it's actually sort of hard to think about. I haven't listened to 'Cardinal' in a while. And most of the travel we've done has been in support of 'Cardinal', which is to say, has happened since its release and was after it was written.

Your lyrics seem to be informed by everything around you rather than just specific occurrences. Presumably a heavy touring schedule has provided you with  plenty of new material for your next record?
I do think I've learned something by meeting so many different people out there - in general the folks we've met have been kind and generous and full-hearted. They believe in the equality of all people. Even though there's some pretty scary stuff going on in the world right now, our experiences has affirmed the goodness of people everywhere. This project, the Pinegrove thing, is an investigation of communication, vulnerability, love, empathy. I will say that the experiences I've had out here are helping me refine the sorts of things I want to investigate.

Do you think travel provides musicians with experiences that are somehow more real than those garnered from a less nomadic lifestyle?
Truthfully it's really hard to write on the road. The main reason I want to tour so much is that it's the most direct way to spread our message. But I've found it's basically at odds with developing new material. Travelling at first was unbound, limitless, impossibly exciting. But travelling as much I have recently is not romantic. It presents true logistical challenges in maintaining relationships, which is the ore of writing.

A lot of the artists who subscribe to such ideas seem to come from punk or emo backgrounds. Do you think there's a link between those scenes and the freedom found, both emotional and literal, in travel and touring?
For some people maybe, but I tour primarily to reach new listeners. Don't get me wrong, seeing so many new places through music is an immense privilege and it's cool as hell. But arriving for sound check at 4pm every day is not freedom, exactly.

You're also a big advocate of the Montclair scene and the support it's given you. Can a thriving, self-sufficient scene such as Montclair's also appear insular from the outside, and stifling from within?
I participated in the scene mostly because it was fun and I needed something to do. It was exactly what I needed at the time, and it's not an exaggeration to say I owe my life to it. And it's exciting to see friends making cool stuff. But ultimately I write for myself… so I would say as a writer, I don't feel dramatically impacted by the capital S Scene.

Does the sense of wanderlust that's so prevalent in musicians today stem from political and social climate and wanting to escape, or do you feel those needs are inherent naturally in the sort of person that would gravitate towards a career in independent music?
Again, travelling with my music is really just a way to facilitate this project. It's important to me to reach as many people as possible. But this is exhausting work. I would love to just chill out, hang out with my girlfriend & do nothing. But it's when people let me know that what we do matters to them it's tough to just sit around. Writing songs is what attracts me to this whole thing. Travel is a cool aspect, and it's part of what makes this thing an unusual and exciting job. But it is a means, not an end. Really for me it's about writing songs that feel good to me.