Interview:
Disillusioned thrashers The Bay Rays are ready to take over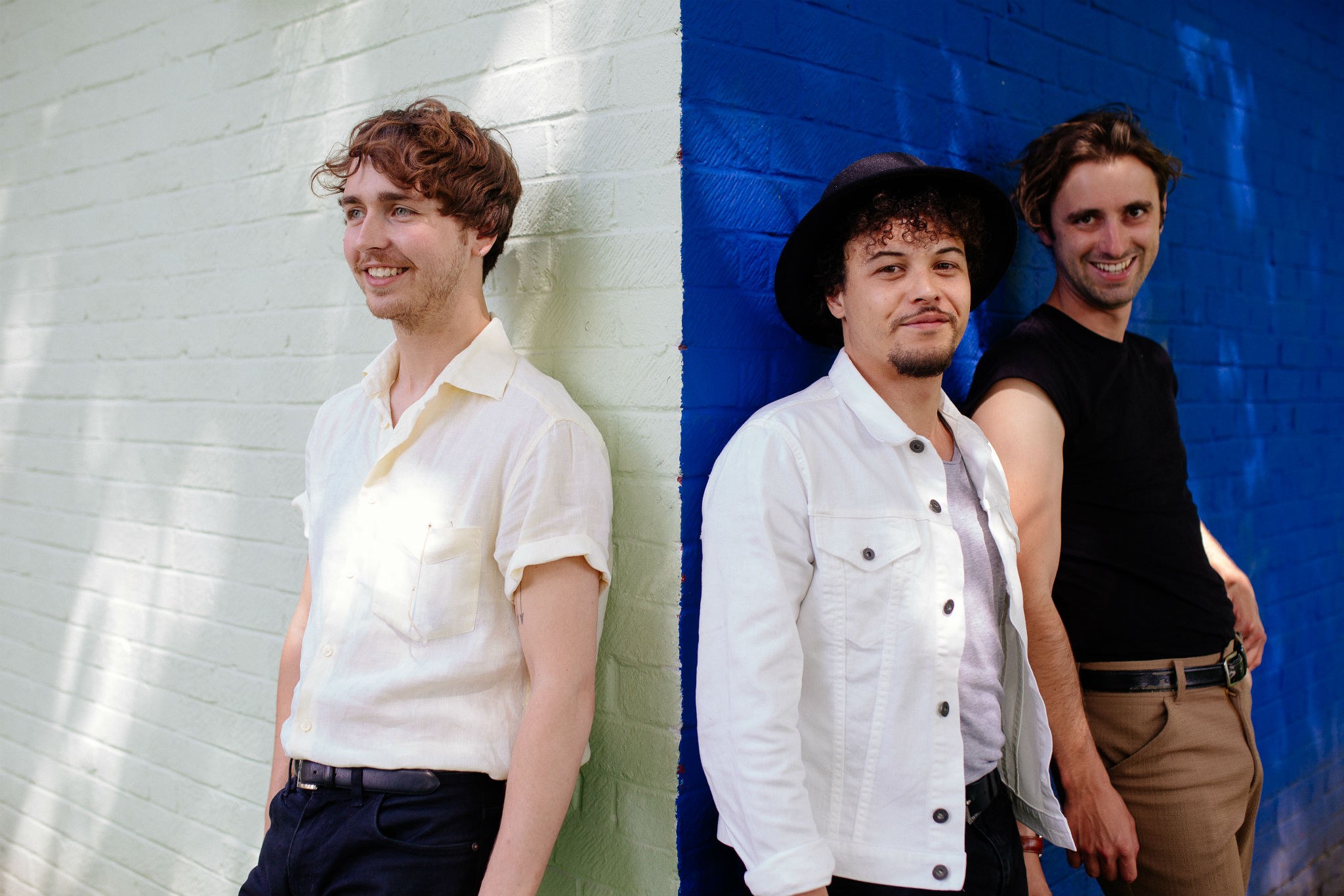 The exciting trio talk first steps and what it's like to live with social anxieties, pressures and unaffordable rent.
"All our songs definitely come from real life," states The Bay Rays frontman Harry Nicoll, one-third of these tight-knit, tightly-wound thrashers from Tunbridge Wells. And as it turns out, Harry has enough real-life tales to fill angry, frustrated bursts of noise for decades.
'New Home', one of their head-turning early tracks, is about the time a pub landlord kicked him out and he had no place to live. There's all "the pressures that you face," he says, "just trying to make rent every month, people forcing you out." Plenty of bands write about bleak real-life dramas with cutting brutality. The difference with The Bay Rays is in how they flip grim detail upside down. 'New Home' is playful, in-your-face, pretty much celebratory. As Harry chants "this new home is all I need!", you'd be mistaken for thinking he'd moved into a mansion.
Completed by bassist Maxwell Oakley and drummer Anthus Davis - a rhythm section who've been playing in bands since they were sixteen - The Bay Rays already have everything figured out. Living outside of a London "bubble", they've taken their time in refining their chaotic, blues-steeped sound. Tunbridge Wells' "thriving scene", as they describe it, has been the perfect place for a local band to learn their chops. Their history with the town goes way back. Maxwell produced local heroes Slaves' first ever demos. "Next thing you know, they're doing pretty good."
Together, they unite in writing about "social anxieties, pressures and disillusionment" and how "our generation don't know where the future lies." Harry explains: "It all stems from that. It's very hard to buy anywhere. Where's the prospects? Everyone expects you to go to university, come out and get a job, meet a girl and start a family. That's your life. I'd say as a generation we're a lot more ambitious than that."
Life might be a cruel, ambitious prick most of the time, but The Bay Rays are channeling it into something exciting.
The Bay Rays play The Old Blue Last, London with Estrons for DIY Presents. Get tickets here.
Taken from the September issue of DIY, out now. Subscribe to DIY below.
WE'VE GOT A FAVOUR TO ASK
We're often asked by potential advertisers about you, our readers. So we'd really appreciate it if you'd offer up a bit of information about you, and your music-loving habits by filling in our 2019 readers' survey.
Click here to reach the 2019 DIY readers' survey.
(Don't worry, none of what we're asking for is personally identifiable - and no questions are compulsory.)