Live Review
Parquet Courts, Kentish Town Forum, London
11th October 2016
A career-spanning celebration of a band who refuse to play the game.
As Eagulls take to the huge Forum stage this evening, the juddering bassline of 'Skipping' marking their arrival, it's a half-full floor that gazes back at them. You wouldn't know it from the actions on stage though; the five of them are as distant and deranged as ever.
It's a set that's heavy on new album 'Ullages', and rightly so - as 'Blume' proves, their sprawling, melodic new guise is perfectly suited to these bigger platforms. There remains a bite to follow every bark though, 'Tough Luck' and 'Nerve Endings' from that still raw debut prompting mosh-pits and sawn up vocal cords. While the logistical nixing of their usually stage-swarming projections takes away some of Eagulls' usual otherworldliness, tonight's proof that they're ready to fill these venues sonically, if not with bodies just yet.
The fanaticism of Parquet Courts devotees is such that the Forum packs out within seconds of their nonchalant arrival. The hordes are rewarded with a marathon setlist - 22 songs long and dipping into all of Parquet's many guises. 'Human Performance' dominates the set's first half, the rubber-band twang of 'Dust' threading into its title track and beyond. 'I Was Just Here"s manic, double-time chorus prompts sweaty pogoing down the front, but the wind in those new sails dips by the time 'Steady On My Mind"s slow waltz arrives.
No bother, though - Parquet just chuck on a metaphorical costume change and get on with it. Snapping back into action with 'Master Of My Craft', pints are lobbed skyward as the now-shoulder-to-shoulder venue somehow finds the space to barge into each other, repeatedly. The energy's kept sky high as they seamlessly hop into 'Borrowed Time', then 'Yr No Stoner', winding the reel back up with ease.
The usual charm of their mumbling on-stage patter gets a bit lost in this notably bigger hall than their usual - Andrew breaks away from a mid-set band meeting to announce, "oh, this is the encore", before playing another forty-odd minutes' worth of material - but it's all ears on the music tonight anyway. As they turn 'One Man, No City' into a foot-tapping, bongo-laced ten-minute jam, before bowing out with 'Light Up Gold II', it's a career-spanning celebration of a band who refuse to play the game, and reap all its rewards regardless.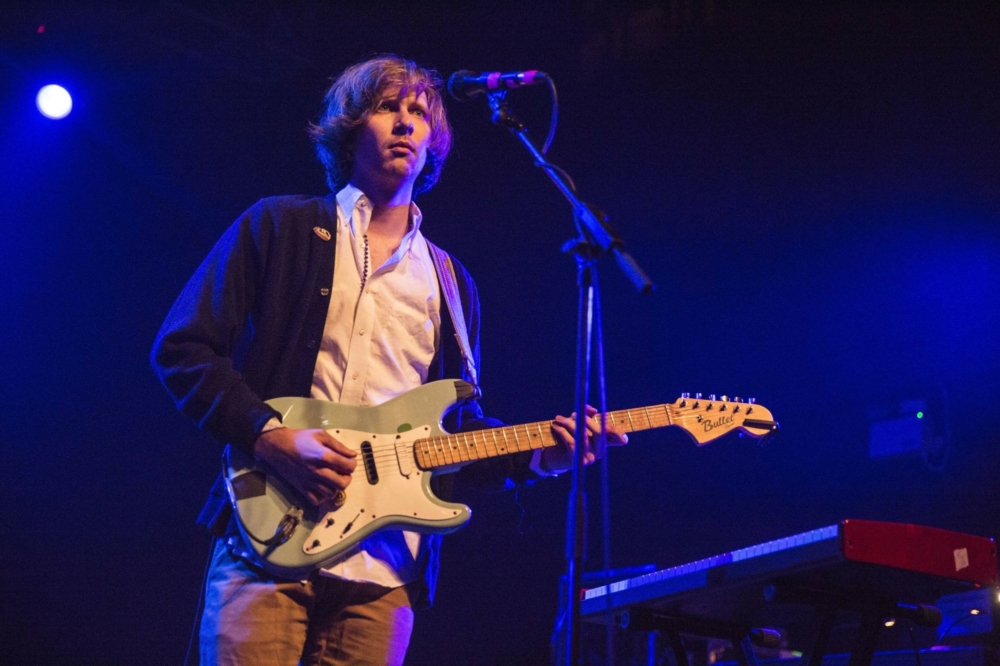 Photos: Emma Swann

Get your copy of the latest issue