Interview:
More to prove: Slaves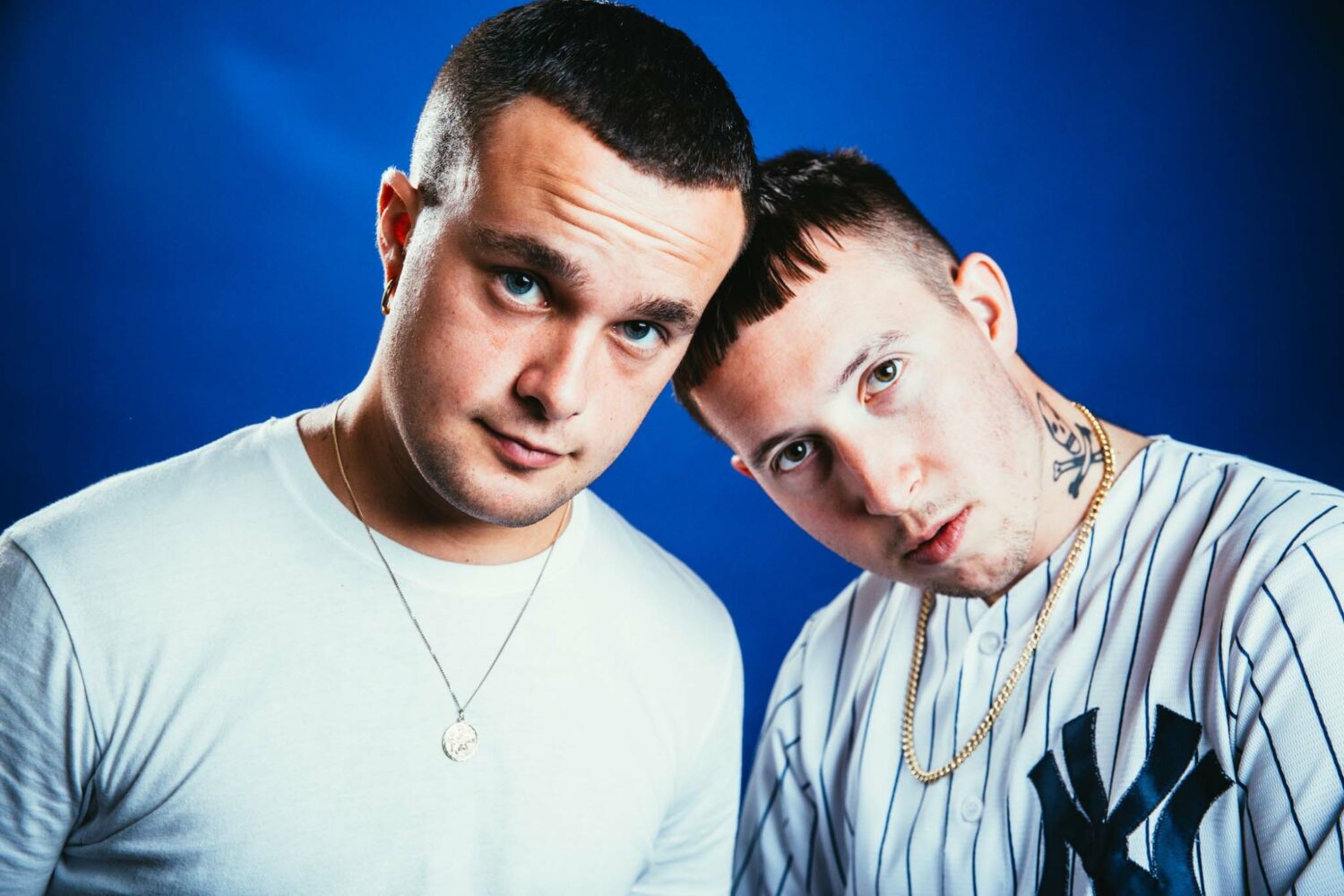 Never ones to waste time, it's taken Slaves just over a year to return with a whole new album. With 'Take Control', the pair are doing just that.
Shuffling about on a bench halfway down London's Brick Lane, Slaves' Isaac Holman is quick to offer an explanation for his peculiar fidgeting today. "We spent all day on a tandem bike yesterday, [for the pair's 'Lose Control' music video] and both of our gooches are in pieces," he announces. "Yeah, my arse! I've never had saddle sores before," he insists. "But saddle sores are real."
With the release of second album 'Take Control' just twelve months on from dog-fronted debut 'Are You Satisfied?', who can blame Isaac for being a bit restless. But while he continues his seated twitching, bandmate Laurie Vincent explains the reasoning behind the pair's lack of hanging about. "I don't think we achieved everything we wanted to achieve with our first album," the guitarist admits, "and we had more to prove. I feel we've got much closer with this album - there's always further to go - but for now we've achieved what we've wanted to."
What Slaves have created is a fully-formed record that pushes forward, while retaining exactly what drew crowds their way in the first place. From opener 'Spit It Out' - a calling-out of those who moan about the world but do nothing - to the watching-the-world-go-by chops of 'People That You Meet', the record is a walk through the world Slaves have lived in for the past year.
A pivotal character in this story is Mike D, best known for being one-third of New York hip hop kings, Beastie Boys. In a curveball act of recruitment, he ended up producing 'Take Control' as well as collaborating on album track 'Consume or Be Consumed'. Isaac talks about this experience with fondness. "[It was] very surreal but only when you stopped and thought about it, though," he says. "He's just so nice, and down to earth, and we got on so well. It was only when you stopped and thought 'actually we're working with Mike D….'"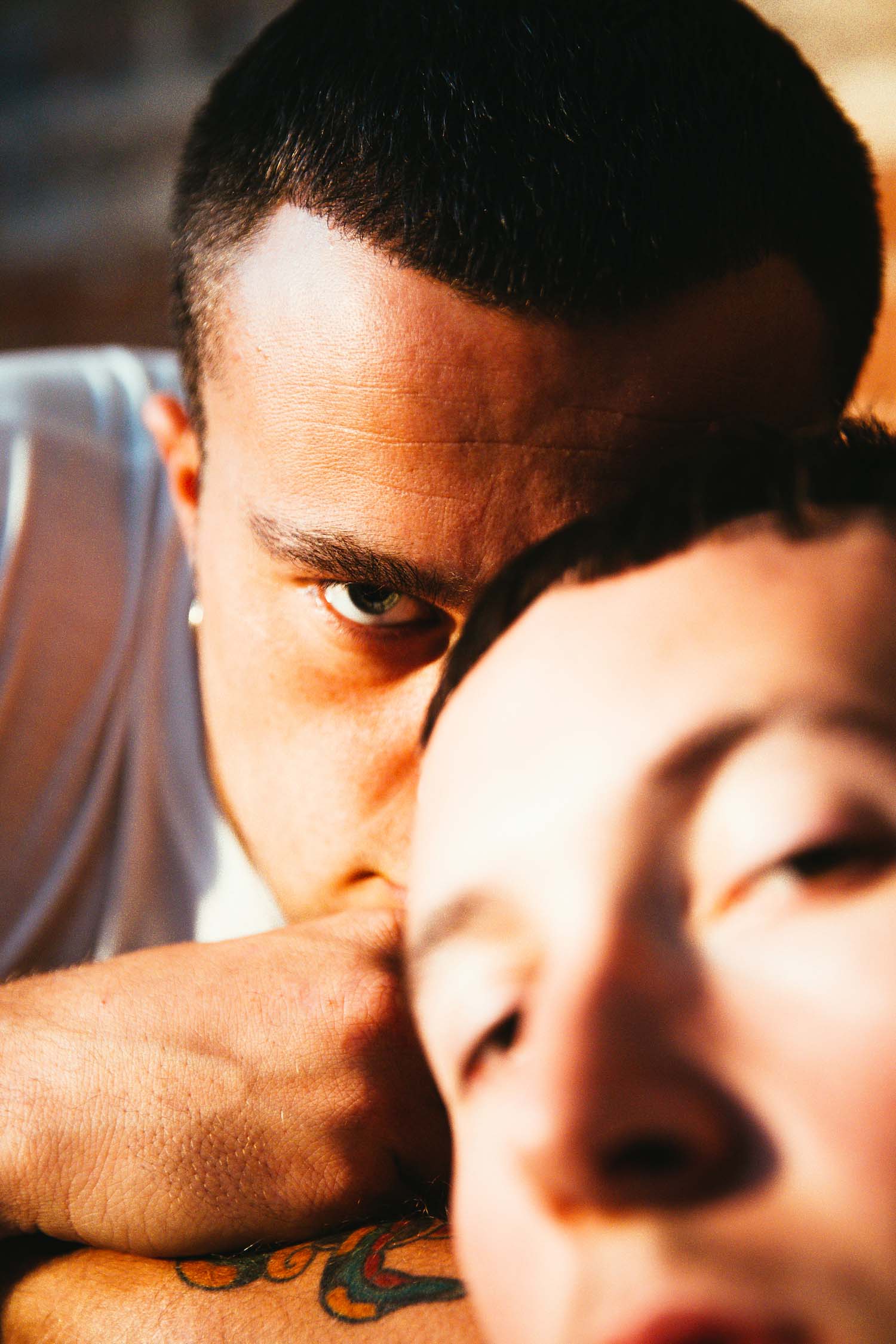 "The thing I really appreciate is that people are still interested."
— Laurie Vincent
Infamous for prompting dust storms in front of Reading & Leeds' main stage, and pounding the hell out of their instruments like they're playing a high-stakes game of whack-a-mole, 'Take Control' also sees Slaves exploring - whisper it - quieter moments.

"We love melodic music, and we've done two albums of high energy aggressive music, but we've got other things to say," Laurie explains. Picking out a specific example of a newer, softer Slaves, he elaborates. "That comes from being in the industry, like, everyone in a band knows someone like Angelica," he says. He's referring to a track from the record, which sees the duo spitting "Angelica, she's a blood sucker!" in vicious unison - "she'll do whatever it takes, bend over backwards for you, oh and she's climbing and climbing, anybody will do".
"It was also physical restraints," he points out. "Isaac just had shoulder surgery, and I'd got a broken wrist but I didn't realise," he discloses, casually. "I couldn't play my guitar very well. We were just jamming out, and Isaac jumped on a bass because it was easier. I was like, 'why not put it on the album?' We got a lot of confidence out of the song 'Are You Satisfied?' from the first album; we play that live, and it's the biggest crowd singalong, and getting the crowd to sing along feels just as good as getting them all to jump into each other," he adds. "I think it was a conscious effort to not restrict ourselves. Anything we wrote was viable to go on the album"
Those restrictions (or lack thereof) reflect the sheer energy Slaves put into their live show. Looking back, Isaac recalls the shoulder issue which caused the cancellation of tour dates late last year. "It's kind of annoying because I don't fully trust my body anymore," he admits, "whereas before I'd just smash the drums as hard as I could, and just throw my arms everywhere. I feel a bit more restricted now, so it's little bit gutting in that sense."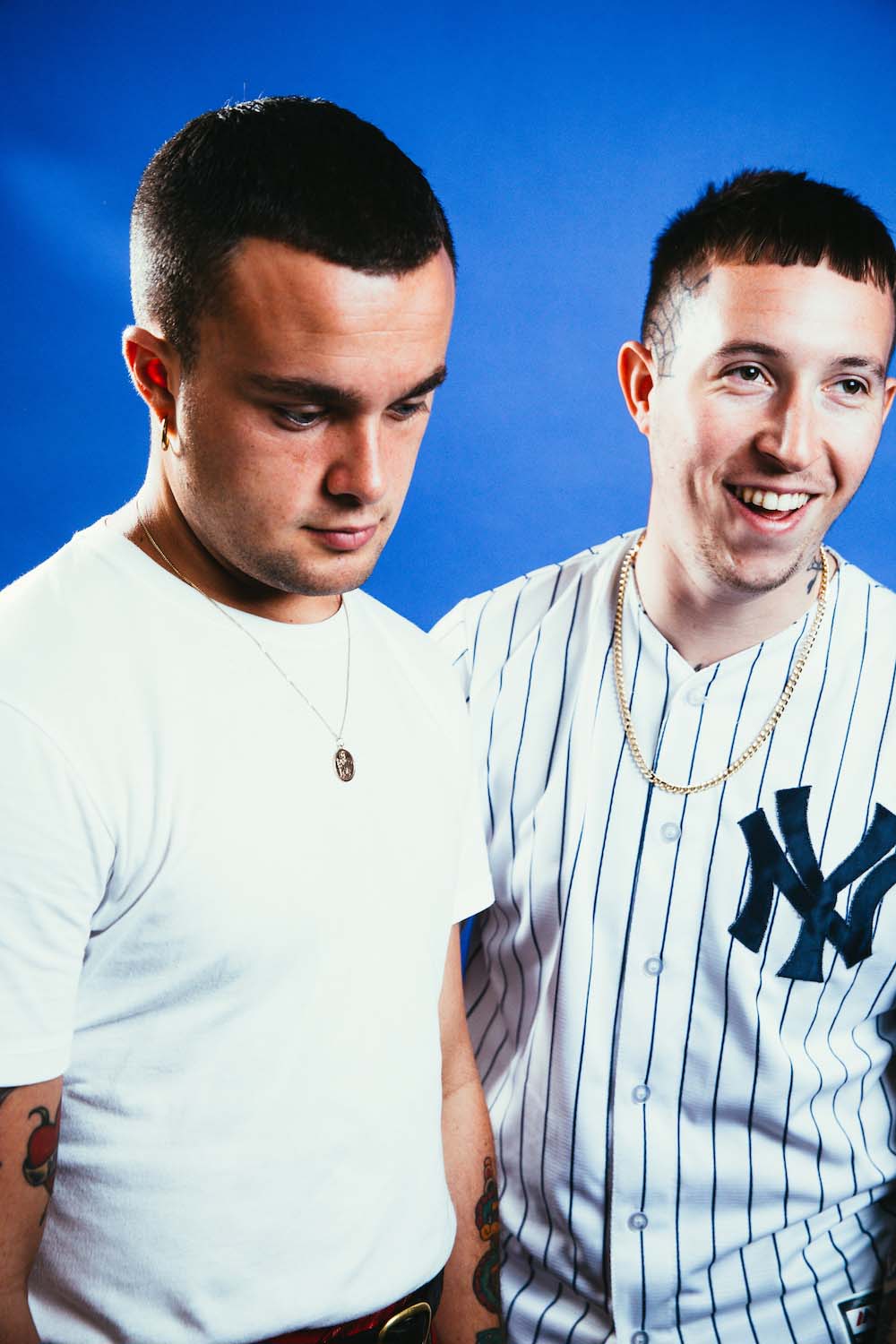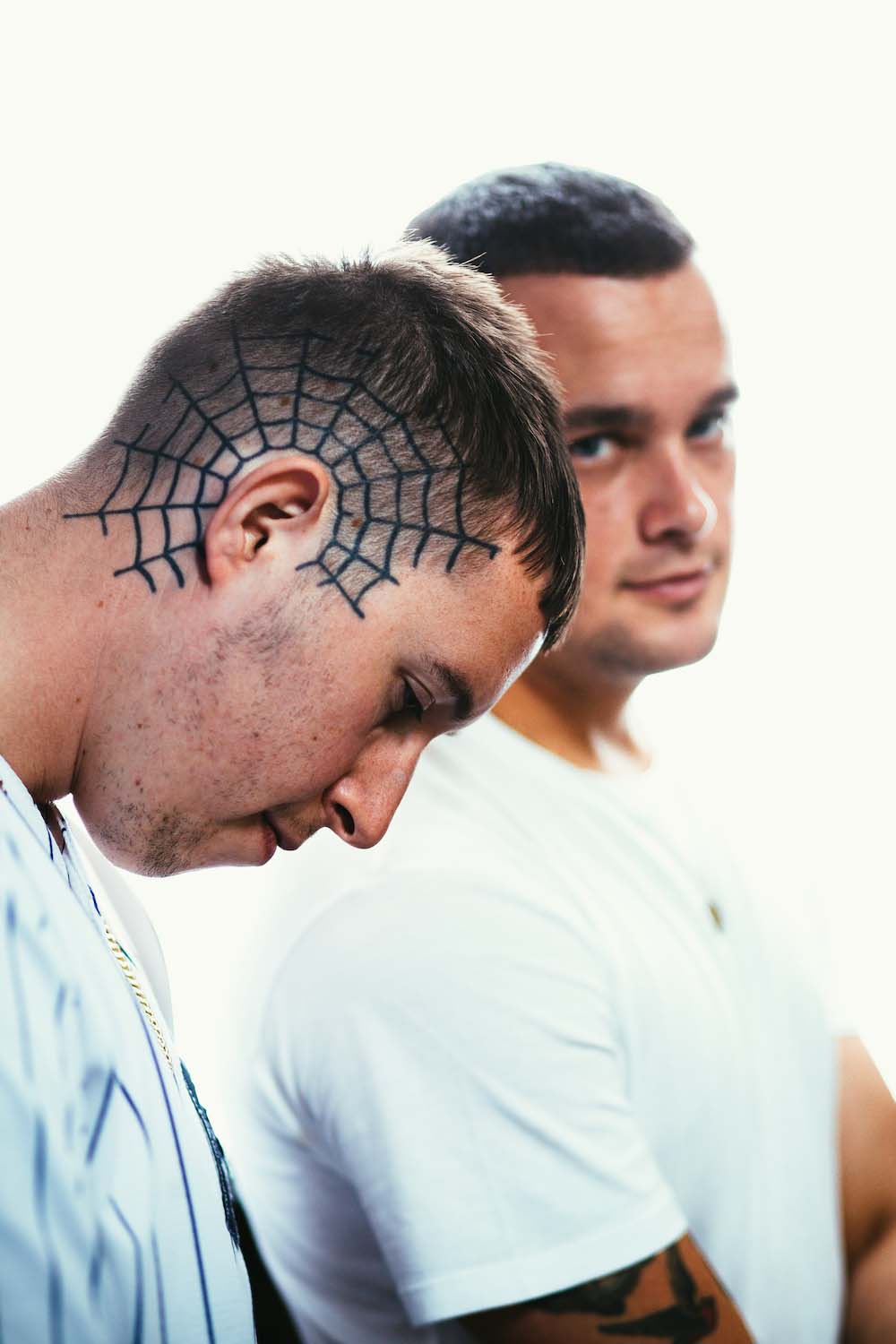 Laurie is the far more talkative of the pair, Isaac only speaking when he knows he has something to say. He's no more scathing than on 'Rich Boy' - a new track concerning a certain class of people, and one individual specifically. So far, they're to remain nameless, mind.

"There's a lot of that bloke that we're referring to in that song," Isaac laughs. "There are many of them. That was a song where we wrote all the lyrics together as well, and it was nice writing it and just going back and forth. It felt very relevant for right now." Laurie's in firm agreement. "A lot of well-off people are just pillaging the world at the moment," he says, "which is a bit grim, and we let them do it."
They were an audience the band were faced with while playing at an exclusive East London members' club earlier in the summer. But, unsurprisingly, Slaves took it as an opportunity to stick it to them all the same. "I showed them my ball bag", Laurie says with glee.
"I think that was the only time we've really played to that crowd," adds Isaac, "one that you know is really well-to-do. How much do you pay for a Shoreditch House membership?!" he asks no-one in particular. "You just know that everyone there is like... It's generalisation, but they deserve to be shown bollocks."
One thing's for certain, though; Slaves might flash private club go-ers, but they're incredibly thankful for their fans. "The thing I really appreciate is that people are still interested," says Laurie. "The first time 'round, you kind of think that's just what happens, but the second time, after you go quiet and you don't do press and stuff, you realise you rely quite heavily on outlets. It's quite interesting," he observes.

The future is something that's often at the forefront of any band's mind, and surviving on such a notoriously tricky playing field, it's no place for the weak. "I think we're a bit more hardened to the music industry," Isaac says, "it just feels more relaxed. You've got to be smart about it; it's not as simple as just putting a record out now. There's more to it than that. I guess we've just started playing the game," Laurie adds.
"It'd be wicked if we could do what we do by just giving our music away for free," he continues, "but we wouldn't be able to afford to go into studios and stuff. We have to be clever about actually trying to sell records, and maintain what we want to do. It's fine for producers and people who just sit there on GarageBand, but we actually need sound-proof rooms to do what we do. We can't just sit up in our bedroom, and play our music because we'd piss a lot of people off," he grins. "So the new musical wave is brilliant, but I think there is something to be said for guitar bands that really do need that space and the old fashioned way of doing it."
With such a fully-formed second album, Slaves know their work here isn't done. For now, though, they want to keep it simple going forward. "I want to make some records we're proud of and play some big fucking shows," summarises Laurie neatly, with a smile, as Isaac concurs, "I agree."
Photos: Phil Smithies / DIY.
Slaves' new album 'Take Control' is out now via Virgin EMI. Taken from the October 2016 issue of DIY, out now. Subscribe to DIY below.